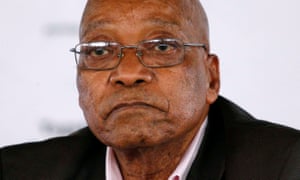 South Africa's rand tumbled on Monday afternoon after credit rating agency Standard & Poor's downgraded the country's the credit grade to junk status, saying a cabinet reshuffle by President Jacob Zuma last week had put fiscal and growth outcomes at risk.
The agency said the downgrade reflected its view that the divisions in the African National Congress (ANC) government, especially the firing of respected finance minister Pravin Gordhan, who was replaced by an ally of Zuma last week, have put policy continuity at risk.
 "In our opinion, the executive changes initiated by President Zuma have put at risk fiscal and growth outcomes," S&P said. "The negative outlook reflects our view that political risks will remain elevated this year, and that policy shifts are likely."
Gordhan was seen as a bulwark against corruption and as finance minister had blocked some questionable policies by other members of Zuma's government. Since he was fired the rand has fallen against major currencies and the ruling ANC party is in turmoil.
Economists had predicted that the firing of Gordhan would hurt South Africa's economy, which saw growth of just 0.5% last year and has an unemployment rate of about 27%. Zuma's actions would cause South Africa to be downgraded to junk status by credit rating agencies, economists warned.
South Africa is rated one notch above junk at Fitch and two notches above junk at Moody's.
S&P kept a "negative" outlook on South Africa, meaning it is more likely to downgrade it again than upgrade it.
The rand was down on Monday as investors expected a downgrade. The dollar was up 1.9% at 13.68 rand by late Monday after the report. The rand has dropped almost 10% in the past month.
South Africa is part of the so-called Brics economies – also including Brazil, Russia, India and China – that have enjoyed strong growth in the past decade. But all of them have run into economic trouble. Brazil and Russia have fared worst, falling into deep recessions, but even China has seen economic growth slow.
Zuma's cabinet reshuffle, in which he also sacked some critics, has brought an official request by the opposition Democratic Alliance for a vote of no confidence in parliament and plans for protest marches. Calls have been growing for Zuma to step down since August last year when the ANC lost control of key metropolitan areas in local elections, partly because of dissatisfaction with the president's performance.
Top members of the government and the ANC are openly criticising Zuma. At the weekend the deputy president Cyril Ramaphosa called for his countrymen to get rid of "greedy" and "corrupt" people.