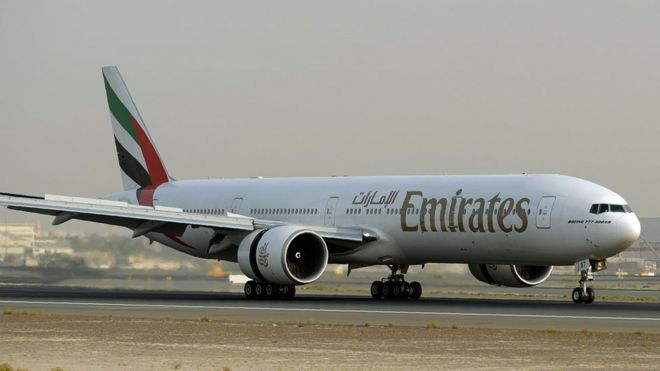 It said in a statement that the flight attendant "appeared to have opened the emergency door" and unfortunately "fell off an aircraft that had safely landed and parked".
Kisubi hospital's spokesperson Edward Zabonna told the BBC that the crew member had injuries "all over her face and knees".
He said that she had been "unconscious but alive" when she arrived at the hospital on Wednesday evening but died soon after.
News agency AFP quotes a statement from Emirates Airline as saying: "A member of our cabin crew unfortunately fell from an open door while preparing the aircraft for boarding".
The Dubai-based airline promised its "full cooperation" with the investigation.
Previously posted on March 15, 2018
Supposedly, an Emirates air hostess jumps off plane at Entebbe airport
A young woman working with Emirates flight – EK 730 on Wednesday tried to kill herself by jumping out of the plane at Entebbe airport.
According to reports, aircraft was due to depart Entebbe airport when she opened an emergency exit door and jumped out of a plane.
The plane was headed to Dubai. She has been rushed to hospital with severe injuries.
Police spokesperson, Emilian Kayima, said the incident happened at around 2:30 pm.
He said the air hostess is yet to be identified.
"She was rushed to hospital for medical attention. We shall give further details as the team that rushed along with her for medical attention comes back. She is alive but critically injured," Kayima said.