TRUMP rattles allies at NATO summit, trashes Merkel, praises Putin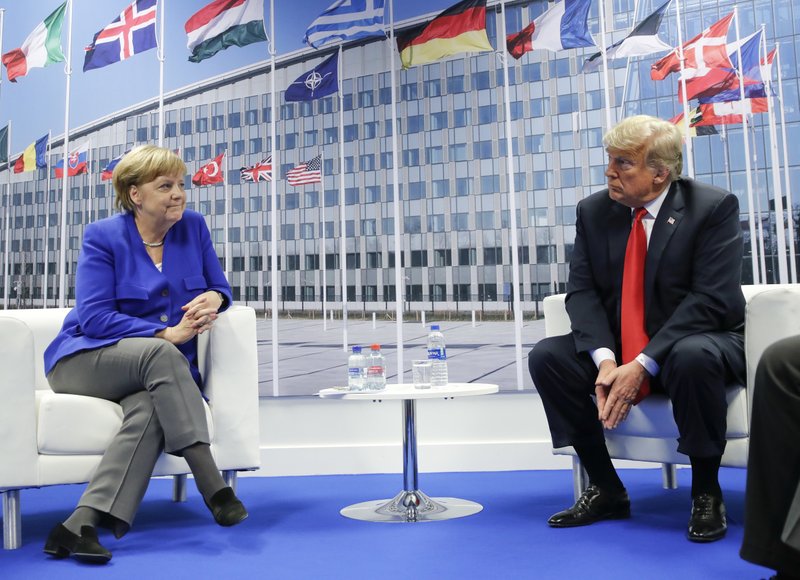 BRUSSELS (AP) — Under fire for his warm embrace of Russia's Vladimir Putin, President Donald Trump jolted the NATO summit Wednesday by turning a spotlight on Germany's ties to Russia and openly questioning the value of the military alliance that has defined American foreign policy for decades.
Trump declared that a joint natural gas pipeline venture with Moscow has left Angela Merkel's government "totally controlled" and "captive to Russia." So, in a stroke, he shifted attention away from his own ties to the Kremlin just days before he meets one-on-one with Putin.
With scorching language, the president questioned the necessity of the alliance that formed a bulwark against Soviet aggression, tweeting after a day of contentious meetings: "What good is NATO if Germany is paying Russia billions of dollars for gas and energy?"
German Prime Minister Merkel hit back immediately, not only denying Trump's contention but suggesting that his comfortable upbringing in the U.S. gave him no standing to spout off on the world stage about Germany.
Drawing on her own background growing up in communist East Germany behind the Iron Curtain, she said: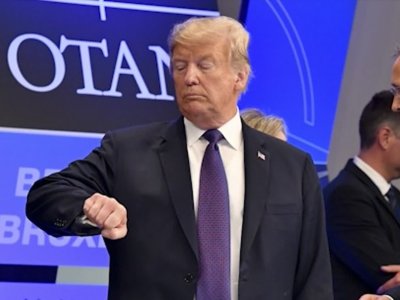 He didn't shove anyone this time, but President Donald Trump's body language at the NATO summit in Brussels suggests his relationships with key U.S. allies aren't exactly buddy-buddy. (July 11)
"I've experienced myself a part of Germany controlled by the Soviet Union, and I'm very happy today that we are united in freedom as the Federal Republic of Germany and can thus say that we can determine our own policies and make our own decisions and that's very good."
Trump demanded by public tweet that members of the North Atlantic Treaty Organization "must pay 2% of GDP IMMEDIATELY, not by 2025" for their military efforts. He then rattled U.S. allies further by privately suggesting member nations should spend 4 percent of their gross domestic product on the military — more than even the United States currently pays, according to NATO statistics.
It was just the latest in Trump's demands and insults that critics fear will undermine a decades-old alliance launched to counter-balance Soviet aggression after World War II. And it came just days before Trump planned to sit down with Putin in Finland at the conclusion of what has become a contentious European trip.
Trump has spent weeks berating members of the alliance for failing to increase military spending, accusing Europe of freeloading off the U.S. and even raising doubts about whether he would come to members' defense as required if they were ever attacked.
Trump's tongue-lashing accelerated during a pre-summit breakfast, when he traded his usual long-distance Twitter attacks for a face-to-face confrontation with NATO Secretary-General Jens Stoltenberg.
"We're supposed to protect you against Russia but they're paying billions of dollars to Russia and I think that's very inappropriate," Trump said, repeatedly describing Germany as "captive to Russia" because of the energy deal. He urged NATO to look into the issue.
Trump's harsh words for Merkel, whose country has hosted tens of thousands of U.S. troops that have been key to post-WWII stability in Europe for seven decades, struck at the core of the alliance. West Germany joined NATO in 1955 and was a critical factor in the alliance's success in facing down the Soviet Union until its collapse. Reunified with the East, Germany became the largest European economy in NATO in 1990.
The president's beef was with the Nord Stream 2 pipeline that would bring gas from Russia to Germany's northeastern Baltic coast, bypassing Eastern European nations like Poland and Ukraine and doubling the amount of gas Russia can send directly to Germany. The vast undersea pipeline is opposed by the U.S. and some other EU members, who warn it could give Moscow greater leverage over Western Europe. It's expected to be online at the end of 2019.
Environmental-conscious Germany is trying to reduce its reliance on coal and is phasing out nuclear power by 2022, so it hopes to use natural gas to partially fill the gap until the country's electricity grid can cope with fluctuating levels provided by renewable energy.
Hours after the breakfast, Merkel and Trump appeared to play nice as they met along the summit's sidelines. Trump told reporters the two had a "very, very good relationship" and congratulated Merkel on her "tremendous success."
While Trump went after Germany for its ties to Russia, he himself has been accused by critics of being too eager to improve relations with Moscow. He's also dismissed the U.S. intelligence community's assessment that Russia tried to undermine Western democracy by meddling in the 2016 U.S. presidential election to help him win.
Trump also lobbed fresh complaints about allies' "delinquent" defense spending and suggested at one point that NATO allies commit to spending 4 percent of their GDP on defense — twice the goal they've set for 2024.
"I have great confidence they'll be spending more," he said.
However, a formal summit declaration issued by the NATO leaders Wednesday reaffirmed their "unwavering commitment" to the 2 percent pledge set in 2014 and made no reference to any effort to go higher.
Trump has repeatedly mischaracterized the spending target, wrongly describing it as a fee that countries pay to NATO or the U.S. rather than their own military. NATO estimates that 15 members, or just over half, will meet the benchmark by 2024 based on current trends.
Back in the U.S., Democratic congressional leaders Nancy Pelosi and Chuck Schumer issued a joint statement describing Trump's "brazen insults and denigration of one of America's most steadfast allies, Germany," as "an embarrassment."
"His behavior this morning is another profoundly disturbing signal that the president is more loyal to President Putin than to our NATO allies," they wrote.
Sen. Bob Corker, a Tennessee Republican, also criticized Trump's rhetoric.
"I do believe everybody should get to 2 percent quickly, but the NATO alliance is something that's very important to the United States and our citizenry, and things that are said to try and create instability, all that it does is strengthen Putin," Corker said, describing concerns "about conciliatory things that could occur in Helsinki" when Trump sits down with the Russian president.
But Sen. Tom Cotton, R-Arkansas, a strong supporter of the president, said the pipeline issue strikes at the "heart of NATO unity."
"The pipeline gets cheap Russian gas to Germany while bypassing smaller Eastern European nations, allowing Russia to pressure them while Germany is held harmless," he tweeted, adding: "No amount of preening in Berlin will cover this nakedly selfish policy."
No shove, but Trump body language speaks to frosty relations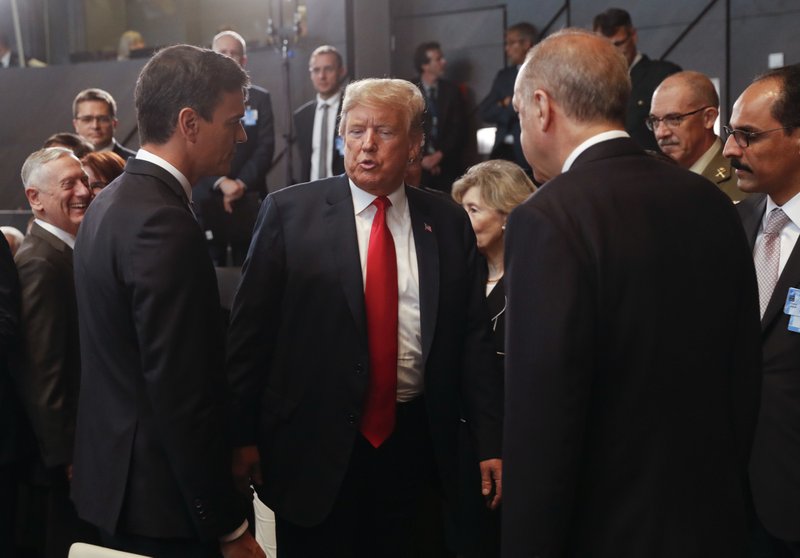 BRUSSELS (AP) — He didn't shove anyone this time, but President Donald Trump's body language during NATO events Wednesday suggested his relationships with key U.S. allies aren't exactly buddy-buddy.
Trump started the day with a tense breakfast meeting with Jens Stoltenberg in which he lectured the NATO leader about member defense spending and complained about a German pipeline deal with Russia. Arms crossed over his chest, Trump gestured at Stoltenberg and repeatedly interrupted the secretary-general as he argued his case.
Trump's aides seated around the table, including chief of staff John Kelly and the U.S. ambassador to NATO, Kay Bailey Hutchison, looked visibly uncomfortable at points.
Their subsequent encounters at NATO headquarters were formal and less strained as they twice shook hands and chatted in front of journalists. But those moments were more perfunctory than Stoltenberg's chattier introductions with other leaders, many of whom Stoltenberg was seeing for the first time that day after he had spent part of the morning hosting Trump.
World leader summits are largely about optics and presenting a united front to the rest of the world. But Trump barreled into his second NATO summit, as he did his first, with a litany of public complaints about alliance members' "delinquent" defense spending, as well as a German-Russian gas pipeline deal.
Showing unity seemed an afterthought for the "America First" president. And it showed.
During moments that were visible to the press, Trump often separated himself from most of his counterparts, particularly those with whom he has had public disagreements, such as British Prime Minister Theresa May, German Chancellor Angela Merkel and Canada's Justin Trudeau.
When the leaders strolled out of the gleaming NATO building in Brussels for the traditional family photo in the courtyard, Trump lingered behind and mostly spoke with Turkish President Recep Tayyip Erdogan and Croatian President Kolinda Grabar-Kitarovic.
On the dais, he and May chatted as they stood together, but Trump kept his back toward other leaders, including Merkel.
After the group moved inside for talks, Trump again hung back as other heads of state glad-handed around the room. He stayed close to members of his delegation, including Defense Secretary Jim Mattis and Secretary of State Mike Pompeo, before eventually engaging in a brief round of backslapping with others, including again May, before taking his seat.
Trump has harshly criticized May, Merkel and Trudeau since taking office and opened Wednesday with another broadside against Merkel, asserting that her country is "totally controlled" and "captive" to Russia as he objected to a deal to bring Russian natural gas directly to Germany.
Merkel pushed back, insisting that Germany makes its own decisions. When the two met later Wednesday, Trump told reporters: "We have a very, very good relationship with the chancellor." The comment illustrated how Trump often seeks to avoid conflict with people when he is face to face with them versus the often-harsher rhetoric he uses when he's talking behind their back. Merkel was not present at Trump's breakfast with Stoltenberg.
When it was her turn to address reporters in the room for the meeting with Trump, Merkel made no similar declaration about her relationship with Trump.
The two barely looked at each other during the few minutes journalists were allowed in the room. That was in stark contrast to Trump's subsequent meeting with French President Emmanuel Macron. The Frenchman is one of Trump's closest friends on the world stage despite their many areas of disagreement, including Trump's decision to pull out of the Iran nuclear agreement and the Paris climate accord, and to impose tariffs on France and other European countries.
Trump and Macron bantered easily during their joint photo op, with Trump calling it "an honor to be with a friend of mine." The two also chatted each other up as Macron walked Trump out of the NATO building at the end of the day.
By evening, arriving at a dinner hosted by the Belgian government at the Art and History Museum at the Cinquantenaire, Trump appeared to be in a more social mood. The president, who doesn't drink alcohol, huddled during the cocktail reception with Stoltenberg for several minutes, before being joined by Merkel for an animated discussion. As Trump spoke again with Erdogan, his wife, Melania, was greeted warmly by Trudeau.
At last year's NATO summit, tongues wagged after Trump appeared to shove Prime Minister Dusko Markovic of Montenegro to get to the front of the group as leaders entered the alliance's new headquarters building. Markovic later characterized the incident as "a completely harmless event." —— AUTO – GENERATED; Published (Halifax Canada Time AST) on: July 11, 2018 at 07:05PM