SOUTH SUDAN: Trump deports 24 South Sudanese from United States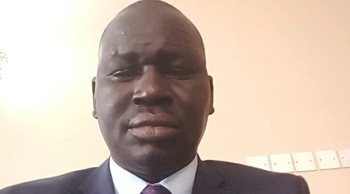 File photo: deputy minister of interior Riaw Gatlier
RADIO TAMAZUJ – About 24 South Sudanese on Friday arrived in Juba on a chartered flight after being deported from the United States, a top official said.
According to U.S. federal laws, foreign nationals are legally returned to their country of origin if they violate a number of immigration or criminal laws.
South Sudan's deputy minister of interior Riaw Gatlier Gai told Radio Tamazuj that the deported South Sudanese are currently at the office of Criminal Investigation Department (CID).
"We will create files for them so that their families can come to them. We will look into minor and serious criminal cases according to our law," he said.
Gatlier pointed out that more five South Sudanese are yet to arrive in Juba at any time soon.
In November 2017, four South Sudanese were deported from the United States.
South Sudan embassy in the United State said more than 200 South Sudanese nationals had already been registered and that they face deportation from the United States. Published on April 02, 2018 at 10:47AM