SOUTH SUDAN: Regional dictators (IGAD) unveils power sharing for fellow dictator Kiir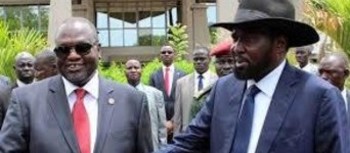 IGAD unveils new power sharing proposal
RADIO TAMAZUJ – East African bloc IGAD has released a new proposal for how it thinks power should be shared in South Sudan once peace is restored.
The document released this afternoon and seen by Radio Tamazuj proposes giving President Salva Kiir's government 55%, SPLM-IO 25% and other political parties 20% (former detainees 5%, political parties under the unity government 5% and South Sudan opposition alliance 10%).
Power sharing at the state level
The compromise peace plan by the regional bloc proposes giving the current unity government 65%, SPLM-IO 25% and opposition political parties including SPLM-FDs 10%.
South Sudan presidency
The document proposes giving the position of the country's president to the incumbent government, first vice president to the SPLM-IO group led by opposition leader Riek Machar, vice president to the incumbent government and third vice presidents to be nominated by the political alliance, former detainees and other political parties.
The regional bloc proposes 42 ministries and 15 deputy ministers divided into three clusters. The first vice president, according to the proposed document, will be in charge of the governance cluster, vice president will run the economic cluster and third vice presidents will be supervising the service cluster.
The IGAD proposal also provides for a transitional parliament composed of 440 seats and a parliamentary speaker from the Equatoria region will be selected by the incumbent government once the house is expanded. The document says the deputy speaker will be nominated by the SPLM-IO group led by opposition leader Riek Machar during the transitional period.
IGAD also proposes a mechanism for permanent ceasefire and transitional security arrangements.
The parties have been asked to study the document and return on Wednesday.
The lead negotiators for the warring parties could not immediately be reached for comment on the proposed peace plan.
—— AUTO – GENERATED; Published (Halifax Canada Time AST) on: May 22, 2018 at 03:28PM