SOMALIA: Mission accomplished! AMISOM not withdrawing troops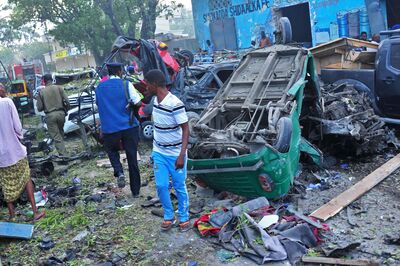 Al-Qaeda Raids in Somalia Scuttle Africa's Plan to Withdraw
BLOOMBERG – Islamist attacks, political quarrels undermining stability. African Union forces remain 'only realistic option': analyst.
African troops battling an al-Qaeda affiliate in Somalia for the past decade stand little chance of withdrawing by their deadline in two years as the government remains fragile and a spike in militant violence has drawn in U.S. forces.
The longest-running African Union peacekeeping mission, known as Amisom, operates in a shattered country whose lawlessness has bred regional violence — al-Shabaab has staged attacks in Kenya, Uganda and Djibouti — and piracy that plagued global shipping in the early 2000s. Over the past year, the U.S. has boosted cooperation with the Somali army, targeting al-Shabaab and an Islamic State faction. The U.S. Africa Command said al-Shabaab controls about a fifth of Somalia, mainly in the south.
—— AUTO – GENERATED; Published (Halifax Canada Time AST) on: April 20, 2018 at 08:40PM