SOCCER: Bundesliga – Hamburg relegated, Borussia Dortmund limp into fourth – PICTURES
DW – After 55 seasons in the Bundesliga's top flight, Hamburg have been relegated despite victory on the final day. Elsewhere, Borussia Dortmund clinched fourth by the skin of their teeth as Hoffenheim claimed third.
Hamburg 2-1 Borussia Mönchengladbach, Volksparkstadion
(Hunt pen 11′, Holtby 63′ — Drmic 28′)
Hamburg were relegated from the Bundesliga for the first time in their history, despite victory over Borussia Mönchengladbach.
Hamburg needed to win and hope Wolfsburg lost, and got off to a good start in their bullish quest for survival when Aaron Hunt scored from the penalty spot after Denis Zakaria was penalized for handball.
A fine run and finish by Josip Drmic leveled the game, but Lewis Holtby's neat finish into bottom corner put Hamburg back in front after the break. But it counted for little as Hamburg were eventually put out of their misery.
Safe — for now. Wolfsburg will face Holstein Kiel in the relegation play-off.
Wolfsburg 4-1 Cologne, Volkswagen Arena
(Guilavogui 1′, Origi 54′, Knoche 71′, Brekalo 90′ — Hector 32′)
Wolfsburg could avoid relegation by simply avoiding defeat against Cologne, but that hasn't been easy for the Wolves this season.
The hosts got off the to perfect start when Josuha Guilavogui's fine shot from distance put Wolfsburg ahead inside a minute, but as a stunning goal by Jonas Hector, whose sublime chipped finish from an angle after a slick build-up, squared the contest.
But Wolfsburg cranked things up after the break. Divock Origi tapped in to restablish their advantage and Robin Knoche's header made things safe for Wolfsburg, who added a late fourth through Josip Brekalo to ensure Wolfsburg go into the relegation play-off against Holstein Kiel.
Hoffenheim secure a highest ever finish of 3rd and qualify automatically for the Champions League for the first time.
Hoffenheim 3-1 Dortmund, Wirsol Rhein-Neckar-Arena
(Kramaric 26′, Szalai 63′, Kaderabek 73′ — Reus 58′)
Hoffenheim pulled off an impressive win over Borussia Dortmund to confirm their qualification for the Champions League — while Dortmund qualify in fourth by the skin of their teeth.
A Roman Bürki error allowed Andrej Kramaric to steady himself and slide the ball home, but Marco Reus had appeared to ease Dortmund's nerves with a crucial goal, bundling in from close range.
But Hoffenheim were back in front soon after when Adam Szalai's deft finish over Bürki raised the roof, and Pavel Kaderabek lashed in from close range after Dortmund failed to deal with a corner.
The victory meant automatic qualification to the group stages pf the Champions League for Hoffenheim, who lost to finalists Liverpool in a play-off earlier this season. Now Dortmund will have to play a qualifier to be sure of reaching the group stage.
Leverkusen beat Hannover, but fail to get the margin of victory needed to finish fourth ahead of Dortmund
Leverkusen 3–2 Hannover, BayArena
(Alario 3, 18′, Brandt 55′ — Füllkrug 90′, Harnik 90′)
The team Dortmund and Hoffenheim were in competition with for a Champions League place was Bayer Leverkusen, who could have taken advantage of Dortmund's defeat with a big win over Hannover, but a late collapse ended their hopes.
Leverkusen took an early lead through Lucas Alario's left-footed shot, but Wendell spurned the chance to make it 20 when he scuffed a penalty wide.
But another for Alario, who pounced on a poor back pass and slotted in, doubled their advantage and Julian Brandt fired in a third with 35 minutes to play.
With Dortmund losing by two goals at Hoffenheim, a 5-0 win for Leverkusen would have seen them swipe fourth place from Dortmund, but Leverkusen collapsed under the pressure and rather than scoring two, they condeded twice in injury time, with Niclas Füllkrug and Martin Harnik each finding the net.
Leverkusen will play in next season's Europa League, alongside RB Leipzig.
RB Leipzig got the win they needed to seal a second successive European campaign.
Hertha Berlin 2-6 RB Leipzig, Olympic Stadium
(Ibisevic 4′, Kalou 64′ — Upamecano 2′, Lookman 8, Augustin 22, 54′, Werner 49′, Bruma 82′)
RB Leipzig needed to win in the capital to be sure of Europa League football next season, with Stuttgart making a late dash for it — and they secured it in emphatic fashion.
Dayot Upamecano's towering header got them off to an ideal start inside two minutes, but Hertha skipper Vedad Ibisevic leveled two minutes later.
The early goal rush in Berlin continued when Ademola Lookman cut inside and found the net with a low drive inside the near post.
A Rune Jarstein howler allowed a tame Jean-Kevin Augustin shot to creep in. Augustin turned provider after the break as Timo Werner made it four soon after the break, chalking up his 13th goal of the season with an assured finish into the bottom corner. Augustin was on the scoresheet again, elegantly guiding ball into bottom corner after exchanging passes with Lookman.
Salomon Kalou's diving header from Marvin Plattenhardt's cross reduced the deficit to 5-2, but Bruma came off the bench to make it six late on.
Donis slots Stuttgart's second past Bayern keeper Sven Ulreich.
Bayern Munich 1-4 Stuttgart, Allianz Arena
(Tolisso 21′ — Ginczek 5′, 55′, Donis 42′, Akolo 52′)
Champions Bayern Munich had one eye on their summer holidays as they celebrated their sixth straight title in traditional beer-soaked fashion, despite losing heavily to Stuttgart.
Stuttgart had an outside chance of qualifying for the Europa League had Leipzig lost in Berlin, and they got off to a fine start when Daniel Ginczek stroked in from close range after a break down the right.
Tolisso levelled from close range as Bayern fought back in Jupp Heynckes' final game in charge, but another breakaway down the Stuttgart right was finished into the bottom corner by Anastasios Donis.
Stuttgart took a 3-1 lead through Chadrac Akolo header and Ginczek added a fourth to complete a shock, if ultimately meaningless, victory for the visitors.
Other results:
Freiburg 2-0 Augsburg
Mainz 1-1 Bremen
Schalke 1-0 Frankfurt
As it happened:
90+17′ – FULL TIME IN HAMBURG
The referee finally gets the game back underway, Pollersbeck kicks the ball upfield, and the final whistle blows. After 54 years, the Bundesliga's only remaining founder member is relegated to division two. Applause from the majority of fans.
– "We are Hamburg, and not you!" sing other HSV fans in the direction of the ultras. Police were on the pitch but have now moved outside the stadium where some of the ultras have already left the stadium. It seems that referee Felix Brych still wants to play the final few minutes here.
– Sad, sad scenes in Hamburg as the black smoke billows from the ultras' block.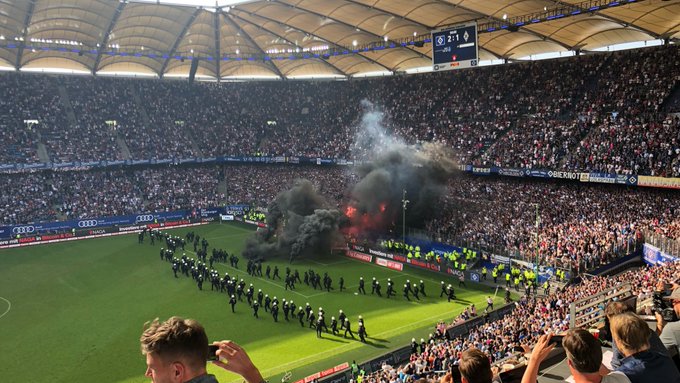 Apocalyptic scenes in #Hamburg as the clock ticks down on #HSV's 54-year #Bundesliga membership.
(pic: @fohlenfutter)
12:23 PM – May 12, 2018
119
89 people are talking about this
Twitter Ads info and privacy
+++ FULL-TIME +++
Hamburg 2–1 Gladbach – HSV are relegated from the Bundesliga
Wolfsburg 4–1 Cologne – Wolfsburg enter play-off vs. Kiel
Hoffenheim 3-1 Dortmund – Hoffenheim and Dortmund qualify for CL
Leverkusen 3-2 Hannover – Leverkusen qualify for Europa League
Freiburg 2-0 Augsburg – Freiburg safe
Bayern 1–4 Stuttgart
Mainz 1-1 Bremen
Hertha 2-6 RB – RB Leipzig qualify for the Europa League
Schalke 1-0 Frankfurt
90+1′ GOAL! Wolfsburg 4-1 Cologne
90+1′ GOAL! Leverkusen 3-1 Hannover (Füllkrug)
Niclas Füllkrug ends Leverkusen's Champions League dream
85′ Big VAR decision in Leverkusen! After Bebou is ajudged to have brought Bellarabi down in the box, the referee awards Leverkusen a penalty – with the Werkself two goals away from the Champions League. But, after consultation with the VAR, he decides that Bebou played the ball before the man. The decision is probably just about correct – and could save Borussia Dortmund.
73′ GOAL! Hoffenheim 3-1 Dortmund (Kaberabek)
Hoffenheim increase their lead and BVB are wobbling! Two more Leverkusen goals against Hannover would see Dortmund OUT of next season's Champions League. Here's the CL mini-table:
3rd – Hoffenheim (55pts, GD 18)
4th – Dortmund (55 pts, GD 17)
——-
5th – Leverkusen (55 pts, GD 16)
72′ GOAL! Wolfsburg 3-1 Cologne (Knoche)
Robin Knoche heads home at the back post and that is surely the goal that sends Wolfsburg into the relegation play-off and relegates Hamburg.
71′ RED CARD (Hamburg) – Bobby Wood sees a second yellow for a late stamp on Christoph Kramer's foot. HSV down to ten.
63′ GOAL! Hamburg 2-1 Gladbach (Holtby)
Holtby puts HSV back in front – but it means nothing unless Cologne can score at least two more goals in Wolfsburg
63′ GOAL! Hoffenheim 2-1 Dortmund (Szalai)
Adam Szalai chips deftly over Bürki to restore Hoffenheim's lead and put Julian Nagelsmann's team back in a CL place:
3rd – Dortmund (55pts, GD 18)
4th – Hoffenheim (55 pts, GD 17)
——-
5th – Leverkusen (55 pts, GD 16)
57′ GOAL! Bayern 1-4 Stuttgart (Ginczek)
58′ GOAL! Hoffenheim 1-1 Dortmund (Reus)
Marco Reus scrambles the ball home from close range to bring BVB level. Our Champions League mini-table now looks like this:
3rd – Dortmund (56 pts, GD 19)
4th – Leverkusen (55 pts, GD 16)
——-
5th – Hoffenheim (53 pts, GD 16)
54′ GOAL! Wolfsburg 2-1 Cologne (Origi)
The Wolves restore their lead as Divock Origi taps home inside the box!
53′ In Hamburg, Tatsuya Ito has come close to restoring HSV's lead, but his powerful effort was well tipped over by Sommer.
52′ GOAL! Bayern 1-3 Stuttgart (Akolo)
50′ GOAL! Freiburg 1-0 Augsburg (Höfler)
The midfielder slides into the box late on to put Freiburg ahead – and as good as safe.
+++ KICK OFF IN THE SECOND HALF +++
After 45 minutes, nothing has changed in the relegation battle with both Hamburg and Wolfsburg drawing.
Up at the top, it's tighter than ever in the race for the Champions League:
3rd – Dortmund (55 pts, GD 18)
4th – Hoffenheim (55 pts, GD 17)
——-
5th – Leverkusen (55 pts, GD 15)
+++ HALF-TIME +++
Hamburg 1–1 Gladbach
Wolfsburg 1–1 Cologne
Hoffenheim 1-0 Dortmund
Leverkusen 2-0 Hannover
Freiburg 0-0 Augsburg
Bayern 1–2 Stuttgart
Mainz 1-1 Bremen
Hertha 1-3 RB
Schalke 1-0 Frankfurt
42′ GOAL! Bayern 1-2 Stuttgart (Donis)
Stuttgart retake the lead which, with Frankfurt losing in Gelsenkirchen, could see the Swabians sneak into the Europa League.
33′ GOAL! Wolfsburg 1-1 Cologne (Hector)
Ticki-tacka Colonia! A tight passing move is capped off by a lovely turn and chip from Jonas Hector in the box. A goal that Lionel Messi would have been proud of, and which gives Hamburg renewed hope …
27′ GOAL! Hamburg 1-1 Gladbach (Drmic)
Josip Drmic with a solo run down the left, cuts inside and fires past Pollersbeck. HSV are back to square one.
26′ GOAL! Hoffenheim 1-0 Dortmund (Kramaric)
Under pressure, BVB goalkeeper Roman Bürki gives the ball straight to Andre Kramaric who fires Hoffenheim into the lead with a low, powerful shot from the edge of the box. The goal means Dortmund, Hoffenheim and Leverkusen (in that order) are all level on 55 points, separated only by goal difference.
18′ GOAL Leverkusen 2-0 Hannover (Alario)
15′ In Sinsheim, Borussia Dortmund have started with a three-man defense (Piszczek, Akanji, Schmelzer). At the other end, they've had their first big chance as Guerreiro lets fly from the edge of the box but Baumann tips over. Still 0-0.
11′ GOAL! Hamburg 1-0 Gladbach (Hunt – pen)
Aaron Hunt puts HSV ahead from the spot after Zakaria blocks Holtby's shot with a clear handball in the box. Hamburg are doing what they need to do … but they're reliant on Cologne.
1-0 HSV! Hunt the scorer. Place goes through the roof. Over to you, Cologne… #HSVBMG
Goals galore in the opening ten minutes but the big news is in Wolfsburg where Guilavogui has given the Wolves an early lead. As it stands, Wolfsburg will enter the relegation play-off against Kiel and HSV are down.
5′ GOAL! Bayern Munich 0-1 Stuttgart (Ginczek)
6′ MISSED PENALTY – Wendell strokes wide from the spot for Leverkusen
4′ GOAL! Hertha 1-1 RB (Ibisevic)
3′ GOAL! Leverkusen 1-0 Hannover (Alario)
2′ GOAL! Hertha 0-1 RB (Upamecano)
1′ GOAL! Wolfsburg 1-0 Cologne (Guilavogui)
Ecstasy for Wolfsburg but a dagger through the hearts of Hamburg fans after just one minute! Guilavogui capitalizes on slack Cologne defending to fire the Wolves into an early lead. Even if HSV win, they're reliant on relegated-Cologne scoring at least two here.
+++ KICK OFF! +++
Today's other fixtures:
Bayern Munich vs. VfB Stuttgart – Jupp Heynckes' final home game plus trophy presentation
Hertha Berlin vs. RB Leipzig – Red Bull still have a slim hope of Champions League qualification
Freiburg vs. Augsburg – Defeat for Freiburg combined with a win for Wolfsburg could still put them in danger.
Schalke vs. Frankfurt – A re-run of the German cup semifinal
Mainz vs. Bremen – nothing to play for for either team in sunny Mainz!
Leverkusen vs. Hannover – A win for Leverkusen would see them finish fourth, provided Hoffenheim don't beat Dortmund.
Incredible support
Thousands of Hamburg fans lined the streets to welcome the team bus to the Volksparkstadion – although even a win might not be enough. Should today really be the end for HSV, these fans would be a huge loss for the Bundesliga.
In Hamburg for @dw_sports.#HSV must win against Gladbach, and a win for relegated Cologne away at Wolfsburg. Any other outcome, and the clock will go from 55 years of Bundesliga football to 0.
The atmosphere here as the team bus enters the ground is something else #HSVBMG
Wolfsburg team news:
No Daniel Didavi for Wolfsburg, with Liverpool loanee Divock Origi leading the line instead. With Jojic, Pizarro and Terodde all starting for Cologne, the Wolves will have to watch out at the back as well. A draw would be enough to see Wolfsburg safely into the relegation play-off against Holstein Kiel.
#VfLWolfsburg: Casteels – Verhaegh, Brooks, Knocke, William – Arnold, Guilavogui – Steffen, Malli, Brekalo – Origi#effzeh: T. Horn – Meré, Heintz, J. Horn – Risse, Höger, Koziello, Jojic, Hector – Pizarro, Terodde#WOBKOE
Borussia Dortmund team news:
It's a re-jigged back line for BVB with captain Marcel Schmelzer filling in at centerback. Julian Weigl and Nuri Sahin will both protect the defense while Christian Pulisic, Marco Reus and Jadon Sancho all start behind lone striker André Schürrle.
#TSG: Baumann – Akpoguma, Vogt, Bicakcic – Kaderabek, Zuber, Grillitsch, Schulz – Uth, Szalai, Kramaric#BVB: Bürki – Piszczek, Akanji, Schmelzer – Pulisic, Sahin, Weigl, Guerreiro, Sancho – Reus, Schürrle#TSGBVB
Hamburg team news:
Bobby Wood leads the line for HSV with returning striker Nicolai Müller on the bench after making his comeback away at Frankfurt last week. Otherwise, it's an attacking line-up in a must-win game, with Ito, Hunt, Holtby and Kostic all starting behind the American.
#HSV: Pollersbeck – Sakai, Papadopoulos, Jung, Douglas – Steinmann – Ito, Holtby, Hunt, Kostic – Wood#fohlenelf: Sommer – Elvedi, Ginter, Vestergaard, Wendt – Hazard, Zakaria, Kramer, Hofmann – Raffael, Drmic#HSVBMG
Judgement day for Hamburg
Once again, Hamburg's Bundesliga fate will be decided on the final day. Coach Christian Titz has turned things around in recent weeks but HSV no longer have their fate in their own hands. They must beat Borussia Mönchengladbach at home and hope that already-relegated Cologne can beat Wolfsburg.
Thousands of fans turned up at Hamburg's final training session on Thursday
Battle for Europe
Borussia Dortmund can end an unhappy season on a high note with a win away at Hoffenheim, which would see them secure third place and qualify for the Champions League. A draw would also be enough but a defeat by two goals or more, combined with a large win for Bayer Leverkusen, could even see BVB drop into the Europa League in coach Peter Stöger's final game.
Peter Stöger can end his short BVB reign with Champions League qualification.
+++ Guten Tag! Welcome to DW's live coverage of the final day of the Bundesliga season! +++
—— AUTO – GENERATED; Published (Halifax Canada Time AST) on: May 12, 2018 at 02:17PM