RUSSIA: Shopping Mall Fire Kills, Injures Dozens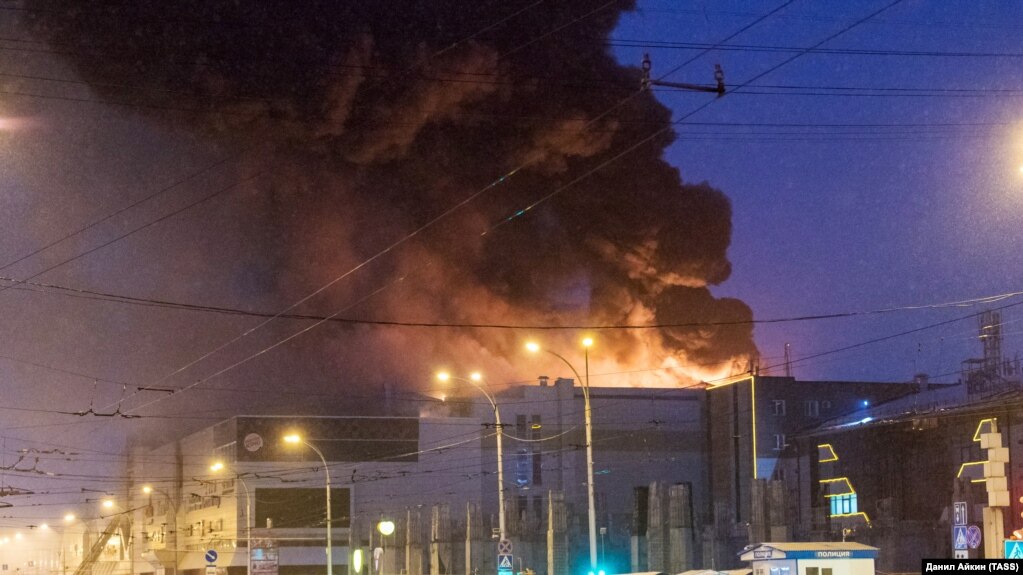 The shopping mall fire in Kemerovo
RADIO LIBERTY – Thirty-seven people were reported killed and dozens of others remained unaccounted for following a fire at a shopping center in Siberia.
The death toll is expected to rise as the search progresses through the building in the city of Kemerovo, 3,000 kilometers east of Moscow.
The cause of the March 25 blaze was not immediately known. Authorities launched a criminal investigation into the tragedy.
Television pictures showed smoke billowing from the Winter Cherry building as fire crews worked to evacuate the multistory facility. People were also seen jumping from windows to escape the blaze.
Russian news agencies quoted the emergency services as saying a total of 37 dead bodies had been found.
Earlier, a spokesman for the firefighters said 69 people remained missing, including 40 children.
Russia's Investigative Committee said that 30 people were taken to the hospital for treatment.
It was not clear whether they were suffering from burns or smoke inhalation.
Local media reported that the flames spread across more than 1,500 square meters in the building, which included an entertainment complex, a cinema, a zoo, and several restaurants.
Officials said more than 100 people have been evacuated.
Kemerovo is an industrial city and the capital of a coal-producing region of the same name.
https://ift.tt/2pEr77v Injures Dozens, Putin, Russian, Shopping Mall Fire Kills, Siberia, Tragedy