REFUGEES: Uganda charges aid workers with theft of refugee camp supplies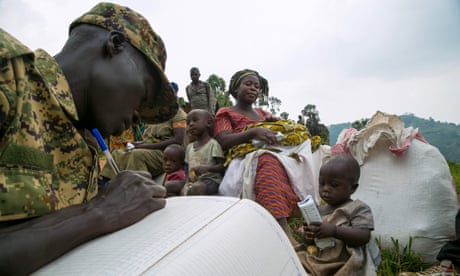 Two aid workers charged with theft of refugee camp supplies in Uganda
THE GUARDIAN – Danish Refugee Council suspends staff arrested in possession of maize flour and cooking oil intended for people uprooted by violence
The supplies were destined for Kyaka II camp in Kyegegwa district, south-western Uganda, home to 44,000 refugees who have fled violence in the Democratic Republic of the Congo. Photograph: Danish Refugee Council
Two humanitarian aid workers from the Danish Refugee Council (DRC) have been charged with stealing flour and oil intended for refugees in south-west Uganda.
Richard Mutabazi and Akim Muzidwa Muhiirwe were arrested last month in possession of 24 bags of maize flour, each weighing 60kg, nine jerrycans of cooking oil and other items meant for preparing meals at Kyaka II camp in Kyegegwa district. Eight refugees were also arrested.
The men have been suspended by the council pending the outcome of the case.
"They were intercepted and arrested while offloading the relief food. We have charged them with theft," said Patrick Onyango, Uganda's deputy police spokesman.
They are expected to appear before the anti-corruption court in Kampala this week. If convicted, the defendants face up to 10 years in jail.
The theft of food reduces the vital relief available to refugees who are in an extremely vulnerable situationJean-Christophe Saint-Esteben, Danish Refugee Council
The camp is home to about 44,000 refugees who have fled violence in the Democratic Republic of the Congo's north-eastern Ituri province. Uganda is home to almost 1.4 million refugees, the majority from South Sudan.
Jean-Christophe Saint-Esteben, the Danish Refugee Council's country director for Uganda and Tanzania, said he was "very disappointed" at the arrests.
"We take this case very seriously because the theft of food reduces the vital relief available to refugees who are in an extremely vulnerable situation. Theft constitutes gross misconduct according to the DRC policy, and therefore DRC will take appropriate action if any staff member is found guilty of theft," said Saint-Esteben. "DRC's humanitarian food assistance programmes aim at ensuring the availability of, access to, and consumption of safe and nutritious food for the most vulnerable people."
Saint-Esteben said the council will conduct a full review of its procedures as a result of the arrests.
Claire Nevill, a spokeswoman from the World Food Programme in Kampala, said in a statement that the agency is conducting a detailed stocktake to check for missing items.
"WFP has zero tolerance for theft, fraud and corruption,", said Nevill. "WFP is committed to accountability and integrity in its use of donor funds, and works with all staff and partners to promote the highest standards in delivering assistance."
She added that the organisation launched a free helpline in September last year so that refugees could report theft, fraud or corruption.
Published (Halifax Canada Time AST) on: April 04, 2018 at 12:44PM