Clashes erupted Friday morning between government and opposition troops in Pagak as rebel fighters attempted to retake their main headquarters, which was seized by government forces last week.
Rebel deputy spokesman Lam Paul Gabriel told Radio Tamazuj this afternoon that heavy clashes rocked Pagak this morning as their troops launched a surprise assault on government forces in order to regain their main headquarters.
"We attacked the area in the morning and clashes are still ongoing. The government forces are withdrawing from Pagak," he said.
Bol Ruach Rom, a government-appointed governor of Maiwut state, confirmed that their forces came under attack by the opposition in Pagak town early morning.
"They returned back again and attacked us around 12:00 pm but we repulsed them. We are now in Pagak town," he said.
The government official pointed out that five rebel soldiers were killed during the clashes while four soldiers were wounded from their side.
Germany donates $8m to war-torn South Sudan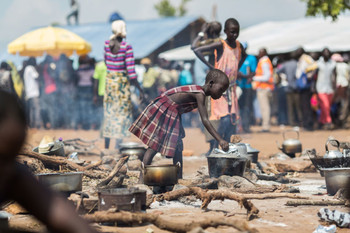 File photo: A young South Sudanese refugee cooks food at a camp in northern Uganda (UNHCR/Will Swanson)
The government of Germany on Friday donated 8 million USD dollars to help save the lives of conflict-affected people in South Sudan.
The money, which was channelled through the UN World Food Programme (WFP), would support initiatives to strengthen the resilience of over 180,000 people through food assistance and cash transfers.
The United Nations World Food Programme (WFP) has welcomed the contribution from the German government to enhance recovery operation in war-torn South Sudan.
"This generous contribution demonstrates Germany's commitment to fighting hunger in this country beyond emergency assistance," said Adnan Khan, WFP Representative and Country Director in South Sudan.
"It is important to bring life-saving help but it is equally necessary to help communities improve their livelihoods.  It instils a sense of hope in people and allows them to become more self-reliant," added Khan.
Hunger has reached unprecedented levels in South Sudan with an estimated six million people, half of the population, unsure of where their next meal will come from. WFP and partners bring life-saving assistance to people in extreme need and also support action towards longer-term food security.
This year WFP said it plans to assist more than 500,000 people, including 260,000 women, through food assistance to build assets such as vegetable gardens, access roads and shallow wells to help families strengthen resilience and rebuild livelihoods.
It further said participants also receive training on life skills including gardening, and ideas to generate income to sustain themselves, adding the new funds from Germany will support these activities.
Germany has contributed more than US$102 million to WFP's operations in the last five years.
WFP said it urgently needs US$150 million to cover its food security, logistics and air operations for the next six months.
RADIO TAMAZUJ