RACISM: Two blacks arrested for going into WHITES only @StarbucksCanada @Starbucks
Two black men arrested for the crime of waiting for a friend at Starbucks
Add 'getting coffee while black' to all the other things African Americans sometimes aren't allowed to do.
At any given time, just about anywhere in the world, friends hang out at the local coffee joint. And if one friend shows up first, the other might order a coffee — or might just hold off until the other person arrives.
That run-of-the-mill behavior seems hardly worth remarking on. It certainly shouldn't get you arrested. But that's exactly what happened to two black men who found themselves in handcuffs at a Philadelphia Starbucks this past Thursday.
The pair — only identified in the media as two area realtors — made a trip to a local Starbucks where they awaited the arrival of associate. The visit ended in their forced removal from the establishment and arrest by Philadelphia police.
Internet video of the incident — including an eight-minute YouTube video that showed the men calmly submitted to their arrest — went viral, drawing hundreds of thousands of views.
Unconfirmed reports said the men were reported to the police by an employee who complained they were loitering because they did not immediately make a purchase.
Their detentions drew outrage on social media and calls for a boycott of the coffee shop chain. In 2016, the city of Philadelphia approved a nuisance business lawthat encouraged establishments to crack down on patron behavior deemed to be a public nuisance, including loitering.
But that doesn't explain why the two African American men at the Starbucks were singled out, when the kind of behavior they were arrested for is the norm.
Local news reports, including one in the Philly Voice, said the Philadelphia police department has begun an internal investigation into the matter.
Starbucks, which just last year named Rosalind Brewer as its first woman and African-American COO, initially issued a short statement on Twitter saying it was aware of the incident. By late Saturday, it had issued a full-blown apology.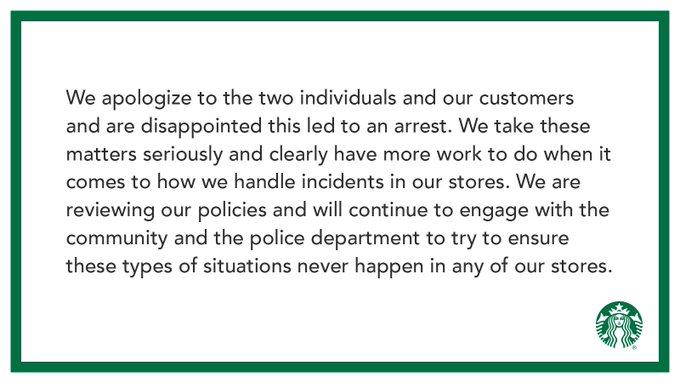 We apologize to the two individuals and our customers for what took place at our Philadelphia store on Thursday.
Small protests have been held outside the Center City, Philadelphia Starbucks where the arrests occurred, while the Twitterverse continued to express its displeasure over the weekend.
Starbucks' reply: https://twitter.com/Starbucks/status/984996627759837185 …
Outside the Starbucks today pic.twitter.com/vcr9QstkRT
2:01 PM – Apr 14, 2018

40.2K
10.8K people are talking about this
Twitter Ads info and privacy
Cornell Brooks, a former NAACP's president, tweeted about all the times he had sought refuge in a Starbucks.

Cornell Wm. Brooks
✔@CornellWBrooks
TRUE CONFESSION: I 've done the following (while Black):
loitered in @Starbucks, waiting for a friend;
loitered in @Starbucks, waiting for the rain to stop;
& EVEN asking my teenage sons to loiter & wait for me at @Starbucks.
ARRESTED for LOITERING w/o A LATTE. SMH

@AP https://twitter.com/missydepino/status/984539713016094721 …
Brittany Packnett, activist and co-host of the Pod Save the People podcast, noted how calm the men appeared during the arrest, possibly because a reaction of any kind could have made the encounter much worse for them.

Brittany Packnett
✔@MsPackyetti
13 Apr
Waiting while black. https://twitter.com/missydepino/status/984539713016094721 …

Brittany Packnett
✔@MsPackyetti
The extremely jacked up part is how calm these two brothers are as they're walking out in handcuffs for doing *exactly nothing* because they already know their totally righteous anger could end on their death.
This is tired. Racism is tired. What say you, @starbucks?!!
6:43 PM – Apr 13, 2018
6,806
2,013 people are talking about this
Twitter Ads info and privacy
Starbucks could not be immediately reached for comment on Saturday. The Philadelphia police department said the two men have been released without charges.
—— AUTO – GENERATED; Published (Halifax Canada Time AST) on: April 15, 2018 at 01:53PM