MANCHESTER UNITED: Sir Alex Ferguson undergoes emergency surgery for brain haemorrhage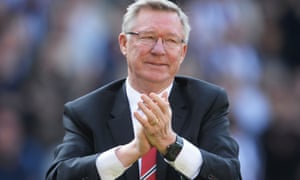 Former Manchester United manager Sir Alex Ferguson is regarded as the greatest manager of the Premier League era. Photograph: Michael Regan/Getty Images

Sir Alex Ferguson undergoes emergency surgery for brain haemorrhage
• Former Manchester United manager in intensive care
• Darren Ferguson missed Doncaster's final game of season on Saturday
THE GUARDIAN –
Sir Alex Ferguson
has undergone emergency surgery for a brain haemorrhage.
The former
Manchester United
manager, 76, was taken to hospital on Saturday morning.
Manchester United said in a statement: "Sir Alex Ferguson has undergone emergency surgery today for a brain haemorrhage. The procedure has gone very well but he needs a period of intensive care to optimise his recovery. His family request privacy in this matter."
Ferguson's son Darren, the Doncaster manager, missed his team's final game of the League One season because of the situation with his father.
Ferguson won 13 Premier League titles during a 27-year reign at Old Trafford, and also lifted the Champions League with the club in 1999 and 2008.
He also won five FA Cups and four league cups before leaving the club in 2013.
—— AUTO – GENERATED; Published (Halifax Canada Time AST) on: May 05, 2018 at 04:22PM