Hundreds feared dead from Sierra Leone mudslides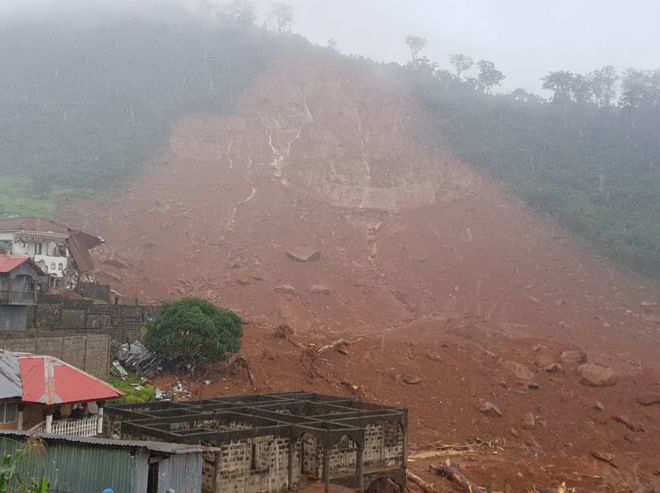 Scores of people are feared dead and others remain trapped after a mudslide near Sierra Leone's capital, Freetown.
A hillside in the Regent area collapsed early on Monday following heavy rains, leaving many houses covered in mud.
A BBC reporter at the scene says many people may have been asleep when the mudslide occurred.
The number of casualties is not yet known but Sierra Leone's Vice-President Victor Bockarie Foh said it was "likely that hundreds are lying dead".
Mr Foh told Reuters news agency that the disaster was "so serious that I myself feel broken", adding that the area was being cordoned off as people were being evacuated.
The AFP news agency is reporting that at least 180 people have been killed. Dozens of bodies have so far been retrieved.
Emergency services are at the scene trying to rescue people trapped in their homes after a section of a hill collapsed, the Sierra Leone Telegraph reports.
Images posted on Twitter show people wading through streets, waist-deep in muddy water following the downpour in and around Freetown.
Flooding is not unusual in Sierra Leone, where unsafe housing is regularly swept away by heavy rains.
In 2015, Freetown endured deadly floods sparked by monsoon rains that killed 10 people and left thousands more homeless.
BBC