GRAND PRIX: Hamilton takes Spain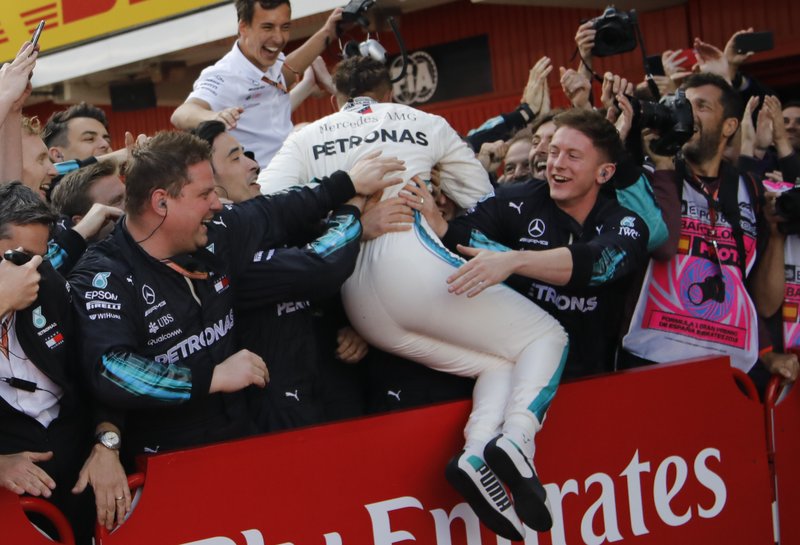 BARCELONA, Spain (AP) — Mercedes driver Lewis Hamilton easily won the Spanish Grand Prix on Sunday for his second straight Formula One victory, increasing his championship lead over Ferrari's Sebastian Vettel.
Valtteri Bottas secured a one-two for Mercedes at the Circuit de Barcelona-Catalunya, while Max Verstappen completed the podium despite finishing the race with a broken front wing on his Red Bull.
Vettel, who now trails Hamilton by 17 points in the drivers' standings, was only fourth after a change in strategy didn't pay off.
It was the first one-two of the season for Mercedes, which had been slower than Ferrari in the past few races.
The victory bodes well for the team for the rest of the season as the performances in Barcelona — where most teams bring significant car updates — usually sets the tone for the rest of the races on the European portion of the calendar.
Hamilton had also won in Azerbaijan two weeks ago, but that victory came mostly because of incidents involving his closest competitors, including a blown tire for Bottas and a crash between Red Bull teammates Daniel Ricciardo and Verstappen.
Ricciardo was fifth in Barcelona, ahead of Kevin Magnussen of Haas and the Spanish duo of Carlos Sainz of Renault and Fernando Alonso of McLaren.
Charles Leclerc of Sauber and Sergio Perez of Force India closed out the top 10.
Hamilton had a clean start, with Vettel moving from third to second by passing Bottas on the outside of Turn 1.
Hamilton pulled away early and was able to comfortably control the pace of the race through to the end, finishing more than 20 seconds ahead of his teammate.
Vettel gave away his position when Ferrari decided to go for an extra stop and give the German driver fresher tires. He lost time in the pits and came back on to the track behind Verstappen, being unable to make up the difference despite the newer tires.
Mercedes was in front in Barcelona the entire weekend, setting the fastest time in all practice sessions and winning pole position with Hamilton — his first since the season-opener in Australia.
Vettel won in Australia and Bahrain, while Ricciardo was first in China.
It was a lukewarm Spanish GP, especially compared to the thrilling races seen in China and Azerbaijan. Most of the action took place during a first-lap incident involving Romain Grosjean of Haas, Nico Hulkenberg of Renault and Pierre Gasly of Toro Rosso, forcing all three drivers to retire and prompting the deployment of the safety car.
Grosjean, who struggled throughout the weekend, couldn't stop his car from spinning across the track on Turn 3 and Hulkenberg and Gasly could not avoid colliding with him.
Later in the race Verstappen was running fourth when he clipped his front wing on a Williams under the virtual safety car, but the damage was not significant and he didn't have to make an extra stop.
Ferrari's Kimi Raikkonen retired near the halfway-point because of an apparent mechanical problem. McLaren's Stoffel Vandoorne also retired because of a car failure. —— AUTO – GENERATED; Published (Halifax Canada Time AST) on: May 13, 2018 at 12:34PM