GMO: US approves Monsanto / Bayer merger – DO YOU WANT A PILL WITH THAT PESTICIDE? RT – US approves merger of Bayer & Monsanto, paving way for world's biggest agrochemical corporation
The US Department of Justice has reached a settlement that would allow Bayer AG's $66 billion takeover of Monsanto Co, requiring the German company to sell $9 billion in agricultural assets first.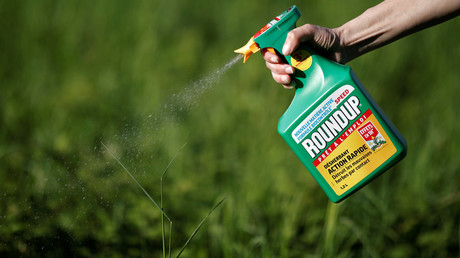 Dying Californian takes Monsanto to court for hiding cancer-causing effect of Roundup weedkiller
The merger as initially proposed would have harmed consumers and farmers by eliminating competition, the DOJ said. However, the Trump administration is satisfied with the terms of the settlement announced Tuesday.
"America's farm system is of critical importance to our economy, to our food system, and to our way of life," said Makan Delrahim, head of the DOJ's antitrust division. "American farmers and consumers rely on head-to-head competition between Bayer and Monsanto."
Last October, Bayer agreed to sell its Liberty herbicide brand, cotton and soybean seeds, and other seed capabilities to BASF SE, another German chemical corporation. That deal was worth €5.9 billion. Another sale to BASF was announced in April, with Bayer divesting of herbicides, wheat hybrids research and digital farming business that had combined sales amounting to €2.2 billion in 2017, according to Bloomberg.
EU regulators approved the merger in March.
Once combined, Bayer-Monsanto will be the world's biggest agrochemical corporation, surpassing DowDuPont Inc. and China National, which acquired Syngenta AG last year.
========
Below is what our daughter wrote about GMO.  She was 16yrs old then applying to University but had already been accepted at Dalhousie University in Halifax, Nova Scotia but wrote this for UofT
On Labeling  – this one is a feel good story and very humbling.  It also opened my eyes.
Anne Steacy Biomedical Health Stream/ Anne Steacy Health and Society Stream 
1. Should the Canadian government mandate that all genetically modified foods sold in Canada be labeled as such? Identify reasons both for and against this type of policy, and explain which perspective you support and why. (500 word maximum)
The growing movement of people concerned with the presence of genetically modified organisms (GMOs) in food has sparked social and political debate. Many groups have petitioned the Canadian government, demanding they mandate that all genetically modified foods sold in Canada be labeled as containing GMOs. 
These groups, and other individuals, want GMO products to be labeled to allow consumers to make more informed choices. People are concerned that consumption of GMOs could cause long-term health effects. More than sixty countries around the world have responded to the concern by creating strict laws or banning foods containing GMOs. 
However, many organizations have stated that the fears surrounding GMOs are unfounded. The FDA says that all genetically modified foods are subjected to the same standards as non-genetically modified foods, and they do not plan on labeling foods containing GMOs. 
The World Health Organization determined that the consumption of genetically modified food does not affect health. There are also approximately two thousand scientific studies that support the claim that genetically modified foods are safe to eat. 
The Canadian government should not have to mandate that all genetically modified foods sold in Canada be labeled. Approximately seventy percent of all foods sold in Canada contain GMOs. Foods that do not contain GMOs are definitely in the minority. It makes more sense financially and logistically to label fewer items. Many of these items are already being labeled by trusted organizations. Anything with a USDA Certified Organic label does not contain GMOs. 
The non-GMO Project has been working as the only independent organization to certify non-genetically modified foods. They have already labeled twenty seven thousand items and receive seventy new inquiries about labeling every week. 
The USDA has a financial assistance program that can cover up to seventy five percent of the costs of certification for smaller companies who wish to be certified. Several independent farmers have gone through the non-GMO Project certification process and have reported that it is a fairly inexpensive process. Besides concern from the general public, there is no reason to label the vast amount genetically modified items. It is better to support the organizations dedicated to certifying foods as not genetically modified, than to lobby the Canadian government to provide an inefficient solution. 
By Rebecca Denise Lefranc, 
Moncton Christian Academy, Canada
Written and Submitted for Trinity One (University of Toronto), Sept 2015 entry.
 http://nangalama.blogspot.com/2015/05/to-label-or-not-to-label-gmo-case-for.html