GERMANY: Police shoot 'rampaging' man at Berlin Cathedral – VIDEO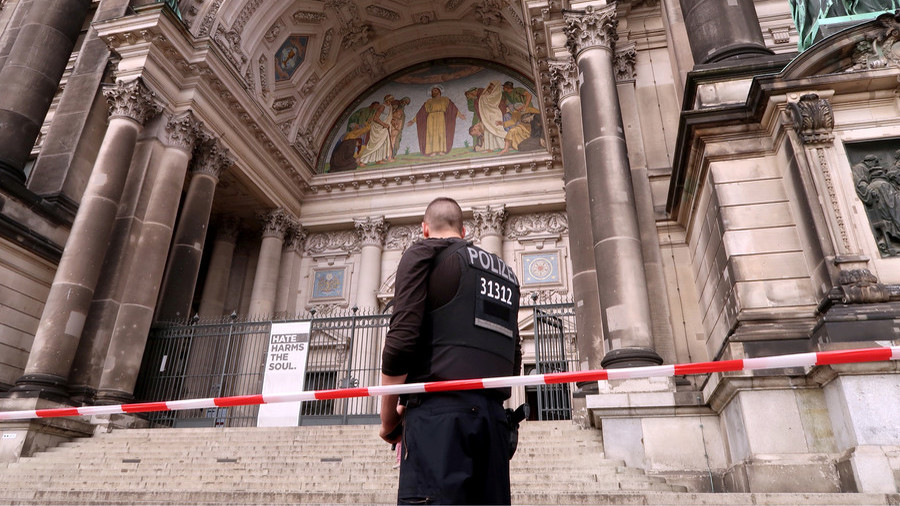 Police is seen in front of the Berliner Cathedral after a German policeman shot a man at the building, Germany, June 3, 2018. © Fabrizio Bensch / Reuters
RT – German police have opened fire at a man said to be "rampaging" at the Berlin Cathedral. The landmark has been cordoned off and ambulances have been dispatched.
The Berlin police department confirmed in a Twitter post that an officer had opened fire at a "rampaging" person in the Berlin Cathedral, adding that the suspect had been shot in the leg.
Footage posted on Twitter shows armed police officers cordoning off the area around the cathedral, which is one of the major tourist attractions of the German capital. Several ambulances have reportedly left the scene. Some German media reported that at least two people, including a police officer, were injured in the shooting.
Staff at the cathedral called the police around 16:00 local time (15:00 GMT) and said that a person was "rampaging" in the building, according to Berliner Morgenpost daily.
DETAILS TO FOLLOW
—— AUTO – GENERATED; Published (Halifax Canada Time AST) on: June 03, 2018 at 12:52PM