Forest fires follow California mudslides, 5 dead
UPDATE via SPUTNIK Jan 10, 2018 at 20:30 AST – death toll now upped to 17 and expected to keep rising as dozens of people are still missing.
UPDATE via SPUTNIK Jan. 10, 2018
Thirteen deaths have been reported out of Southern California as a result of severe mudslides that hit the region following heavy rainfall Monday night, according to the Santa Barbara County sheriff's office.
The Santa Barbara County Fire Department previously reported that numerous people were trapped in their homes or cars by the mudslides. Roads have been closed and rescue operations are underway in Santa Barbara, Ventura and Los Angeles counties.
Santa Barbara County Sheriff Bill Brown added that the number was likely to increase as search and rescue operations continue. "While we hope it will not," Sheriff Brown added.
AP – At least five people were killed and homes were swept from their foundations Tuesday as heavy rain sent mud and boulders sliding down hills stripped of vegetation by Southern California's recent wildfires.
Rescue crews used helicopters to lift people to safety because of blocked roads, and firefighters slogged through waist-high mud to pull a muck-covered 14-year-old girl out of the ruins of a home in Montecito, northwest of Los Angeles, where she had been trapped for hours. She was taken away on a stretcher.
Five bodies were found in and around Montecito, Santa Barbara County Fire Department Capt. Dave Zaniboni said.
Several houses were destroyed, and residents were unaccounted for in neighbourhoods hard to reach because of downed trees and power lines, he said. The mud was reported to be up to 1.5 metres deep in places.

In this photo provided by Santa Barbara County Fire Department, firefighters successfully rescue a 14-year-old girl, right, after she was trapped for hours inside a destroyed home in Montecito, Calif. on Tuesday. (Mike Eliason/Santa Barbara County Fire Department via AP)
"We're performing multiple rescues. There will be more," Zaniboni said, adding that some of those brought to safety were buried in mud. There was a backlog of scores of callers requesting help.
North also getting walloped with rain
Sally Brooks said a "boulder slide" occurred outside her home in nearby Carpinteria in the dead of night.
"We were laying in bed listening to the rain, and out of nowhere our bed just started shaking, and we could hear just this, like, thunder," she told KTLA-TV.
California wildfires: Mandatory evacuation orders called off
Houses built too close to bush spread huge California fires
Photos posted on social media showed upside-down cars along debris-clogged roads and mud waist-deep in living rooms.

A rescue team removes their boat after a swift water rescue in the Los Angeles River early Tuesday at Lake Balboa in Los Angeles. Crews rescued residents from inundated homes Tuesday as mud and debris from wildfire-scarred hillsides flowed through neighbourhoods. (Dean Musgrove/Los Angeles Daily News via AP)
Forecasters said the maximum rainfall occurred in a 15-minute span starting at 3:30 a.m. near the Montecito, Summerland and Carpinteria areas of Santa Barbara County. Montecito got more than a half-inch in five minutes, while Carpinteria received two centimetres in 15 minutes.
Crews worked to clear debris from roads across the Los Angeles metropolitan area, including a key stretch of U.S. 101 that was brought to a standstill along the border of Santa Barbara and Ventura counties. Nearly 30 miles of the highway were shut down at point.
Mandatory evacuations were ordered for about 700 homes in sections of Los Angeles County that burned last month in the biggest wildfire on record in California.
The storm walloped much of the state with damaging winds and thunderstorms. Downtown San Francisco got a record eight centimetres of rain on Monday, smashing the old mark set in 1872.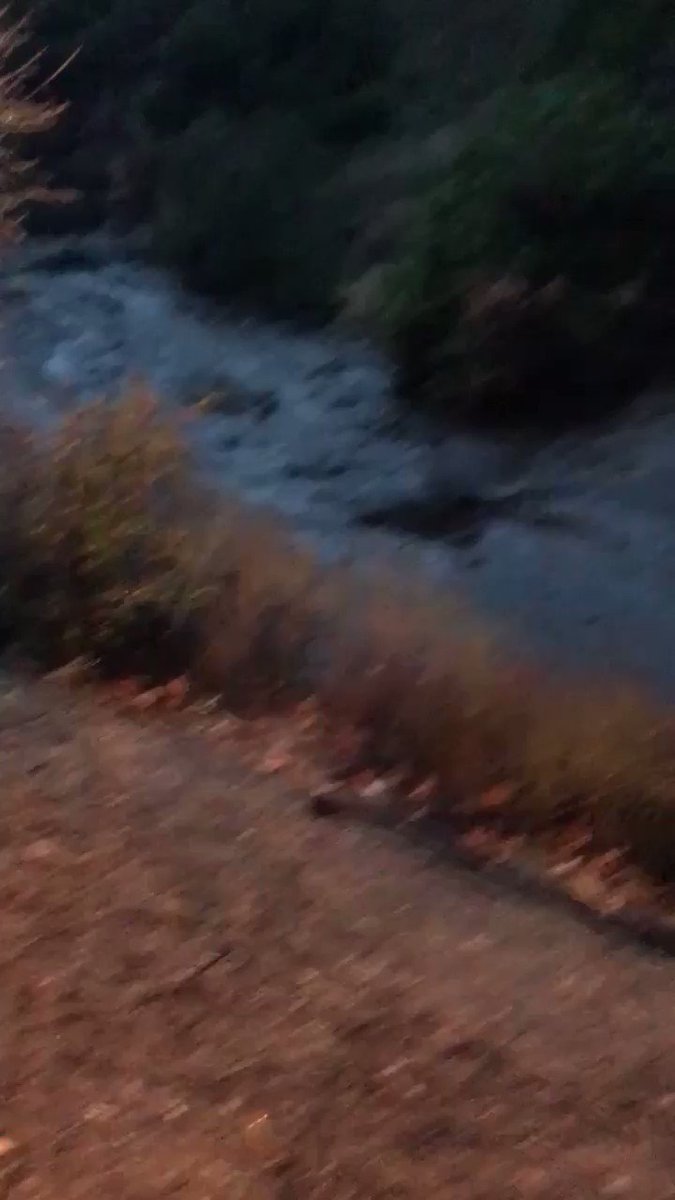 Burbank Police
✔@BurbankPD
This is how fast water is flowing from the hills above Burbank. This is a large amount of water, with even more rain expected. If you encounter water like this, do not attempt to cross it or drive through it.