FOOTBALL: Liverpool star Salah off injured in 30th minute: Latest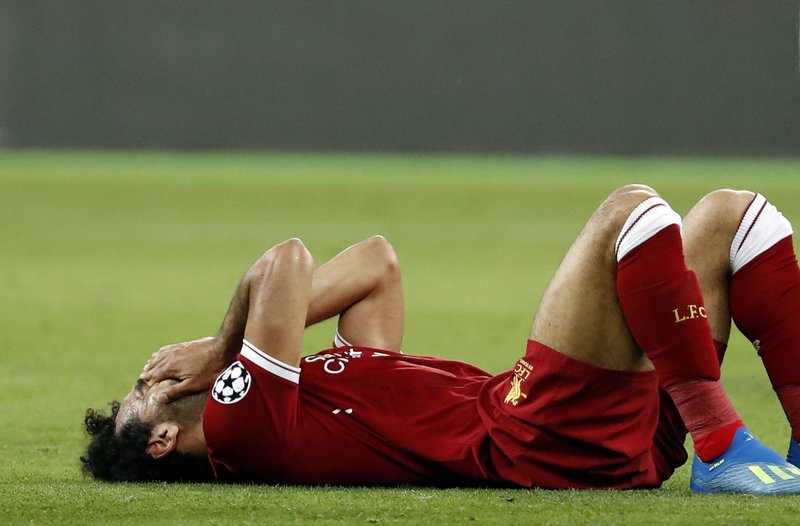 KIEV, Ukraine (AP) — The Latest on the Champions League final between Liverpool and Real Madrid (all times local):
10:20 p.m.
Liverpool's star foward Mohamed Salah is out of the Champions League final after 30 minutes with a shoulder injury with the score at 0-0.
A tearful Salah was in obvious pain and pointing to his left shoulder when he fell to the ground for a second time, four minutes after he tangled with Real Madrid captain Sergio Ramos.
The veteran defender grabbed Salah chasing the ball and held on to Salah's right arm. In their twisting fall, the Egypt forward landed heavily on his left shoulder. Ramos was not shown a yellow card.
Salah was replaced by Adam Lallana.
9:55 p.m.
Real Madrid fans who couldn't make it to Kiev are packing their home Santiago Bernabeu Stadium to watch the Champions League final against Liverpool.
A near-capacity crowd of 80,000 fans was on hand as the game was broadcast on eight large screens which were set up midfield.
Club members had free access, while the general public had to pay 10 euros ($11.6).
The team opened the stadium for the first time in the 2014 final in Lisbon, then did the same in 2016 and 2017.
Madrid won all three finals.
___
9:50 p.m.
Liverpool fans are outnumbering and outsinging Real Madrid's following in the 63,000-capacity crowd.
Both teams' fan anthems were played before kickoff and the red scarves of Liverpool fans peppered one corner of the end occupied by Madrid supporters during "You'll Never Walk Alone."
The game kicked off with Liverpool fans' current Champions League song, "Allez, Allez, Allez," booming around the Olympic Stadium in Kiev.
Both teams were allocated more than 16,000 tickets for the game.
9:40 p.m.
UEFA expects a global television audience of more than 160 million for the Champions League final.
Guy-Laurent Epstein, UEFA's marketing director, says the audience rating will include viewers watching the game streamed live on YouTube in Britain.
Epstein tells The Associated Press that Real Madrid and Liverpool have "two strong brands" and global appeal.
Liverpool, which has a strong following in Asia, is also playing in its first Champions League final for 11 years.
"There has been a lot of hype with the way the teams qualified," Epstein says. "It's been a mad season."
The best-performing recent final was a 175 million "global in-home average audience" for the 2011 final when Barcelona beat Manchester United.
8:55 p.m.
Cristiano Ronaldo leads the Real Madrid attack needing to score twice to match his own single-season Champions League record.
The Madrid star has 15 goals in the competition, and got 17 in the 2013-14 title-winning season. His record year included a penalty in the last minute of extra time in the final to cap a 4-1 win over Atletico Madrid.
Ronaldo seems sure to be the Champions League top scorer for the sixth straight year, and outright top scorer in five of them.
He is five goals ahead of Liverpool forwards Mohamed Salah and Roberto Firmino, who have 10 each. Sadio Mane, who also starts in the Liverpool attack, has nine.
It's the same Madrid lineup as last year's final — a 4-1 win against Juventus.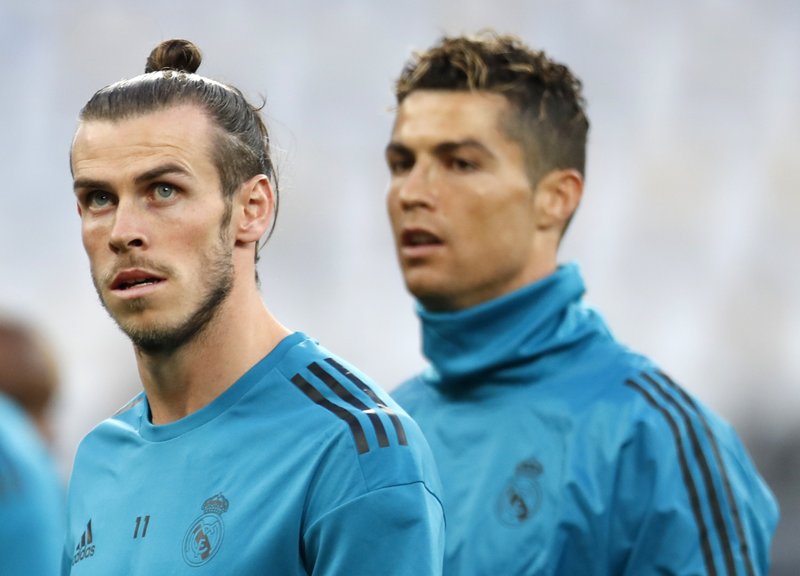 Real Madrid's Gareth Bale and Cristiano Ronaldo
8:40 p.m.
The lineups have been announced.
Real Madrid: Keylor Navas; Dani Carvajal, Sergio Ramos, Raphael Varane, Marcelo; Casemiro, Toni Kroos, Luka Modric; Francisco 'Isco' Alarcon, Cristiano Ronaldo, Karim Benzema.
Liverpool: Loris Karius; Trent Alexander-Arnold, Dejan Lovren, Virgil van Dijk, Andrew Robertson; Georginio Wijnaldum, Jordan Henderson, James Milner; Mohamed Salah, Roberto Firmino, Sadio Mane.
8.27 p.m.
Liverpool has arrived for its final against Real Madrid.
Aiming for its first Champions League title since the 2005 "Miracle of Istanbul," the team arrived in a bright red bus bearing the slogan "We Are Liverpool." Fans of the Reds thronged the streets around the Olympic Stadium.
Coach Juergen Klopp led his team out of the bus and into the stadium. Virgil van Dijk chewed gum, while Mohamed Salah was among several players wearing headphones.
Klopp admitted Thursday that Liverpool would face a difficult task against a Madrid team which "works like a clock from Switzerland."
Klopp is aiming to end a losing streak in his last five major finals.
Alex Oxlade-Chamberlain arrived on crutches due to the season-ending knee injury he suffered last month. He was accompanied by club chairman Tom Werner.
___
8:20 p.m.
Real Madrid has arrived at the Olympic Stadium in Kiev as it seeks its third consecutive Champions League title on Saturday in the final against Liverpool.
Fans lined streets as the team bus approached the stadium, with some supporters waving flares. Cristiano Ronaldo smiled for the cameras as he exited the bus wearing headphones.
The last time a team won Europe's premier cup competition three years in a row was Bayern Munich in 1976.
Despite Real Madrid's run of success in Europe, coach Zinedine Zidane said Thursday his team "doesn't feel like the favorites" for the final.
___
8:15 p.m.
Mayor of Kiev, Vitali Klitschko, has been walking pitchside at the Olympic Stadium less than two hours before kickoff.
The former world heavyweight boxing champion stopped to pose for selfie photographs by several fans in white Real Madrid shirts.
Klitschko has spent much of the past two days trying to ensure Liverpool fans with tickets could get to his city. He was in talks with the mayor of Liverpool and airline authorities trying to find landing slots at Kiev's two airports for flights from England which had been canceled.
Klitschko was first elected to office in 2014, two years after his last professional fight.
___
7:50 p.m.
Goals, goals, goals. This season is the most prolific in the 26-year Champions League era.
A strike rate of 3.20 goals per game — 397 in 124 games so far at one goal every 28 minutes — has beaten the record of 3.04 set last season.
And the two highest-scoring teams are in the final. Liverpool has 40 goals and Real Madrid 30 — half of its total scored by Cristiano Ronaldo.
"Nobody expected us to be here but we are here, because we are Liverpool," coach Juergen Klopp said. "It's the most exceptional run to a final with the most goals ever. I can't believe that its true, but it's us."
Liverpool has also been the more efficient team, scoring 10 more than Madrid from 19 fewer attempts, according to UEFA match statistics.
The goal glut in the competition is not just due to more mismatches. Liverpool's habit of conceding goals when leading games led to a 3-3 draw against group rival Sevilla, and thrilling semifinals against Roma — a 5-2 win and a 4-2 loss.
Madrid's defense also struggled in the knockout rounds. A 3-1 home loss in the quarterfinals second leg against Juventus was followed by a 2-2 draw against a wasteful Bayern Munich side in the semifinals second leg.
___
7:10 p.m.
Liverpool hopes European Cup history from May 1981 will repeat itself.
When Liverpool beat Real Madrid 1-0 in the final 37 years ago, it was the only time an English team beat a Spanish opponent to lift the iconic, large-handled trophy in the competition's 63-year history.
Each England vs. Spain final since then went Spain's way, though none involved Madrid.
Barcelona accounted for all three wins, beating Arsenal in the 2006 final, and Manchester United twice, in 2009 and two years later.
Madrid has lost all three of its European finals against British teams.
An Aberdeen team managed by Alex Ferguson beat Alfredo Di Stefano's Madrid in the 1983 European Cup Winners' Cup final. In the same competition, Madrid lost the 1971 final to Chelsea.
___
6:35 p.m.
European fans may have struggled to make it to the Champions League final in Kiev, but Liverpool and Real Madrid supporters from elsewhere in the world are making their presence felt.
Ukraine has a simpler visa process than many European Union countries, and in the city center fans are bearing flags from countries as varied as South Africa, Ecuador and Bahrain. Liverpool appears to have brought more fans from Asia and Africa, while Real has supporters from South America.
Some had long journeys, like Liverpool supporter Eric Luk, who came from Hong Kong via Kazakhstan over almost a whole day and night.
It's not been all plain sailing. Australian fans Lachlan Garrard and Ian Dennis complained of waiting four hours to be issued a visa on arrival at one of Kiev's airports, and everyone must contend with astronomical hotel prices.
English clubs won the last two Champions League finals played outside the European Union. Manchester United won on penalties over Chelsea in Moscow in 2008 and Liverpool staged a spectacular comeback against AC Milan in Turkey in 2005 — the famous "Miracle of Istanbul."
___
5:45 p.m.
Four years ago, Kiev's central square was a battleground. Now it's packed with fans ahead of the Champions League final.
Popularly known as Maidan, in late 2013 and early 2014 the square was the scene of protests which eventually ousted then-President Viktor Yanukovych.
Crowds camped out on the square for weeks, battled police, and more than 100 people were shot dead on the square and in surrounding streets.
On Saturday, Real Madrid and Liverpool supporters mixed with locals on the square as musical fountains played Frank Sinatra's "My Way."
"I came here in 2014 and these buildings were all charred and there were tires everywhere after the demonstrations," says Stefan Polotajko, a British Liverpool fan with relatives in Ukraine. "The way it's been transformed is absolutely amazing."
Also on the square was Lyudmyla Agafonova, who moved to Kiev with her family because of the conflict with Russia-backed separatists in her home city of Donetsk.
She says "the Real fans are more fun. Liverpool are a bit more restrained, like the English in general. We're happy it's all happening here."
Her husband Serhiy adds "it's great to have all these foreigners here," and "Ukraine is slowly getting closer to Europe."
___
4:39 p.m.
Kiev police say they evacuated five stations on the city's subway network after a hoax caller warned of bomb attacks.
Ahead of the Champions League final between Liverpool and Real Madrid, police checked the stations and "dangerous items were not found."
Subway operations are now back to normal.
The police say they're now hunting the hoax caller.
Besides the bomb scare, police have so far registered 26 crimes involving foreigners, whether as victims or perpetrators.
That includes 10 cases of theft, three of hooliganism and two of fraud. Other foreigners were fined for causing a road accident and drinking in public.
Police earlier detained two people after Liverpool fans were attacked at a restaurant on Thursday, leaving two injured.
___
4:23 p.m.
Fans are thronging the center of Kiev after many experienced travel problems.
Flight cancellations meant more than 1,000 Liverpool supporters could not leave Britain, while soaring accommodation prices persuaded roughly the same number of Madrid fans to have their ticket money refunded rather than travel to Ukraine.
Organizer UEFA has said refunded tickets will be made available to locals but there is likely to be the unusual sight of empty seats at a Champions League final.
Those fans who did make it are largely positive about Kiev, where the beer is cheap and a festival atmosphere is apparent in the city center.
Madrid fans Fabino Mohino and Yago Saez said they spent about 750 euros ($875) apiece on flights and traveled for 20 hours through Barcelona.
"We were lucky to have a friend of a friend in the suburbs," Mohino said, meaning they could dodge Kiev hotel prices which are as much as $2,000 a night.
"Loving it," added Saez, who has attended six of the last seven Champions League finals. "So far, so good."
Security is tight in Kiev, with police lining the center, which has been closed to traffic. That seems to have prevented repeats of Thursday night's attack on Liverpool fans at a restaurant — apparently by Ukrainian hooligans — which left two injured.
___
3:35 p.m.
Liverpool manager Juergen Klopp will be supported at the Champions League final by a Premier League counterpart — Huddersfield's David Wagner.
The two coaches have been friends for more than 25 years, starting in Germany and continuing in England.
Speaking in Kiev ahead of Saturday's final against Real Madrid, Wagner said "we have texted a few times in the last week … and I am sure his team will be on fire tonight."
Klopp is godfather to Wagner's daughter. Wagner was Klopp's best man. They played for the same Mainz team in the Bundesliga in the early 1990s. They were coach (Klopp) and assistant coach (Wagner) for Borussia Dortmund from 2011-15.
Klopp was hired by Liverpool in 2015 when Wagner was appointed Huddersfield manager.
Wagner says Klopp "is able to deliver an atmosphere where everyone is relaxed but focused enough and this is why I am pretty confident they have a chance."
___
12:45 p.m.
There is 4.5 million euros ($5.2 million) extra prize money at stake for the winner Saturday, on top of the tens of millions Liverpool and Real Madrid have earned already from organizer UEFA this season.
The champion will earn 15.5 million euros ($18.1 million) and the runner-up gets 11 million euros ($12.8 million). That money from UEFA includes each club's share of ticket revenue.
UEFA will distribute more than 1.3 billion euros ($1.5 billion) in prize money among the 32 teams that qualified for the group stage.
All 32 clubs get almost 13 million euros ($15.2 million) for entering, bonuses for wins and draws in group-stage games, fees for reaching each knockout round, and a share of their national broadcasting deal (known as "market pool" money).
Madrid is on target to pocket at least 80 million euros ($93.3 million) from UEFA. Liverpool should get at least 75 million euros ($87.5 million), including a 2 million euros ($2.3 million) bonus for advancing from the playoff round last August.
Prize money is expected to rise by around 30 percent next season when a new, three-year cycle of broadcasting and sponsorship deals kick in.
___
11:50 a.m.
Don't be surprised if it takes until Sunday for the Champions League title to be decided.
Real Madrid and Liverpool kick off at 9:45 p.m. local time in Kiev, that's 1845 GMT. The game will go beyond midnight if the score is level after 90 minutes and 30 minutes of extra time are needed.
Three of the past six finals also needed a penalty shootout after extra time, and that would push the action close to 12:30 a.m. in the Ukrainian capital.
Madrid and Liverpool have combined to win 17 titles since the competition began in the 1955-56 season.
While Madrid is chasing a record-extending 13th win, Liverpool would go third on the all-time list by winning its sixth. AC Milan ranks second with seven European titles.
Of all the teams with at least three titles, Madrid and Liverpool boast the best record in finals.
Two-time defending champion Madrid is chasing the first hat-trick of titles since Bayern Munich won each European Cup final from 1974-76. Ajax also won three in a row from 1971-73.
It would also give Madrid four titles in five years — the best streak since the Spanish club won the first five editions through 1960.
___
11:45 a.m.
Liverpool and Real Madrid fans are gathering in Kiev for the first Champions League final to be played in Ukraine.
The final is a rare prestige moment for a country whose recent years have been dominated by the conflict with Russia-backed separatists and severe economic problems.
But it's one of the most logistically-challenging locations chosen by UEFA for its showpiece club final, with a shortage of hotel rooms and a lack of flight landing slots.
Fueled by Cristiano Ronaldo's goals, Madrid is chasing a 13th European Cup title.
Liverpool has reached the final for the first time in 11 years. The Premier League club won the last of its five European titles in 2005. —— AUTO – GENERATED; Published (Halifax Canada Time AST) on: May 26, 2018 at 04:36PM