FOOD SECURITY: Monsanto, Bayer merge to take full control of world food
ONE MORE WORRY: CORPORATE PIRATES BAYER AND MONSANTO GET CHOKE HOLD ON WORLD AGRICULTURE
By Joe Rothstein — March 27, 2018 – EI NEWS
You likely didn't notice the news item a few days ago reporting that the European Commission has approved the sale of Monsanto, the world's largest supplier of seeds, to Bayer, the world's second largest supplier of pesticides.
I almost missed it, too. My wife found the story buried at the bottom of a business page in our morning newspaper. It was a day when exceptionally turbulent White House news, passage of a $1.3 trillion spending bill, and the latest chapter of Donald Trump's sexual affairs crowded out just about everything else.
But for long term importance, the Bayer-Monsanto hook up is likely to outlive all the other stories that made headlines. Why? Read this five-alarm fire bell from the group, Coalition Against Bayer Dangers:
"Bayer's and Monsanto's business models are ruthless: both companies make their profits through pesticides and genetic engineering; they damage the health of farmers and consumers; they destroy the global climate and biodiversity, and they jeopardize the basis of life and nutrition for all future generations."
Yes, there is a "coalition" of anti-Bayer activists, representing many anti-Bayer groups. Researching Bayer's record, you can see why.
Start with drug pricing. While the price of drugs in the U.S. increases on average about 3 to 5% a year, the cost of Bayer's multiple sclerosis drug Betaseron increased from $48,676 in 2012 to $91,261 in 2017, according to the National Multiple Sclerosis Society.
Bayer's rap sheet over the past few decades is littered with examples of deception and fraud, some caught by government watchdogs. Like more than 7 years of overstating pricing to get larger reimbursements from Medicaid; using blood from pools of high risk donors to produce a clotting drug for hemophiliacs, resulting in thousands of HIV deaths; contamination of U.S. rice crops by using unauthorized genetically modified strains.
Search "case against Bayer" and you get pages of results.
Monsanto is even worse. Go to www.corp-research.org/monsanto and you see decades of research about dangerous products Monsanto sold without revealing risks, bullying of farmers, deceptive practices and other bad-boy behavior. Monsanto's weed-killing herbicide, glyphosate, is so pervasive it now contaminates just about all the food we eat. The World Health Organization considers it a likely carcinogen.
What makes all of this so dangerous is these two food agri-chemical companies now control a quarter of the world market for seeds and pesticides. Most of the rest of the market is controlled by just three other food-chemical behemoths. The Chinese giant ChemChina, which recently bought Syngenta, the newly combined Dow-DuPont, and German controlled BASF.
As recently as the 1990s, there were more than 7,000 seed companies. Most of them were owned by families, none controlling over 1% of the seed market. Now, just four companies will control about 75% of both the seed and agri-chemical sales.
With limited options, farmers will buy seeds at whatever price Bayer decides to charge, there will be more incentive for the four companies to divide up markets to limit competition, less incentive for those companies to do research to gain competitive advantage, and more pressure on government authorities to be monopoly-friendly in regulating the industry.
The startling speed with which such a vital industry consolidated is the latest in a worldwide trend that is killing capitalism. Four companies control 80% of U.S. domestic airline seats. Five companies control about 80% of the health insurance market. Nearly 100% of drugstore revenues go to just three companies. The beef market is down to four major companies. Seventy per cent of the beer sold in America comes from just two companies.
Sure, you have a choice of where you get your clothes cleaned, your nails done and where you buy your lunch. But where the big money is, the doors of competition are closing fast, and the survivors are dividing the spoils.
The beating heart of capitalism is competition. Kill off competition and capitalism dies with it. What remains? We see the answer when we travel, get our health insurance bills, fill our prescriptions and deal with credit card companies. Consumers become hostages to corporate profits.
Now we're at the tender mercies of corporate food pirates like Bayer and Monsanto. That's a situation we will live with long after we've forgotten Stormy Daniels and who won this year's March Madness trophy.
(Joe Rothstein is a regular columnist for USPoliticstoday.com and author of the acclaimed political thriller "The Latina President and the Conspiracy to Destroy Her." Mr. Rothstein can be contacted at joe@einnews.com).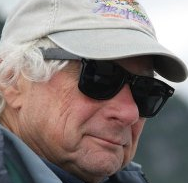 Joe Rothstein is editor of U.S. Politics Today. His career in politics spans 35 years, as a strategist and media producer in more than 200 campaigns for political office and for many political causes. He was a pioneer in professional political consulting and one of the founding members of the American Association of Political Consultants. During his career Mr. Rothstein has served as editor of the Pulitzer Prize-winning Anchorage Daily News and adjunct professor at George Washington University's Graduate School of Political Management. He has a master's degree in journalism from UCLA.