CONGO: IMF ready to bail Congo Republic out when conditions are met
IMF says Congo Republic will get deal once conditions met
ABIDJAN (Reuters) – The IMF will propose a financial arrangement to Congo Republic once the central African country has completed work needed to make its debt sustainable, the fund said on Friday, contradicting a claim by Congo that the deal was already done.
Congo said on Friday it had fulfilled the criteria for a deal with the International Monetary Fund (IMF) and had reached an agreement on a three-year program aimed at turning around its debt-crippled economy.
"The authorities and the IMF mission have reached broad understandings on a program that could be supported by the IMF under a financial arrangement," an IMF spokesman said in response to emailed questions.
"The Republic of Congo … (is) working to restore debt sustainability and ensure full program financing. Once this work is completed, IMF Management will be prepared to propose the arrangement," he added.
Like other Central African oil producing countries, Congo has been hit by low crude prices. While several neighbors, including Chad and Gabon, have secured bailouts from the IMF, talks with Congo have dragged on since last year.
The delay is largely due to the IMF's call for the government to restructure its debt, which stood at $9.14 billion, or around 110 percent of GDP, by the end of July – a level the Fund says is unsustainable.
"Republic of Congo congratulates itself for having met all of the criteria to be eligible for financing of its economic and financial program by the IMF and its international partners," Congo had earlier said.
Glencore PLC380.65
GLEN.LLONDON STOCK EXCHANGE
+2.65(+0.70%)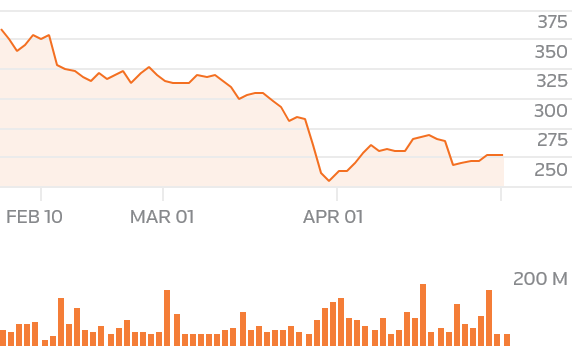 GLEN.L
It said the program, which still required IMF board approval, aimed to restore sustainable and inclusive economic growth and support a "stable microeconomic environment compatible with the viability of the public debt".
The statement did not give the expected size of the IMF package, but it said that conclusion of the program would unlock an additional 135 million euros ($166 million) from France.
The IMF said in a statement on Thursday that it expected Congo to continue implementing its strategy to restore debt sustainability and would propose a program to the board "once compliance with all relevant IMF policies has been established".
Congolese authorities are in talks with creditors, including trading houses Trafigura and Glencore (GLEN.L) from whom it borrowing $2 billion.
The bulk of its external debt, however, is owed to Chinese entities. —— AUTO – GENERATED; Published (Halifax Canada Time AST) on: April 20, 2018 at 07:55PM