WORLD CUP 2018: 'There's going to be a massive party tonight' – Schmeichel on Russia World Cup win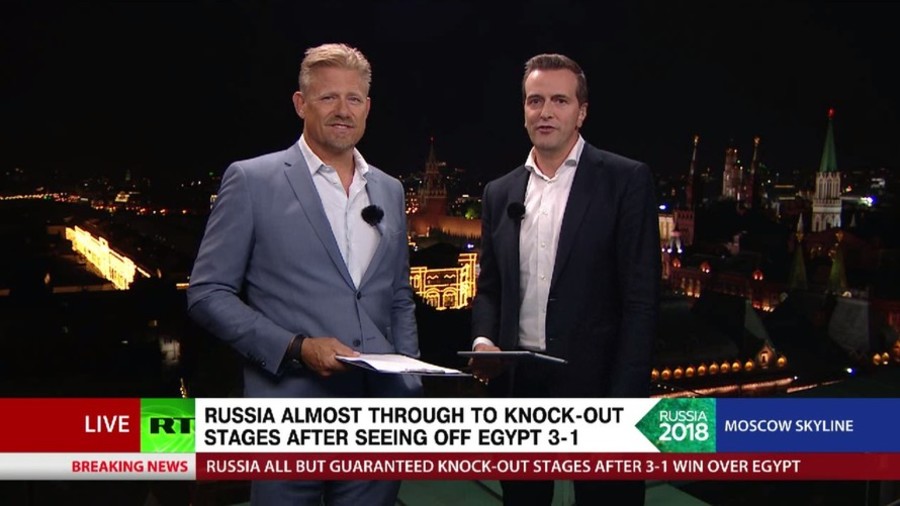 Get short URL
RT – Denmark goalkeeping great Peter Schmeichel has predicted a "massive party" in Moscow after World Cup hosts Russia beat Egypt to all but book their place in the knockout stages for the very first time.
Russia swept aside an Egypt team containing returning striker Mohamed Salah, running out 3-1 winners in front of 64,000 fans in St. Petersburg thanks to an own goal from Ahmed Fathy and strikes from Denis Cheryshev and Artem Dzyuba, with Egypt pulling a late goal back through Salah.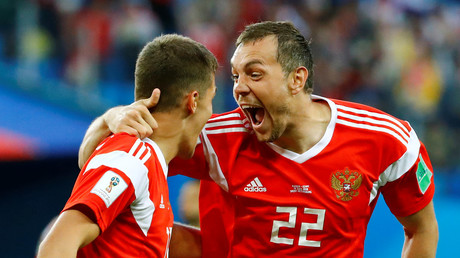 Rampant Russia all but through to World Cup knockout stage after 3-1 win over Salah's sorry Egypt
The victory puts Stanislav Cherchesov's men top of Group A with a perfect record of two wins from two, and only an extremely unlikely series of events would see them deprived of reaching the last 16 for the first time competing as an independent nation.
Speaking to RT from central Moscow, Danish goalkeeping great Schmeichel said the hosts were set for a party of massive proportions.
"The atmosphere here where we are has been electrifying for most of this tournament," Schmeichel said.
"When the second [Russia] goal went in, that's a massive party down here. There's going be a massive party in Moscow tonight.
"Employers be warned – your employees won't be on time tomorrow," the Great Dane said.
Schmeichel has traveled around Russia for RT's 'The Peter Schmeichel Show', and said that there were doubts as to what the hosts could do ahead of the tournament – which have now been dispelled.
"I always had the impression that no one really believed that [Russia] as a team could do it.. but what has happened over the past five days has completely changed the mood.
"It's happened so many times, the host nation, no one believes them, and they surprise them…," Schmeichel added.
"This is what football is, this is what the World Cup is, it brings the world together, people don't care where it is… it's been organized well.
"This time it's the turn for the hosts to show how well they can party."
Schmeichel also praised Russia coach Stanislav Cherchesov's tactical changes ahead of the Egypt game, which saw striker Artem Dzyuba start instead of Fedor Smolov.
"Every decision he made has been the right decision – the manager is the hero of the team," Schmeichel said.
Russia round out their group campaign against Uruguay in Samara on Monday, knowing that if the Uruguayans beat the Saudis – as expected – then they have qualified for the last 16.
The Russians can well and truly get their own party started.