VENEZUELA: Pence in Bogota to discuss ways to oust Maduro
BOGOTA, Colombia (Associated Press) — The United States is planning new ways to pressure Venezuelan President Nicolas Maduro to give up power and other means to provide assistance to the people of the economically devastated South American nation after a weekend effort failed to deliver aid.
Vice President Mike Pence arrived in the Colombian capital and headed immediately into a meeting with Colombian President Ivan Duque. Pence will also meet with members of a regional coalition and Venezuelan opposition leader Juan Guaido to discuss the next steps aimed at ousting Maduro.
A senior administration official said Pence is expected to announce "clear actions" as he speaks to members of the Lima Group, a coalition of more than a dozen nations organized to address the crisis in Venezuela.
Pence's appearance before the Lima Group comes two days after a U.S.-backed effort to deliver humanitarian across the border from Colombia ended in violence, with forces loyal to Maduro firing tear gas and buckshot on activists accompanying the supplies and setting the material on fire. Two people were killed and at least 300 wounded.
For weeks, the U.S. and regional allies had been amassing emergency food and medical kits on Venezuela's borders in anticipation of carrying out a "humanitarian avalanche" by land and sea to undermine Maduro's rule.
Guaido, who has been recognized as interim president by the U.S. and 50 other governments who say Maduro's re-election last year was illegitimate, has called on the international community to consider "all options" to resolve Venezuela's crisis. A close ally, Julio Borges, the opposition ambassador to the Lima Group, was more explicit Sunday, urging the use of force against Maduro's government. But U.S. officials have avoided talk of military action.
The administration official said the U.S. plans to bring "the full measure of its economic and diplomatic weight to bear on this issue." Secretary of State Mike Pompeo, in interviews on "Fox News Sunday" and CNN's "State of the Union," did not rule out U.S. military force but said "there are more sanctions to be had."
But any additional sanctions will increase the suffering of the Venezuelan people and may lead to more political violence, said Mark Weisbrot, the co-director of the Center for Economic and Policy Research, who advocates a negotiated end to the political crisis.
"The 'humanitarian aid' this weekend was a public relations stunt, since the aid was just a tiny fraction of the food and medicine that they are depriving Venezuelans of with the sanctions," Weisbrot said. "As the Trump administration admitted, it was an attempt to get the Venezuelan military to disobey Maduro. It was a farce, and it failed."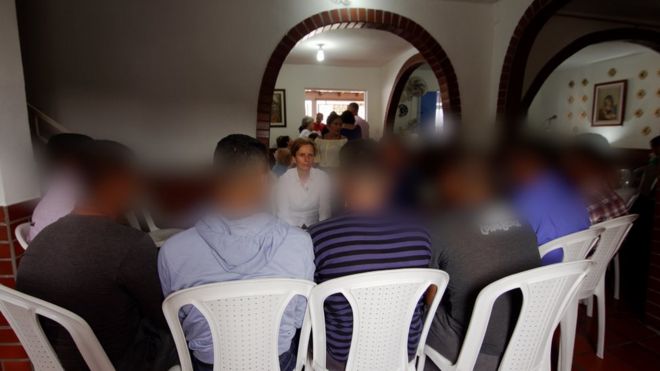 Image caption A number of defectors have spoken to the BBC
Venezuela crisis: Defectors fear for families under Maduro
By BBC
Venezuelan soldiers who defected into Colombia on Saturday say they fear for the safety of their families under President Nicolás Maduro's government.
Speaking exclusively to the BBC's Orla Guerin, one defector aged 23 says he is worried forces loyal to the president may "lash out against my family".
"But I think it was the best decision I could have made," he adds.
More than 100 soldiers are said to have defected, most during deadly clashes over aid deliveries on Saturday.
Tensions were high after President Maduro sent troops to block roads and bridges at the borders of neighbouring Brazil and Colombia, where food and medicine deliveries, organised by the US, were set to enter the country.
At various crossing points, Venezuelan security forces fired tear gas at volunteers and protesters burning outposts and throwing stones at soldiers and riot police.

Battered and bruised
We met the deserters – male and female – one day after they laid down their weapons and left their posts. They have found sanctuary in a Catholic church, with a discreet security presence outside.
Some seemed to be in shock over the violent scenes this weekend when Venezuelan troops fired on their own people with teargas and rubber bullets.
The parish priest who took them in told us many arrived battered and bruised. The deserters said they had fled because their homeland needed change, and their children needed food. After speaking on the phone to a loved one, one young officer wept openly.
Most of those we met were foot soldiers. They said the top brass was still bound – by corruption – to President Nicolás Maduro, and that he would fight to stay in power.
But they said he had lost the rank and file who were putting their faith in the opposition leader, Juan Guaidó.


What do the defectors say?
After agreeing to speak with the BBC on condition of anonymity, a group of Venezuelan deserters based in a church in Cúcuta described what pushed them to leave President Maduro's armed forces.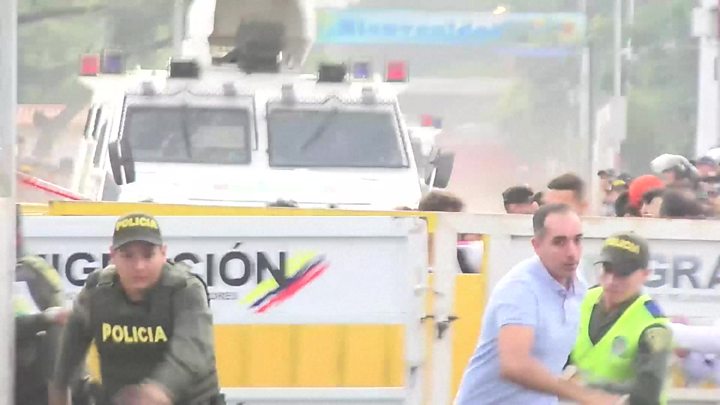 Media caption The moment Venezuelan troops crashed through border into Colombi
"There are many professional troops who want to do this. This will be a domino effect. This will have significant influence on the armed forces," one 29-year-old man said.
"The armed forces have broken down because of so many corrupt officers.
"The professional military is tired. We cannot remain slaves, we are freeing ourselves," he added.
Another defector, a woman, described the mood on Saturday as "tense", adding: "I was thinking I could not harm my own people.
"My daughter is still in Venezuela and that is what hurts the most. But I did this for her. It's difficult because I don't know what they might do to her."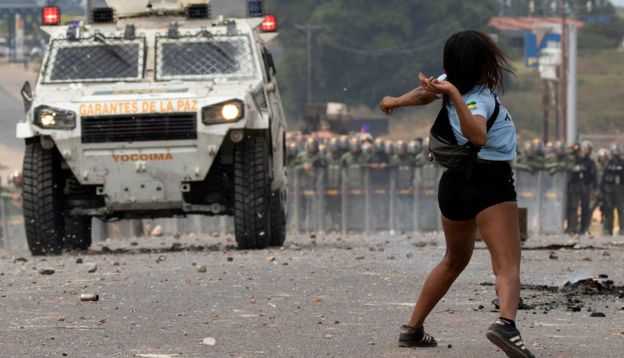 Image copyright EPA Demonstrators clashed with Venezuelan security forces at the borders of Colombia and Brazil
A third said he felt pain at seeing the Venezuelan people on the streets fighting for humanitarian aid.
"I felt impotent and useless. I felt pain for everything happening," he said.
What is the latest?
On Sunday, US Secretary of State Mike Pompeo said President Maduro's "days are numbered" following the deadly events at the weekend.
"Picking exact days is difficult. I'm confident that the Venezuelan people will ensure that Maduro's days are numbered," Mr Pompeo told CNN.
At least two people died in Saturday's clashes between civilians and troops loyal to Mr Maduro.
In pictures: Border clashes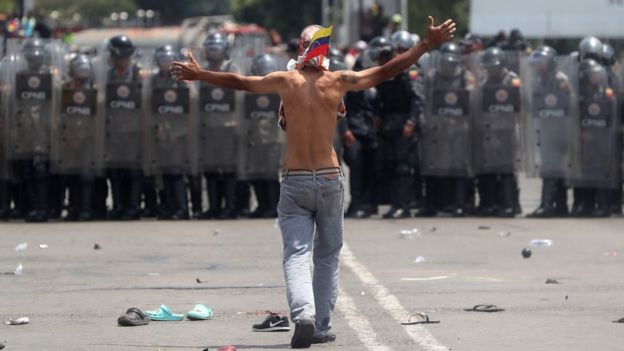 Image copyright EPA Venezuelan police prevented aid crossing the Simon Bolivar International Bridge
Self-declared interim President Juan Guaidó, who has been recognised by more than 50 countries, has called on other nations to consider "all measures" to oust Mr Maduro after opposition-led efforts to bring in aid descended into clashes.
He also said he would attend a meeting of mostly Latin American countries in Colombia on Monday, despite being under a travel ban imposed by Mr Maduro. US Vice-President Mike Pence will represent Washington at the talks in Bogota.
A senior White House official said on Sunday that Mr Pence was planning to announce "concrete steps" and "actions" in addressing the crisis at the talks on Monday, Reuters news agency reported.
Meanwhile, Colombia and Brazil said they would intensify pressure on Mr Maduro to relinquish power. US President Donald Trump has not ruled out an armed response to the Venezuela crisis.
Separately on Sunday, a boat carrying US aid from Puerto Rico to Venezuela was forced to dock on the small Dutch island of Curaçao after it was intercepted by the Venezuelan navy off the northern coast, AFP news agency reports.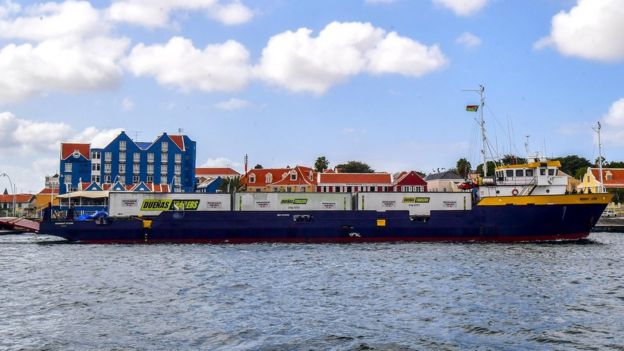 Image copyright GETTY IMAGES The supply ship that was forced to dock on the island of Curaçao
The vessel was reportedly loaded with nine cargo containers filled with food and medicine.
Mr Maduro, who says he is the legitimate president and is backed by key economic allies including Russia, Cuba and China, has warned that deliveries of foreign aid would open the way for US military intervention.
Mr Guaidó, who declared himself interim president last month, argues that alleged irregularities with the nation's 2018 election render Mr Maduro's leadership illegitimate.
What happened at the border on Saturday?
Venezuela's opposition had intended to peacefully bring aid trucks over the borders with Brazil and Colombia.
Mr Guaidó had pledged that the aid would come into the country on Saturday. In response, Mr Maduro partly closed the country's borders.
Venezuelan civilians attempted to cross in order to get to the stores of food and medicine, but the attempt quickly descended into bloody violence.
Soldiers opened fire on civilians, using a mixture of live ammunition and rubber bullets.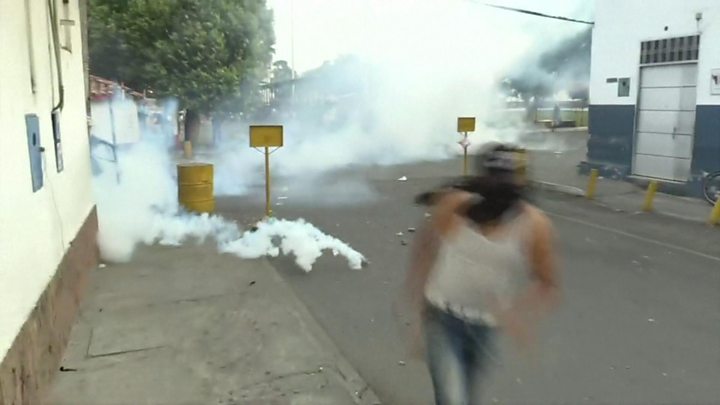 Media caption Venezuela-Colombia border turns violent
Video footage showed Venezuelan soldiers crashing their armoured vehicles into the border with Colombia in order to defect.
Another video posted on social media appeared to show four soldiers publicly denouncing the president and announcing their support for Guaidó.
Mr Guaidó promised the defectors amnesty if they joined the "right side of history".
How did we get to this point?
The humanitarian aid stockpiled in Colombia and Brazil is at the centre of a stand-off between Mr Maduro and Mr Guaidó that goes back to Mr Maduro's disputed re-election in 2018.
For several years Venezuela has been in the grip of a political and economic crisis.
An out-of-control inflation rate has seen prices soar, leaving many Venezuelans struggling to afford basic items.
More than three million people have fled Venezuela in recent years, according to the UN refugee agency UNHCR.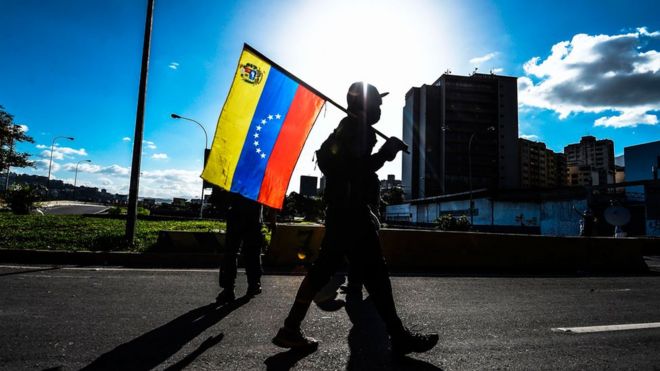 Image copyright AFP
Venezuela crisis: Who is buying its oil now?
By BBC
The United States has imposed tough sanctions on Venezuela's oil industry to put pressure on President Nicolás Maduro to step down.
Oil dominates Venezuela's economy, accounting for almost all of its export earnings.
Its biggest customers have been the US, followed by India and China.
But over the past decade, oil production has collapsed and the country is in a deep economic crisis.
So what effect are the sanctions having and who is buying its oil now?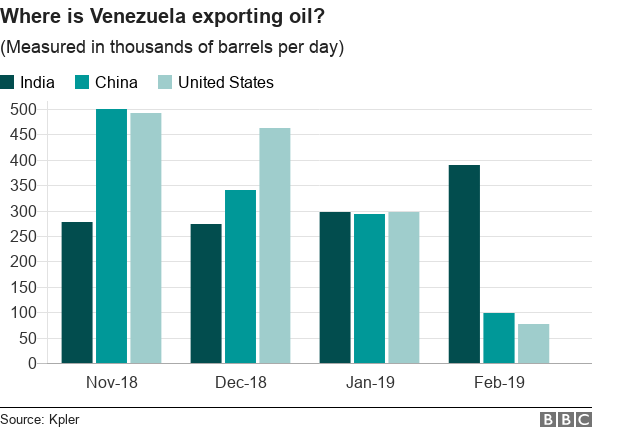 What are the sanctions?
The sanctions block US companies doing business with Venezuela's state oil company, the PDVSA, and freeze the company's assets in the United States.
These measures do not cut off imports entirely, but they do require payments to be made into accounts that Venezuela's state oil company cannot access.
Sanctions have also had an impact on access to the chemicals required to process the oil.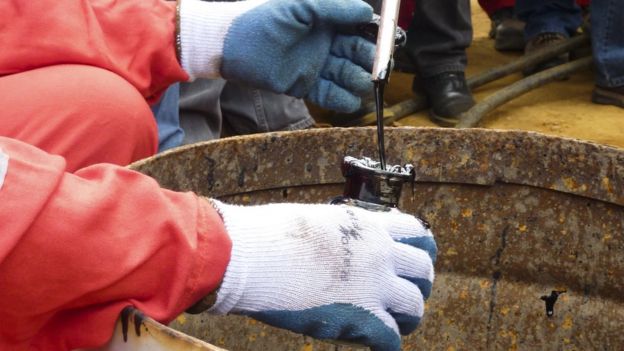 Image copyright AFP
Venezuela's heavy crude is almost solid when it comes out of the ground, so it cannot flow through pipelines.
It needs chemicals, diluting agents such as naphtha, to turn into a lighter substance that can eventually be exported. Sanctions include a ban on US firms exporting these agents.
Maduro closes border with Brazil
Venezuela aid: Genuine help or Trojan horse?
Trump vows 'no way out' for Maduro's military backers
Venezuela must import these, and in recent years they have come from the US, said Shannon O'Neil, senior fellow for Latin America Studies at the Council on Foreign Relations.
The Russian firm Rosneft is reportedly helping to fill this particular gap.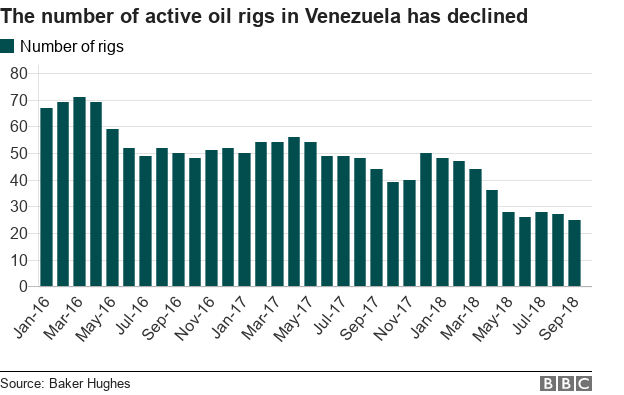 Where is Venezuela's oil now going?
Currently sitting off the Venezuelan coast are tankers holding in the region of 10 million barrels of oil, according to Kpler, which tracks commodities.
They were originally destined for the United States, but are stranded as a result of the sanctions.
Venezuela's government has been looking for new buyers for its oil and says it wants to double shipments to India.
But although there has been a recent increase in exports to India, it is not a substantial one, says Samah Ahmed, a crude oil analyst at Kpler.
Exports to China are also not encouraging and have in fact been dropping in line with a general decline in Venezuela's total production.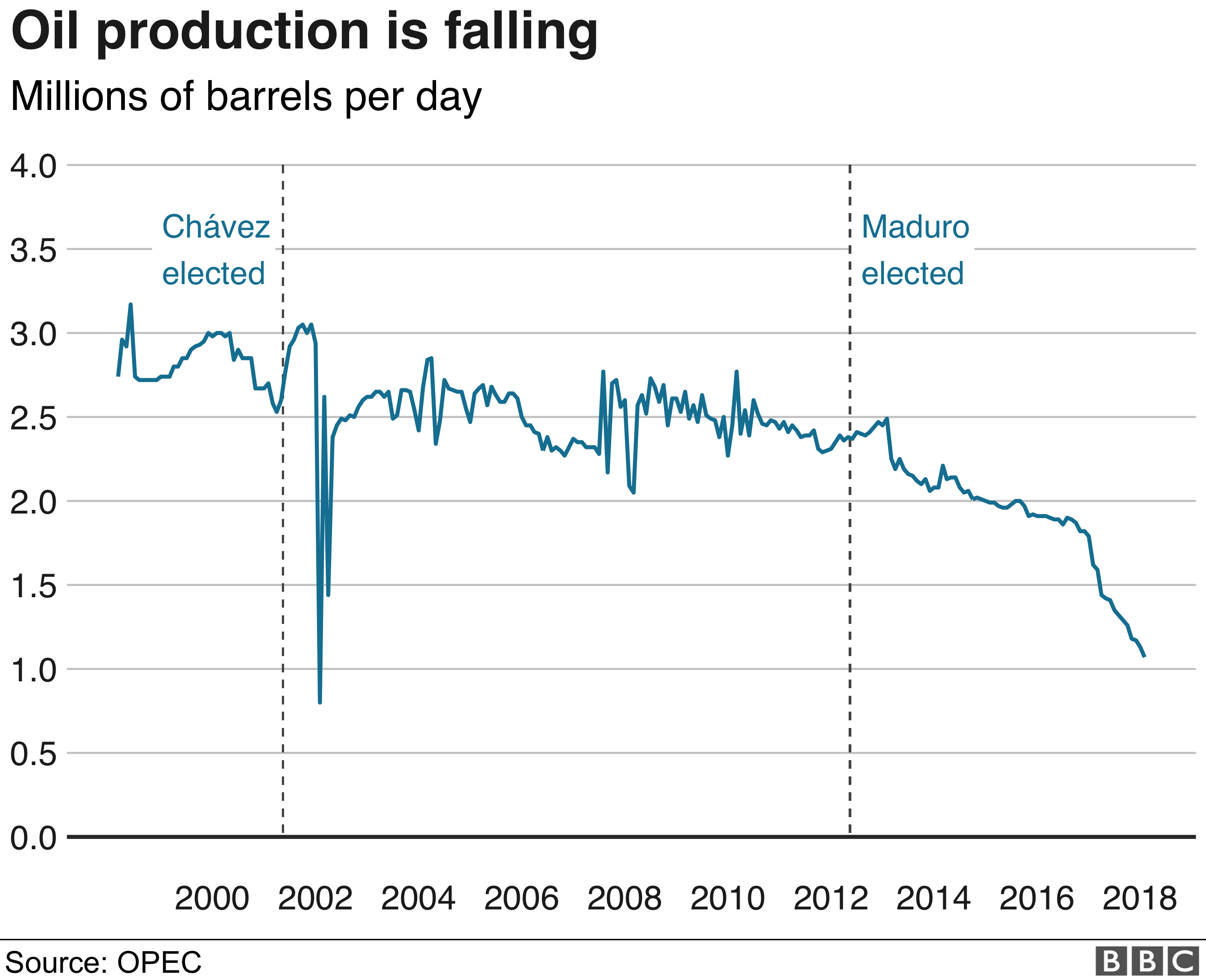 Selling more oil to markets in Asia would increase transport costs, because ports in Venezuela are not well-equipped to load tankers for travelling long distances.
Exports to India may be heavily discounted "because of quality issues and to compete with Middle Eastern grades", says Paola Rodriguez-Masiu, an analyst at Rystad Energy.
But there is certainly a demand for heavy crude oil such as that found in Venezuela.
There is a global shortage because of sanctions on Iranian oil, while lower levels of production in Canada, Mexico and Opec member countries has also had an impact.
US importers will need to find new suppliers of heavy crude, which it uses to produce diesel and jet fuel.
"The Venezuelan crisis has made heavy crude more expensive for the US," says Ms Rodriguez-Masiu.
But this will not help Venezuela, desperate to find new markets for its oil at a time of deepening economic and political crisis.
—— AUTO – GENERATED; Published (Halifax Canada Time AST) on: February 25, 2019 at 11:26AM