UK: Boris Johnson's chaotic path to power finally pays off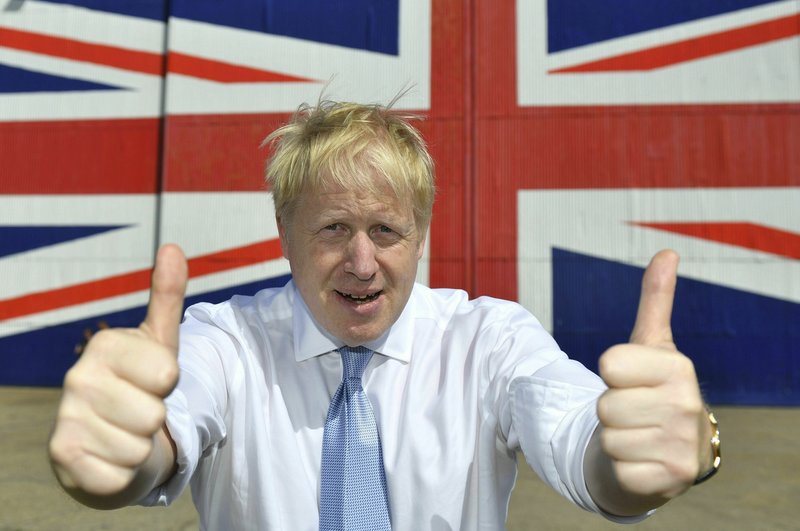 FILE – In this Thursday, June 27, 2019 file photo Conservative leadership candidate Boris Johnson gives the thumbs at the Wight Shipyard Company at Venture Quay during a visit to the Isle of Wight, England. (Dominic Lipinski/Pool Photo via AP, File)
LONDON (Associated Press) — Boris Johnson aspires to be a modern-day Winston Churchill. Critics fear he's a British Donald Trump.
Johnson won the contest to lead the governing Conservative Party on Tuesday, and is set to become Britain's prime minister on Wednesday.
Full Coverage: Brexit
Like revered World War II leader Churchill, Johnson aims to turn a national crisis — in this case Brexit — into a triumph. Like Trump, he gained his country's top political office by deploying celebrity, clowning, provocation and a loose relationship with the truth.
"He's a different kind of a guy, but they say I'm a different kind of a guy, too," Trump said approvingly last week. "We get along well."
Maintaining strong relations with the volatile Trump will be one of the new leader's major challenges. So will negotiating Britain's stalled exit from the European Union, the conundrum that brought down predecessor Theresa May.
It's hard to say whether he will rise to the occasion or fail dismally.
Blond, buoyant and buffoonish, the 55-year-old Johnson may be one of Britain's most famous politicians, but in many ways he is a mystery.
His beliefs? Johnson is now a strong believer of Brexit, but he famously agonized over the decision, writing two newspaper columns — one in favor of quitting the EU , one against — before throwing himself behind the "leave" campaign in Britain's 2016 referendum over whether it should remain in the bloc.
—— AUTO – GENERATED; Published (Halifax Canada Time AST) on: July 23, 2019 at 07:27PM