UGANDA: Officials charged with corruption over award of Uganda refugee camp deals
Officials charged with corruption over award of Uganda refugee camp deals
By THE GUARDIAN
Money laundering and abuse of office also among allegations levelled at two senior figures
Global development is supported by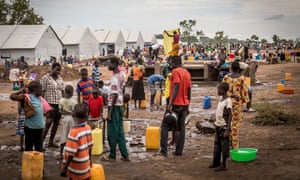 People at Bidi-Bidi camp in northern Uganda collect water from a tap provided by the UNHCR. Photograph: Gael Cloarec/LightRocket/Getty Images
Two senior Ugandan government officials have been charged with money laundering, corruption and abuse of office over the awarding of contracts at refugee camps.
Robert Baryamwesigwa and Fred Kiwanuka, both at the time commandants at the Bidi-Bidi refugee settlement in Yumbe district in the north of the country, were charged this week with demanding and receiving bribes of more than 393m Ugandan shillings (about £82,000).
The alleged bribes were made between 1 June 2016 and 30 December 2017, prior to the award of contracts to two companies – Jinako Engineering Works Ltd and Atlast Engineering Works Ltd – for work at Bidi-Bidi, according to the government inspectorate, a regulatory agency responsible for fighting graft.
Uganda is currently home to almost 1.4 million refugees, the majority from neighbouring South Sudan.
Kiwanuka has pleaded not guilty to the charges of corruption and abuse of office. He has not entered a plea on money laundering. Baryamwesigwa has yet to be apprehended.
—— AUTO – GENERATED; Published (Halifax Canada Time AST) on: January 17, 2020 at 08:37PM