Trump orders Turkey sanctions; US scrambles for Syria exit (VIDEO)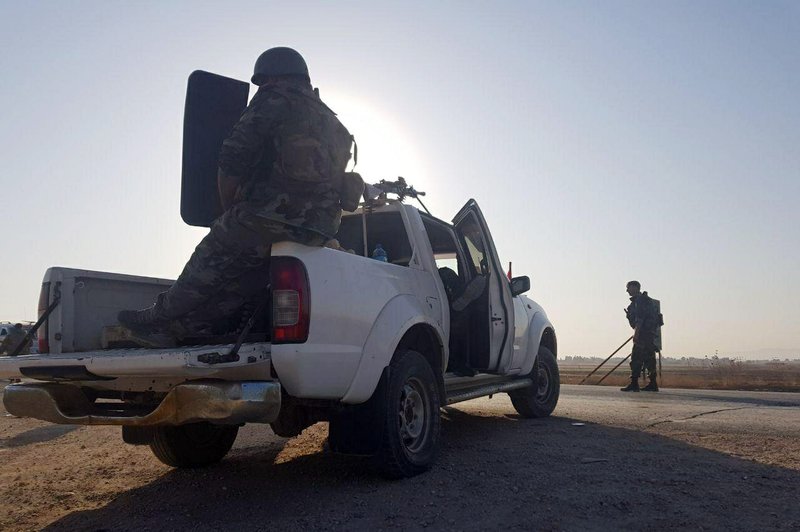 In this photo released by the Syrian official news agency SANA, Syrian troops deploy in the northern town of Tal Tamr, Monday, Oct 14, 2019. The move toward Tal Tamr came a day after Syria's Kurds said Syrian government forces agreed to help them fend off Turkey's invasion — a major shift in alliances that came after President Donald Trump ordered all U.S. troops withdrawn from the northern border area amid the rapidly deepening chaos. (SANA via AP)
WASHINGTON (Associated Press) — Targeting Turkey's economy, President Donald Trump announced sanctions Monday aimed at restraining the Turks' assault against Kurdish fighters and civilians in Syria — an assault Turkey began after Trump announced he was moving U.S. troops out of the way.
Meanwhile, the Americans were scrambling for Syria's exits, a move criticized at home and abroad as opening the door to a resurgence of the Islamic State group whose violent takeover of Syrian and Iraq lands five years ago was the reason American forces came in the first place.
Trump said the approximately 1,000 U.S. troops who had been partnering with local Kurdish fighters to battle IS in northern Syria are leaving the country. They will remain in the Middle East, he said, to "monitor the situation" and to prevent a revival of IS — a goal that even Trump's allies say has become much harder as a result of the U.S. pullout.
The Turks began attacks in Syria last week against the Syrian Kurdish fighters, whom the Turks see as terrorists. On Monday, Syrian government troops moved north toward the border region, setting up a potential clash with Turkish-led forces.
Trump said Turkey's invasion is "precipitating a humanitarian crisis and setting conditions for possible war crimes," a reference to reports of Turkish-backed fighters executing Kurdish fighters on the battlefield.
—— AUTO – GENERATED; Published (Halifax Canada Time AST) on: October 14, 2019 at 07:29PM