TRUMP: On that Stormy affair, NORVATIS did pay Cohen $1.2mln – VIDEO
Novartis calls $1.2 million deal with Trump lawyer's firm a 'mistake'
ZURICH (Reuters) – Novartis (NOVN.S) confirmed it had a $1.2 million contract with the firm of Michael Cohen, U.S. President Donald Trump's personal lawyer, adding it soon realized it had made a mistake but had not been able to stop payments until the deal ended.
The drugmaker, which has not been accused of any illegal activity, made monthly payments of $100,000 to Cohen's Essential Consultants between February 2017 and January 2018.
The Swiss company said on Wednesday it had been approached in November last year by the U.S. Special Counsel Robert Mueller's office who wanted to know about the payments, while probing potential meddling in the 2016 U.S. election.
"Novartis cooperated fully with the special counsel's office and provided all the information requested. Novartis considers this matter closed," it said.
The contract was approved in early 2017 under the former Novartis chief executive Joe Jimenez and was part of its efforts to learn more about how the new Trump administration might approach certain U.S. healthcare policy matters.
Jimenez did not respond to requests for comment.
"In hindsight, this must be seen as a mistake," senior Novartis spokesman Michael Willi said of the contract.
An initial meeting under the agreement in March 2017 had in fact prompted Novartis to conclude Cohen, now the subject of a criminal investigation, would not be able to deliver the anticipated services, Novartis said.
"The decision was taken not to engage further," it said in one of several statements issued on Wednesday.
But the contract could only be terminated for cause, Novartis said, so payments continued to be made until the contract expired in February 2018.
"NO INVOLVEMENT"
The company was caught flat footed this week when Michael Avenatti, an attorney for porn star Stormy Daniels, named Novartis among those that had made payments to Cohen's firm until January 2018.
Novartis spent Wednesday seeking to shield its new CEO, saying the deal with Cohen was struck long before Vas Narasimhan was promoted to replace Jimenez on Feb. 1.
Novartis AG77.7
NOVN.SVIRT-X LEVEL 1
-0.02(-0.03%)
NOVN.S
T.N
047810.KS
It said Narasimhan, a Harvard-trained doctor who has vowed to burnish Novartis's reputation as a maker of innovative drugs and leave years of allegations of wrongdoing behind, "had no involvement whatsoever" in the Cohen contract.
While Narasimhan was among business leaders who dined with Trump in Davos at the World Economic Forum in January, Novartis said that had nothing to do with its contract with Cohen.
"This agreement was also in no way related to the group dinner Dr. Narasimhan had at the World Economic Forum in Davos with President Trump and 15 Europe based industry leaders."
Jimenez also met the president after he took office at a Jan. 31, 2017 meeting in the White House. At the time, Jimenez was the incoming chairman-elect of the powerful Pharmaceutical Research and Manufacturers of America (PhRMA) industry lobby.
In U.S. television interviews with ABC and MSNBC, Avenatti declined to say where he had received the information about the payments to Cohen from.
Avenatti, who also alleged payments were made separately by AT&T (T.N) and Korea Aerospace Industries Ltd (047810.KS), raised questions about the Novartis contract, saying it was unclear what healthcare expertise Cohen could provide to a global drug firm.
Daniels maintains Cohen paid her $130,000 via Essential Consultants to hush up a 2006 sexual encounter with Trump.
The president denies any affair with Daniels, whose real name is Stephanie Clifford. Russia denies election interference allegations, while Trump also has denied any collusion.
The Latest: AT&T says it paid to grasp Trump take on policy
WASHINGTON (AP) — The Latest on President Donald Trump's personal lawyer, Michael Cohen (all times local):
6:05 p.m.
AT&T says it paid President Donald Trump's personal lawyer beginning in early 2017 to consult on how Trump might approach a range of policy issues, including antitrust enforcement.
But in a memo to employees sent Wednesday, the telecommunications giant says it didn't pay Michael Cohen for legal or lobbying work. It says its contract with him expired in December 2017.
A report released by an attorney for former porn star Stormy Daniels details four payments totaling $200,000 that AT&T made to a company controlled by Cohen.
The Wall Street Journal first reported that Cohen used the same company to pay Daniels $130,000 days before the 2016 presidential election.
An AT&T spokeswoman didn't respond when asked how AT&T learned of Cohen's consulting services or whether it paid Cohen more than $200,000.
___
3:15 p.m.
Swiss drug giant Novartis says it met with President Donald Trump's personal lawyer only once as part of its $1.2 million payout to his company.
Novartis spokesman Eric Althoff says in an emailed statement that Novartis hired lawyer Michael Cohen for $100,000 a month to consult on health care matters, but determined after a single meeting with Cohen that he wouldn't be of use.
Althoff says "the decision was taken not to engage further." But he says the contract couldn't be terminated, so Novartis kept paying Cohen's company, Essential Consultants, for a full year.
Cohen has no background in health care or public policy.
Novartis didn't respond to questions about what services it expected Cohen would provide and why it would have agreed to pay Cohen $1.2 million before hashing out the details of the work.
Althoff says Novartis complied with requests for information about the payments from special counsel Robert Mueller's investigators in November.
___
2:55 p.m.
The Treasury Department's internal watchdog says it's investigating how detailed allegations about the banking records of President Donald Trump's personal lawyer became public.
At issue is an account of bank transactions involving Trump attorney Michael Cohen. The financial information was disclosed on Tuesday night by lawyer Michael Avenatti, who represents adult film actress Stormy Daniels.
Cohen paid Daniels $130,000 in October 2016 to stay silent about her alleged tryst with Trump in 2006.
Word of the investigation comes from Rich Delmar, general counsel for the department's inspector general.
Under federal law, financial institutions must monitor their customers' activities and report suspicious transactions to the government. But that information is supposed to remain confidential.
Delmar says that "if there's been unauthorized release" of such information, "that is of concern to us."
Russian tycoon known for Faberge eggs tied to Cohen payment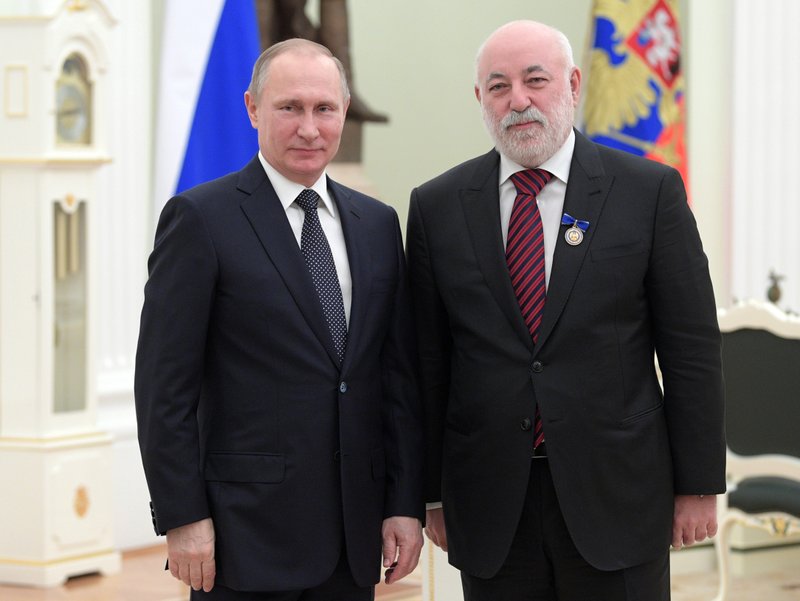 MOSCOW (AP) — Outside the rarified sphere of the super-rich, tycoon Viktor Vekselberg is mostly known in Russia for spending more than $100 million to bring cultural artifacts back to his homeland, including an array of Faberge eggs glittering with gold and jewels.
By Vekselberg's standards, the money he laid out wasn't all that much: His fortune has been estimated at about $14.6 billion.
But after his holding company Renova was hit by U.S. sanctions against Russia in April, his worth appeared to shrink markedly, and he reportedly has asked the Russian government for help to stay afloat.
Now Vekselberg is facing new scrutiny.
U.S. news reports said he has been questioned by the staff of Robert Mueller, the special counsel investigating alleged Russian interference in the 2016 U.S. election and any possible coordination with associates of President Donald Trump. And documents reviewed by The Associated Press suggest that a company associated with Vekselberg routed money to Trump lawyer Michael Cohen's consulting firm in 2017.
Vekselberg, 61, was born in Soviet Ukraine. After graduating from the Moscow Transportation Engineering Institute, he reportedly made his first significant money by selling copper salvaged from scrapped cables during the period of economic reforms under Soviet leader Mikhail Gorbachev.
He built his fortune by investing in the aluminum and oil industries, taking advantage of the wide open and often questionable privatization of state companies after the collapse of the Soviet Union in 1991.
He secured a controlling interest in the Tyumen Oil company, one of Russia's largest oil operations, and his holding company, Renova Group, and two other holding companies later merged their assets and established the TNK-BP joint venture with British Petroleum, which later was acquired by state oil giant Rosneft. More recently, he has expanded his assets to include industrial equipment and high technology.
Renova has sizable investments in the U.S. through its subsidiary, the investment management company Columbus Nova. The firm's operations include tech investments, real estate management and merchant banking, according to corporate and web documents.
Vekselberg's U.S. operation, Columbus Nova, is headed by Andrew Intrater. The documents reviewed by AP and other media reports have said the two men are cousins.
Intrater donated $250,000 to Trump's inauguration in 2017, presidential finance documents show.
Before reportedly retaining Cohen, Vekselberg's U.S. corporate entities have spent nearly 15 years trying to gain influence in Washington. Renova, Columbus Nova and its real estate arm combined to pay nearly $1.8 million to lobbyists between 2001 and 2015, at first concentrating on "encouraging trade and cultural exchanges" between the U.S. and Russia and later on small business issues.
A spokeswoman for the Carmen Group Inc., a lobbying operation paid more than $1.7 million by the Vekselberg firms, declined to explain its work, saying, "we do not comment on client matters."
Vekselberg was one of a group of Russian business leaders who met with former President Barack Obama in Moscow in 2007 during Obama's visit with then-Russian President Dmitry Medvedev as well as then-Prime Minister Vladimir Putin.
Vekselberg was also in attendance when Putin sat during a Moscow gala in 2015 with retired U.S. Army Gen. Michael Flynn, who was Trump's national security adviser before he was fired. Flynn is now cooperating with the special counsel probe.
Official documents reviewed Tuesday by the AP appeared to show that a company associated with Vekselberg routed eight payments totaling about $500,000 to Essential Consultants, established by Cohen between January and August 2017.
Vekselberg's spokesman, Andrey Shtorkh, told the AP on Wednesday that "neither Viktor Vekselberg nor Renova has ever had any contractual relationship with Mr. Cohen" or his consulting company. In a statement on its website, Columbus Nova said it has managed assets for Renova, but has never been owned by Vekselberg.
As a wealthy and powerful Russian, Vekselberg is presumed to operate with the tacit approval of Putin. How deep his relations are with the Kremlin is an open question.
Anders Aslund, an expert on Russia's economy, was quoted by the Russian business portal RBC as saying that Vekselberg's ending up on the U.S. sanctions list was a surprise because "he has a good reputation. … He isn't perceived to be especially close to Putin."
But he apparently is close enough to the top to be willing to ask for help after the sanctions slashed the value of his holdings. According to the business newspaper Kommersant, he recently asked for state-owned banks to refinance 820 million euros ($967 million) in debt that he owes to Western banks and for preferential treatment in receiving state orders.
Vekselberg got wide public attention for buying nine Faberge eggs from the estate of Malcolm Forbes and bringing the czarist-era baubles back to Russia for display in a private museum.
He also heavily funded the establishment of a Jewish museum in Moscow and financed the return to a Moscow monastery of church bells that had been scrapped under Soviet dictator Josef Stalin.