TRUMP: North Korea warming up, Oligarch met Trump lawyer, games people play!
Summit talk turns warmer; Trump says 'talking to them now'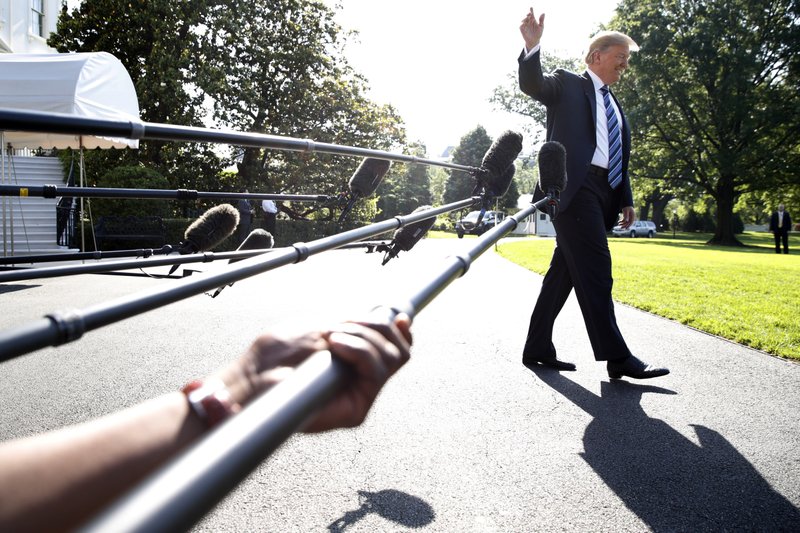 WASHINGTON (AP) — President Donald Trump on Friday warmly welcomed North Korea's promising response to his abrupt withdrawal from the potentially historic Singapore summit and said "we're talking to them now" about putting it back on track.
"Everybody plays games," said Trump, who often boasts about his own negotiating tactics and skill.
The president, commenting as he left the White House for a commencement speech, said it was even possible the summit could take place on the originally planned June 12 date.
"They very much want to do it, we'd like to do it," he said.
Earlier Friday, in a tweet, he had called the North's reaction to his letter canceling the summit "warm and productive." That was far different from his letter Thursday to North Korea leader Kim Jong Un, blaming "tremendous anger and open hostility" by Pyongyang for the U.S. withdrawal.
The tone from both sides was warmer on Friday. First, North Korea issued a statement saying it was still "willing to give the U.S. time and opportunities" to reconsider talks "at any time, at any format."
Vice Foreign Minister Kim Kye Gwan called Trump's withdrawal "unexpected" and "very regrettable," and said the cancellation of the talks showed "how grave the status of historically deep-rooted hostile North Korea-U.S. relations is and how urgently a summit should be realized to improve ties."
President Donald Trump says the United States is "talking to" North Korea after he canceled a planned summit with leader Kim Jong Un. He told reporters Friday that "everybody plays games." (May 25)
Then Trump, in his response to that response, said it was "very good news," and "we will soon see where it will lead, hopefully to long and enduring prosperity and peace. Only time (and talent) will tell!"
At the Pentagon, Defense Secretary Jim Mattis called the recent back-and-forth between Trump and North Korea the "usual give and take."
The president's surprise exit from the planned talks on Thursday had capped weeks of high-stakes brinkmanship between the two unpredictable leaders over nuclear negotiating terms for their unprecedented sit-down. The U.S. announcement came not long after Kim appeared to make good on his promise to demolish his country's nuclear test site. But it also followed escalating frustration — and newly antagonistic rhetoric — from North Korea over comments from Trump aides about U.S. expectations for the North's "denuclearization."
The White House has repeatedly offered mixed messages. Hours after releasing his cancellation letter on Thursday, the president declared, "I really believe Kim Jong Un wants to do what's right."
After that, however, a senior White House official said the North had reneged on its promises ahead of the summit. Trump said from the White House that a "maximum pressure campaign" of economic sanctions and diplomatic isolation would continue against North Korea — with which the U.S. is technically still at war — though he added that it was possible the summit could still take place at some point.
The senior U.S. official said the North violated a pledge to allow international inspectors to monitor the supposed implosion of the test site. International journalists were present, but the U.S. government can't verify the site's destruction. The official spoke on the condition of anonymity to avoid overshadowing Trump's comments Thursday.
Russian President Vladimir Putin, a staunch ally of Kim Jong Un, said the North Korean leader had in fact done "everything that he had promised in advance, even blowing up the tunnels and shafts" of the site. Putin said of Trump's cancellation announcement, "In Russia we took this news with regret."
On Friday, North Korea's vice foreign minister said his country's "objective and resolve to do our best for the sake of peace and stability of the Korean Peninsula and all humankind remain unchanged."
Trump, in his letter to Kim, objected specifically to a statement from a top North Korean Foreign Ministry official. That statement referred to Vice President Mike Pence as a "political dummy" for his comments on the North and said it was up to the Americans whether they would "meet us at a meeting room or encounter us at nuclear-to-nuclear showdown."
Underscoring the high stakes, Trump said he had spoken with military leaders, as well as Japan and South Korea, and stressed that the United States was prepared for any threat.
Still, Trump's cancellation announcement had appeared to surprise South Korea, which had pushed to keep the summit on track as recently as Tuesday, when President Moon Jae-in met with Trump in the Oval Office and said the "fate and the future" of the Korean Peninsula hinged on the talks. The Blue House said Thursday that it was trying to figure out Trump's intentions in canceling the summit.
Trump, who considers himself a master dealmaker, has confounded aides and allies at every turn of the fateful flirtation with the North. He looked past the warnings of senior aides when he accepted Kim's invitation to meet back in March. He unveiled the date and the time with characteristic showmanship. And after initially projecting calm in the face of North Korea's escalating rhetoric, he made a sudden about face, though his letter also waxed poetic about the "wonderful dialogue" emerging between the two leaders.
Wrote Trump: "If you change your mind having to do with this most important summit, please do not hesitate to call me or write."
Trump's aides had warned that merely agreeing to the summit had provided Kim with long-sought international legitimacy and, if Trump ultimately backed out, risked fostering the perception that the president was insufficiently committed to diplomatic solutions to the nuclear question.
U.S. defense and intelligence officials have repeatedly assessed the North to be on the threshold of having the capability to strike anywhere in the continental U.S. with a nuclear-tipped missile — a capacity that Trump and other U.S. officials have said they would not tolerate.
Secretary of State Mike Pompeo, testifying Thursday on Capitol Hill, said North Korea had not responded to repeated requests from U.S. officials to discuss logistics for the summit. He told the Senate Foreign Relations Committee the lack of response was an additional reason for Trump's decision.
"We got a lot of dial tones, Senator," he told committee chairman Bob Corker.
A White House team was set to fly to Singapore this weekend to continue logistical planning for the meeting.
Trump suggested this week that China was to blame for "a little change" in Kim's attitude. Kim paid a secret visit to his primary ally just before Pompeo's visit, and China is wary of any shift in the balance of power on the Korean peninsula.
White House officials have privately predicted for weeks that the summit could be canceled once or twice before actually taking place. Trump has seemed to welcome chatter of a Nobel Peace Prize, but that had yielded in recent weeks to the sobering prospect of ensuring a successful outcome with the Kim.
AP Source: Trump lawyer met Russian oligarch at Trump Tower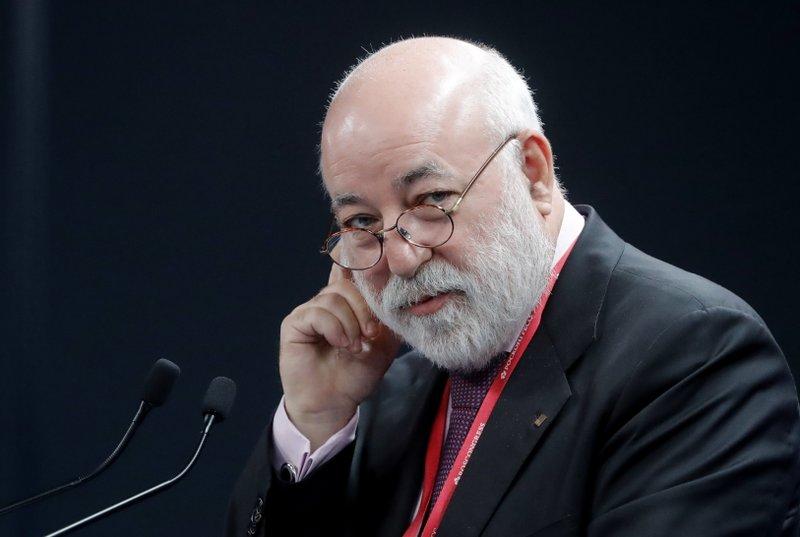 WASHINGTON (AP) — Donald Trump's personal lawyer, Michael Cohen, met with a Russian oligarch and discussed U.S.-Russia relations just 11 days before Trump was inaugurated as president, according to a person familiar with the meeting.
A firm connected to the oligarch, billionaire Viktor Vekselberg, later paid Cohen $500,000 for consulting work.
Vekselberg met with Cohen for about 20 minutes in Cohen's 26th-floor office in Trump Tower in New York , said the person, who spoke on condition of anonymity because he was not authorized to discuss the meeting publicly. The two men were joined by Andrew Intrater, Vekselberg's American cousin, who heads a New York private equity firm that manages financial assets for the Russian.
The person who confirmed the January 2017 meeting said the discussions dealt with business and cultural relations between the two nations, but he would not characterize Vekselberg's point of view. Vekselberg has worked in recent years to improve U.S. tech and trade relations with Moscow.
Intrater's firm, Columbus Nova, later paid Cohen $500,000 for consulting work. A lawyer for adult-film star Stormy Daniels has claimed that the money was routed by Vekselberg and Intrater to a Cohen shell company. That company, Essential Consultants LLC, was used by Cohen to pay off Daniels, whose real name is Stephanie Clifford, for her silence about an affair she claims she had with Trump, according to the lawyer, Michael Avenatti. Trump denies the affair.
Cohen's finances are now under investigation by federal investigators in New York, following a referral from special counsel Robert Mueller, who is investigating contacts between the Trump presidential campaign and Russian intermediaries.
Columbus Nova has said Vekselberg was not involved in the money transfer.
Vekselberg was targeted in April with U.S. Treasury Department sanctions, which cited his ties to Russian President Vladimir Putin.
The Trump Tower meeting between the three men was first reported by The New York Times, citing video footage and an interview with Intrater.
'Everybody plays games': How Trump seesaws on major deals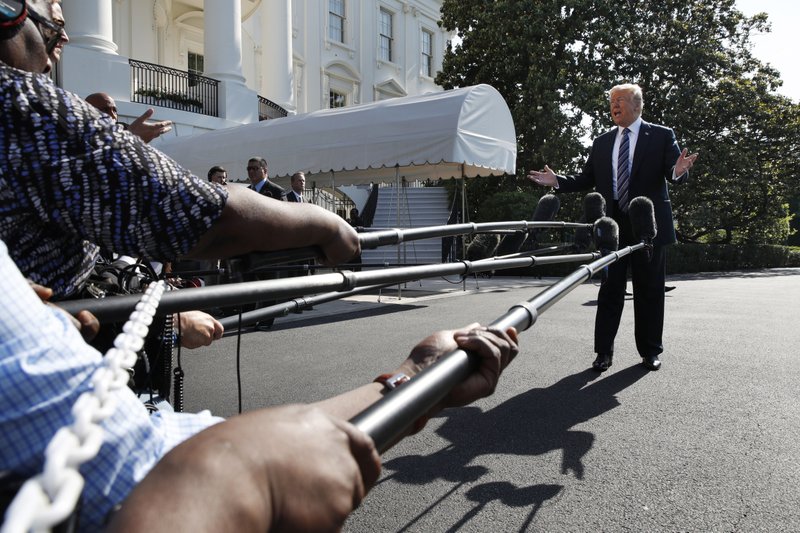 WASHINGTON (AP) — From "Little Rocket Man" to the scheduling of a historic peace summit and back again, President Donald Trump's dizzying back-and-forth on North Korea is par for the course for a president who likes to keep his audience guessing. As Trump himself said Friday, "Everybody plays games."
Here's a look at Trump's big whiplash moments during negotiating deals in his 17 months in office:
'MEAN' HEALTH CARE
After Trump punctuated nearly every campaign speech with vows to repeal and replace President Barack Obama's health care law, House Republicans in 2017 pushed through legislation that would do exactly that.
Surrounded by smiling Republicans in a Rose Garden ceremony, Trump hailed the bill's passage and called it a "great plan."
Just one month later though, he flipped. In a private meeting with Republican senators, he called the legislation "mean" and said the GOP needs to be "more generous."
The House bill would have cut Medicaid for low-income people and paved the way for insurance companies to charge people with pre-existing illnesses far higher rates than healthy customers, as well as boost prices for older people based on their age.
Trump's about-face on the bill confounded House Republicans who said they thought they were acting on the president's wishes and were left exposed to Democratic attack ads using Trump's own words against them.
"To call a bill that he pushed 'mean' leaves us scratching our heads," Rep. Dave Brat, R-Va., said at the time. Brat said he wondered whether Trump was just trying to "motivate" the Senate, which ultimately fell shy of enough votes to pass it.
___
IT'S 'OK' TO FIGHT THE NRA
After the Florida high school shooting that left 17 dead, Trump declared he was willing to take on the National Rifle Association on gun legislation. Among his ideas was to limit assault rifle purchases to people older than 21 and stricter background checks.
"You guys, half of you are so afraid of the NRA," he told a group of state governors in February. "There's nothing to be afraid of. And you know what? If they're not with you, we have to fight them every once in a while. That's OK."
In a televised meeting with lawmakers the next day, Trump praised members of the gun lobby as "great patriots" but declared "that doesn't mean we have to agree on everything. It doesn't make sense that I have to wait until I'm 21 to get a handgun, but I can get this weapon at 18."
He then turned toward Sen. Pat Toomey, R-Pennsylvania, and questioned why previous gun control legislation did not include that provision. "You know why?" said Trump, answering his own question. "Because you're afraid of the NRA, right? Ha ha."
His statements stunned Republicans and the NRA, considering his embrace of their agenda throughout his campaign. But Trump's views eventually snapped back into line with the gun lobby, and earlier this month the president gave a rousing address to NRA members at their annual meeting.
"Your Second Amendment rights are under siege, but they will never, ever be under siege as long as I'm your president," he said.
___
'I'D LOVE TO SEE A SHUTDOWN'
Earlier this year, the Senate's top leaders were working furiously to stave off another government shutdown when Trump unexpectedly raised the possibility of orchestrating one so he could get what he wanted on immigration.
"I'd love to see a shutdown if we can't get this stuff taken care of," he said.
By mid-March, lawmakers had what they believed was a final $1.3 trillion deal, even though the bill didn't pay for Trump's border wall or address the fate of young immigrants known as "Dreamers." Lawmakers received assurances the president would still sign it, and Congress broke for recess.
With lawmakers out of town and most federal funding expiring at midnight, Trump tweeted that he was "considering" a veto because it didn't act on his immigration plan. He then announced a news conference that further fueled speculation, until a White House official told reporters anonymously that he would still sign the bill.
"I will never sign another bill like this again," he said.
___
'EVERYBODY PLAYS GAMES'
Trump's Jell-O negotiating tactics were on display this week after he abruptly canceled his June 12 summit with North Korean Leader Kim Jong Un. After designating Singapore as the meeting spot, the White House ordered commemorative coins with the profiles of Trump and Kim to herald the "peace talks."
But shortly after a top North Korean foreign ministry official called Vice President Mike Pence a "political dummy," Trump backed out. The North Korean government then released a conciliatory statement, and Trump told reporters maybe the summit will happen after all — a series of events that unfolded in less than 48 hours.
"Everybody plays games," he quipped to reporters on Friday.
Republican Sen. Lindsey Graham of South Carolina, Trump's occasional golf partner, told NBC's "Today" show Friday that he believes the latest standoff will end sooner or later, possibly with U.S. military force.
"They think Trump is just like everybody else," Graham said. "He's not."