SYRIA: Breaking – Air defenses respond to missiles over Homs province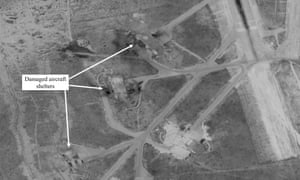 Damage to Shayrat airfield in Syria from US missiles in 2017. Photograph: OSD / HANDOUT/EPA
Syria: missiles fired at air base near Homs – state TV
THE GUARDIAN – Syria state TV does not specify who may have fired the missiles at the Shayrat air base but Pentagon says there was no US activity in the region
Syrian air defences have responded to a missile attack over Homs which targeted Shayrat air base late on Monday night, Syrian state television reported.It also reported that the missiles were shot down by the country's air defences. State television showed pictures of a missile shot in the air above the air base.
The Syrian state television report did not, however, specify who may have fired the missiles.
The Pentagon said there was no US military activity in the area at the time.
"There is no US military activity in that area at this time," a Pentagon spokesman, Eric Pahon, said. "We do not have additional details to provide."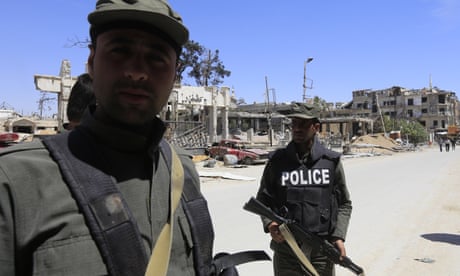 In addition, the pro-Iranian Hezbollah militia's media unit said on Tuesday Syrian air defences had intercepted three missiles aimed at Dumair military airport, north-east of Damascus.Syrian state media made no mention of the strike on Dumair. Opposition forces say Dumair airport had been used in the military campaign to regain eastern Ghouta.
The claims come after US, British and French forces attacked three sites in Syriaearly on Saturday in response to a chemical attack on a Damascus suburb that left scores of people dead.
Shayrat airbase was targeted last year in a US cruise missile attack in response to a chemical attack that killed at least 70 people, including children, on the rebel-held town of Khan Sheikhoun.
Israel has struck Syrian army locations many times in the course of the conflict, hitting convoys and bases of Iranian-backed militias that fight alongside Syrian President Bashar al Assad's forces.
Asked about the missile attack, an Israeli military spokesman said, "We don't comment on such reports."
Earlier this month, four Iranian military personnel were killed in an airstrike on the Syrian T4 air base in Homs. Syria and its main allies Iran and Russia blamed Israel for that attack. Israel did not confirm or deny mounting the raid.
EARLIER:
BREAKING: Syrian air defenses respond to missiles over Homs province – state media
RT – Syrian air defense systems have been activated in response to a missile attack apparently targeting Shayrat Airbase in Homs province, state media SANA reports.