Pompeo: State Dept. will follow law in impeachment inquiry (VIDEO)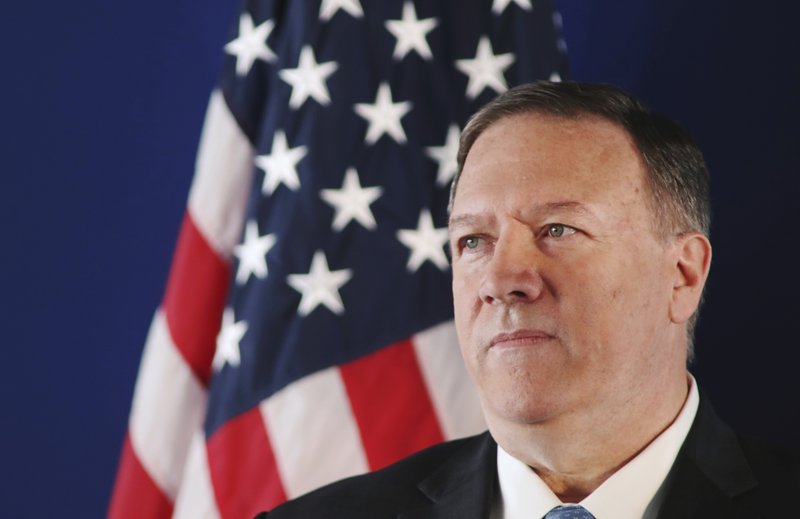 U.S. Secretary of State Mike Pompeo delivers a speech at the Stavros Niarchos Foundation Cultural Center in Athens, Saturday, Oct. 5, 2019. Pompeo is in Greece on the last leg of a four-nation European tour that has been overshadowed by the impeachment inquiry in Washington. Pompeo has sought to avoid the drama back home by focusing on matters directly related to his trip. (Costas Baltas/Pool via AP)
WASHINGTON (Associated Press) — Secretary of State Mike Pompeo said Saturday the State Department intends to follow the law in the House impeachment investigation and vigorously defended President Donald Trump, dismissing questions about the president's attempts to push Ukraine and China to investigate a Democratic political rival.
The Trump administration and House Democrats often disagree about what the law requires, leaving open the question of how Pompeo may interpret Democrats' demands for key information about Trump's handling of Ukraine.
Pompeo, speaking in Greece, said the State Department sent a letter to Congress Friday night as its initial response to the document request and added, "We'll obviously do all the things that we're required to do by law." He has allowed Democrats to interview a series of witnesses next week. Among them is Gordon Sondland, the U.S. ambassador to the European Union, another key figure in the probe.
The administration has struggled to come up with a unified response to the quickly progressing investigation. Democrats have warned that defying their demands will in itself be considered "evidence of obstruction" and a potentially impeachable offense.
Pompeo has become a key figure in the Democrats' investigation. He was on the line during the July phone call in which Trump pressed Ukrainian President Volodymyr Zelenskiy to investigate former Vice President Joe Biden and his son, Hunter — sparking a whistleblower complaint and now the impeachment inquiry.
—— AUTO – GENERATED; Published (Halifax Canada Time AST) on: October 05, 2019 at 09:34PM