Naomi Osaka Wins Second U.S. Open Title
Live updates: Will Naomi Osaka win a second US Open title in three years or will Victoria Azarenka capture her first? Join Bryan Armen Graham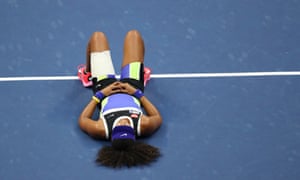 Naomi Osaka lays down in celebration. Photograph: Matthew Stockman/Getty Images
By THE GUARDIAN
Naomi Osaka defeats Victoria Azarenka for US Open women's title – live!
"First I want congratulate Vika," says Osaka after becoming the first woman in 26 years to win a US Open final after dropping the opening set. "Actually don't want to play you in any more finals. I didn't really enjoy that. It was a really tough match for me. And, yeah, it's really inspiring for me because I used to watch you play here when I was younger. So just to have the opportunity to play you is really great and I learned a lot, so thank you."
She continues: "And then I want to thank my team – they're over there somewhere – just for sticking with me. I know the beginning of the year wasn't that great. Thank you for believing with me."
Asked what message she wanted to send by wearing seven masks with seven different victims of police violence before her seven matches over the past fortnight, Osaka is to the point.
"What was the message that you got?" she says. "That's more the question. The point is to make people start talking."
She adds: "For me, I've been inside of the bubble so I'm not really sure what's really going on in the outside world. All I can tell is what's going on on social media and for me I feel like the more retweets it gets – that's so lame but … – the more people talk about it."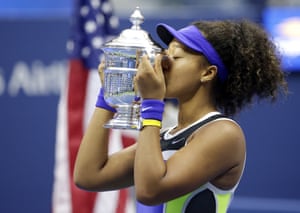 Naomi Osaka celebrates with the championship trophy after defeating Victoria Azarenka on Saturday afternoon. Photograph: Jason Szenes/EPA
FacebookTwitter
31m ago23:21
"I thought the third time was the charm but I guess I'm going to have to try again," an emotional Azarenka says during the trophy ceremony. "Congratulations to Naomi … I hope we can meet in some more finals again."
In these extraordinary times, the Guardian's editorial independence has never been more important. Because no one sets our agenda, or edits our editor, we can keep delivering quality, trustworthy, fact-checked journalism each and every day. Free from commercial or political bias, we can report fearlessly on world events and challenge those in power.
Your support protects the Guardian's independence. We believe every one of us deserves equal access to accurate news and calm explanation. No matter how unpredictable the future feels, we will remain with you, delivering high quality news so we can all make critical decisions about our lives, health and security – based on fact, not fiction.
41m ago23:11
Naomi Osaka wins 1-6, 6-3, 6-3!
Third set: Osaka 1-6, 6-3, 6-3 Azarenka
Azarenka wins the opening point on Osaka's serve with a sharp forehand her opponent can't wrangle back into play. But Osaka follows with forehand winner, a 101mph service winner and an 81mph second-serve unreturnable for a pair of championship points. A 12-stroke rally follows ended with Osaka overcooking a backhand to waste the first. But she converts the second after another extended baseline rally that ends with Azarenka dumping a backhand into the net. Naomi Osaka is your 2020 US Open women's singles champion!
Updated at 11.19pm BST
FacebookTwitter
45m ago23:07
Osaka breaks in eighth game of third set!
Third set: *Osaka 1-6, 6-3, 5-3 Azarenka
Azarenka overcooks a forehand on the run on her serve to go love-15 down, then Osaka nets a forehand for 15-all. Azarenka follows with a forehand volley winner at the net for 30-15, her ninth winner of the set compared to Osaka's 10. Osaka then comes to net for another winner and 30-all. Next Osaka outlasts Azarenka over a grueling 14-shot baseline rally for 30-40 and break point. And Azarenka nets a forehand early in the following point to be broken. Oh dear! That could well be curtains. Osaka will step to the line to serve for the championship.
Third set: Osaka 1-6, 6-3, 4-3 Azarenka*
Last chance saloon for Azarenka, perhaps, who crunches a return winner followed by a forehand winner for deuce from 40-15 on Osaka's serve. Azarenka follows with a forehand winner, then Osaka chips in a bad misfire off a backhand to gift Azarenka the break. It's Osaka's 24th unforced error of the match against 31 winners. We're back on serve in the third.
FacebookTwitter
1h ago22:55
Third set: *Osaka 1-6, 6-3, 4-2 Azarenka
Azarenka is pushed to 15-all, then 15-30 in an absolute must-hold service game. Another sharply angled forehand by Osaka that Vika can't handle makes it 15-40 and Osaka has two break points to take this match by the scruff. Azarenka saves them both in quick order, but Osaka wins the next point for a third chance at a break. She saves that one, too, when Osaka just misses on an attempted cross-court backhand winner. Another marathon unfolds across a couple more deuce points until Osaka rips another backhand winner for a fourth break-point chance. Azarenka is able to fight it off and escape with the hold after nearly 10 minutes, closing it out with a 91mph second-serve ace.
Updated at 10.56pm BST
FacebookTwitter
1h ago22:47
Third set: Osaka 1-6, 6-3, 4-1 Azarenka*
A very loose service game for Osaka, who quickly goes down love-40 and triple break point on her serve. But she brushes all three of them aside with a forehand winner and a pair of unreturnable serves, then holds comfortably from deuce. What an escape! That hold from love-40 down may well be the decisive moment with Osaka now two games from the title. She's a cool customer, that Naomi. But we already knew that.
FacebookTwitter
1h ago22:42
Osaka breaks in fourth game of third set!
Third set: *Osaka 1-6, 6-3, 3-1 Azarenka
Azarenka goes down 15-30 on her serve, then mixes in her second double fault of the day for 15-40 and double break point. She saves the first with her 23rd winner (against 19 unforced errors), but Osaka gets the break with a punishing backhand winner at the end of a 16-stroke rally that Azarenka can't get back over the net. The 2018 US Open champ noses out in front in this third and deciding set.
FacebookTwitter
1h ago22:36
Third set: Osaka 1-6, 6-3, 2-1 Azarenka*
Osaka holds easily from love-15 down, closing out the game with her sixth ace. She's won 80% of her first-serve points in third set, up from 65% in the second and 44% in the first.
FacebookTwitter
1h ago22:34
Third set: *Osaka 1-6, 6-3, 1-1 Azarenka
Azarenka answers with a business-like hold of her own, pumping herself with a couple of "Come on!" exhortations after winners.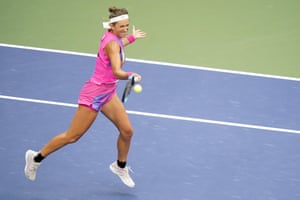 Victoria Azarenka returns a shot to Naomi Osaka during Sunday's final. Photograph: Frank Franklin II/AP
FacebookTwitter
1h ago22:31
Third set: Osaka 1-6, 6-3, 1-0 Azarenka*
Osaka holds comfortably to open the third set, closing out the game with her 23rd and 24th winners (against 18 unforced errors). She's won seven of the last eight games. A complete 180.
FacebookTwitter
1h ago22:29
Osaka wins second set, 6-3!
Osaka breaks in ninth game of second set!
Second set: Osaka 1-6, 6-3 Azarenka
Osaka pushes Azarenka to deuce from 40-15, then overcooks a backhand from the baseline to go break and set point down. She saves it with an assist from another Osaka unforced error, only for Osaka to earn another break chance after a few more deuce points. This time Osaka converts with a crisp backhand winner from the baseline, breaking in a marathon game spanning 16 points over nine minutes, and we're heading to a decider.
READ MORE AT: https://ift.tt/35xCdkC
—— AUTO – GENERATED; Published (Halifax Canada Time AST) on: September 12, 2020 at 07:59PM