FOOTBALL: Colin Kaepernick wins Amnesty International top award
ORCHARD PARK, NY – OCTOBER 15: Eli Harold #58, Colin Kaepernick #7 and Eric Reid #35 of the San Francisco 49ers kneel in protest on the sideline, during the anthem, prior to the game against the Buffalo Bills at New Era Field on October 16, 2016 in Orchard Park, New York. The Bills defeated the 49ers 45-16. (Photo by Michael Zagaris/San Francisco 49ers/Getty Images) [Getty Images]
AL JAZEERA – Football star honoured with Ambassador of Conscience Award recognising 'inspiring contribution to helping human rights'.
Colin Kaepernick, a US football player who in 2016 started kneeling during the national anthem played before matches to protest police brutality against African Americans, has been awarded with rights group Amnesty International's top honour.
The former San Francisco 49ers star was handed the Ambassador of Conscience Award at a ceremony on Saturday in the Dutch capital, Amsterdam, by onetime teammate Eric Reid.
Amnesty says the award recognises "an inspiring contribution to helping human rights".
In his acceptance speech, Kaepernick described police killings of African Americans and Latinos in the US as lawful lynchings.
"Racialised oppression and dehumanisation is woven into the very fabric of our nation – the effects of which can be seen in the lawful lynching of black and brown people by the police, and the mass incarceration of black and brown lives in the prison industrial complex," he said.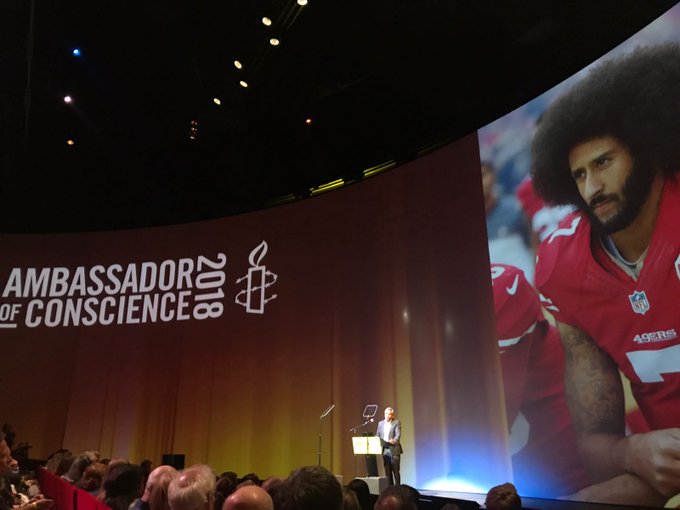 AmnestyInternational
✔@amnestyusa
We are honored to present this year's #AmbassadorOfConscience Award to Colin Kaepernick (@Kaepernick7). Colin embodies the true spirit of activism. Thank you, Colin, for refusing to accept racial discrimination and injustice.
Protest icon
Kaepernick first took a knee during the pre-game playing of the US national anthem when he was with the 49ers in 2016.
"How can you stand for the national anthem of a nation that preaches and propagates, 'freedom and justice for all,' that is so unjust to so many of the people living there?" he said at the award ceremony.
READ MORE
Colin Kaepernick named GQ 'Citizen of the Year'
Other players joined his protest in the 2016 season, drawing the ire of President Donald Trump, who called for team owners to fire such players.
Kaepernick was not signed for the 2017 season following his release in San Francisco.
Reid continued Kaepernick's protests by kneeling during the anthem played before National Football League (NFL) matches last season. He is now a free agent.
Kaepernick paid tribute to his friend for his own role in the protest movement.
"Eric introducing me for this prestigious award brings me great joy," Kaepernick said.
"But I am also pained by the fact that his taking a knee, and demonstrating courage to protect the rights of black and brown people in America, has also led to his ostracisation from the NFL when he is widely recognised as one of the best competitors in the game and in the prime of his career."
'Immense courage'
Speaking to Al Jazeera from Amsterdam, Salil Shetty, Amnesty's secretary general, said Kaepernick "has been a huge inspiration" to people in the US and elsewhere.
"We are very careful in who we pick [to give the award], and really we pick some of the bravest and most courageous people in the world who are also iconic and have a huge following, particularly amongst young people," he said.
READ MORE
Khalid Albaih: Why I created Colin Kaepernick cartoon
Previous recipients of the award include anti-apartheid campaigner and South African President Nelson Mandela, Chinese artist and activist Ai Wei Wei and Malala Yousafzai, the Pakistani education activist.
Shetty said Kaepernick and Reid have shown "immense courage" despite being the target of "vitriolic attacks" and "negative campaigns".
"Not a single NFL team is ready to now sign them on, so they've literally been unemployed since that time," he added.
"When Colin Kaepernick decided to kneel to highlight the issue of racism and an alarming number of black people being killed, we thought that he would be a very fitting person to get this award and really challenge the high levels of racism and racist killings that the US is seeing."
—— AUTO – GENERATED; Published (Halifax Canada Time AST) on: April 21, 2018 at 05:11PM