ENERGY: Oil report for August 16, 2019
U.S. Oil Data Brightens A 'Dark Economic Universe'
By OILPRICE.COM
Friday, August 16th, 2019
Oil rebounded in early trading on Friday after data showed that retail sales in the U.S. remain strong, but fears of a global slowdown have not been fully allayed. "The rebound has a corrective look about it on thin volumes, rather than a beachhead for an impending rebound," Jeffrey Halley, senior market analyst at OANDA, told Reuters. "Overall, U.S. data continues to be a bright spot in a dark economic universe."
Economic recession fears. The inverted yield curve spread concerns about a looming economic recession. Crude oil was not spared the global selloff this week. Data from China and Germany this week raised more red flags. The one bright spot has been U.S. consumer spending, which picked up in July.
WTO: Trade is slowing. WTO said that trade volumes could contract in the third quarter.
EPA to end methane limits. The Trump administration is hoping to end regulation on methane emissions, something that the industry has said that it does not want. The proposal would prevent the federal government from regulating methane from oil wells and infrastructure.
Harold Hamm wants shale output cuts. Continental Resources (NYSE: CLR) CEO Harold Hamm said that both OPEC+ and U.S. shale should cut production in order to balance the market. U.S. shale producers "need to row our own boat," he said this week at an industry conference. "We need to make sure we don't oversupply the market."
Oil and gas bankruptcies on the rise. Through August, the number of bankruptciesin the U.S. oil and gas industry this year has nearly reached the 2018 total. The total volume of debt affected so far ($20 billion) has surpassed last year's figure ($17 billion), according to Haynes & Boone.
North Dakota oil production hits record. Oil output in North Dakota rose to 1.42 mb/d in June, a new record high.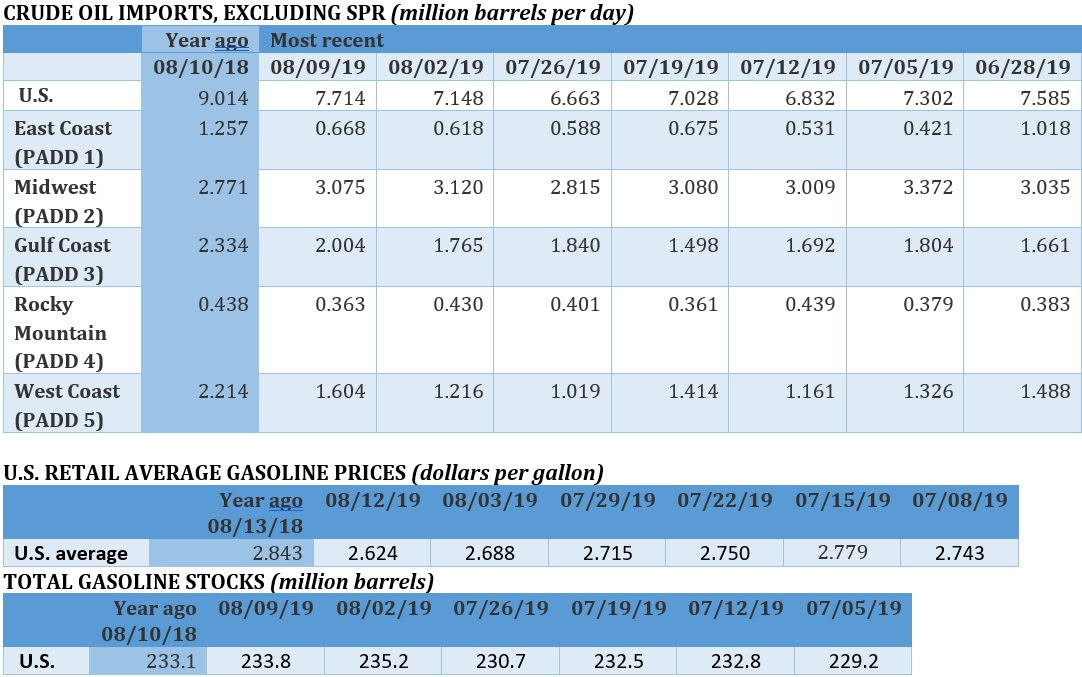 Saudis and Trump battle on oil prices. A Reuters analysis posits that Saudi Arabia and Donald Trump tend to both jawbone the oil market when prices get too far away from their preferred range. Just as soon as Brent neared $60 per barrel recently, rumors surfaced that Saudi Arabia was considering deeper action to rescue prices. The rumor alone sent oil prices up. But in the past few years, whenever Brent rises into the $70s, Trump has lambasted OPEC, demanding lower prices. The result is Brent trapped between $60 and $75.
Saudi Arabia ramps up oil exports to China. Saudi oil exports to China havedoubled over the past year as U.S. sanctions curtail Iranian exports.
NuStar receives first shipment to Corpus Christi. NuStar Energy (NYSE: NS)received its first shipment of Permian oil for its Corpus Christi export terminal. "We continue to believe that the biggest impact from the growth in the Permian Basin on the horizon is the growth in Gulf Coast crude exports," NuStar CEO Brad Barron said in a statement.
Ethanol prices hit 5-year low. Ethanol futures prices for September delivery fell to $1.27 per gallon, a five-year low. The U.S. EPA issued a series of waivers a week ago to 31 oil refineries, causing havoc in the market for ethanol and blending credits. "The Trump administration has totally annihilated the margins for ethanol producers," Charlie Sernatinger, head of global grains futures with ED&F Man Capital Markets, said, according to the Wall Street Journal.
Rosneft shifts to euros. Rosneft asked buyers of a naptha cargo to use euros, the first time it has done so, according to Reuters.
Two Permian pipelines start up. EPIC Midstream Holdings Inc. began shipping crude on Thursday on its 400,000-bpd pipeline from the Permian to the Gulf Coast, helping to push up Midland crude prices, according to Reuters. A second pipeline, the Cactus II pipeline from Plains All American (NYSE: PAA), also began operations this week. That line has a capacity of 670,000 bpd. Midland crude trades at a slight premium to WTI, after suffering steep discounts last year because of a lack of pipelines.
EQT among world's fastest growing gas producers. Russia's Gazprom, PetroChina and Pittsburgh-based EQT (NYSE: EQT) are ranked as the world's fastest growing natural gas companies over the last five years, according to Rystad Energy. However, EQT has announced an abrupt slowdown in its expansion plans as its finances have proved to be disappointing.
Equinor produces first oil at North Sea project. Equinor (NYSE: EQNR) said it started up production at its Mariner heavy oil field in the UK's North Sea.
Exxon leases LNG-fueled tanker. ExxonMobil (NYSE: XOM) signed a two-year agreement to use Singapore's first LNG-fueled bunker tanker. Meanwhile, shipowners are increasing removing tankers from operation in order to install scrubbers ahead of the 2020 IMO regulations.
Why Saudi Arabia Needs An Aramco IPO
At the start of the year, hopes and expectations were that the US and China would come to a relatively speedy resolution on trade and the world economy would be set once again on a moderate path of expansion. These hopes have been repeatedly disappointed. Instead the failure of negotiations has seen the US escalate the dispute, prompting tit-for-tat tariff responses from China.
The impact on world trade is becoming ever more pronounced. The OECD's Composite Leading Indicator fell to 99.06 in June, registering consecutive monthly falls since December 2017 and is now at its lowest level since the financial crisis of 2009. Growth in global container trade dropped to 1.3% in the first half of the year, compared with growth of 4.5% in the same period of last year.
In its latest oil market report, the International Energy Agency (IEA) put oil demand growth for January-May at just 520,000 b/d, noting it was the lowest increase for the period since 2008. Oil demand growth estimates for 2019 and 2020 were revised down by 0.1 million b/d to 1.1 million b/d and 1.3 million b/d respectively.
With further tariffs set to be imposed by the US on China September 1, and China ending purchases of US agricultural goods in response, the situation is unlikely to improve. The IEA commented that there is a greater likelihood of a further downward revision to oil demand than there is of an upward one. As suggested in earlier articles, the bottom of the downturn has yet to be reached.
Sustained trade war
Equally serious is the growing perspective that the US-China trade war is not so much a temporary glitch in post-war globalisation and the opening up of world trade, but a permanent reversal. Rule-based international trade will be replaced with unilateral protectionism.
In this scenario, China and the US become locked in permanent conflict, creating two rival economic zones, one based around the dollar and one based around the renminbi in Asia as Beijing develops its Belt and Road Initiative. Rather than crumble in the face of US economic warfare, China evolves the means to counter both US tariffs and Washington's use of unilateral and extraterritorial sanctions as a primary tool of foreign policy.
Much depends on how resilient the Chinese economy proves.
Some commentators argue for resilience, pointing to a growing Chinese trade surplus with the US despite the imposition of tariffs, the opposite outcome to that intended by Washington, and Chinese cuts to import tariffs on European and Canadian goods as a means of replacing trade with the US with other countries.
Others argue that currency devaluation raises the price of Chinese dollar-denominated debt and that Beijing has no choice but to increase infrastructure spending to compensate for slowing export orders. Both actions increase the vulnerability of the Chinese banking sector to a debt crisis. While China reports GDP growth of just over 6%, they argue that real GDP growth is half that.
Scenario planning
There are three broad scenarios:
Sustained economic conflict, which pushes the world into a shallow recession and curbs global economic growth and overall energy demand over the medium term. This would likely be sufficient to impact long-term energy demand forecasts substantially to the downside.
Resolution or accommodation – the prospects for which have faded, but could be revived if the US economy slows further, or post the November 2020 presidential elections, if a Democrat wins. The quicker this occurs the less impact on long-term energy demand.
Crisis – recessions create strains and stresses which a healthy global economy would generally weather. In a weakened state, bad debt crises for example are more likely, with the possibility of contagion. This could happen in China, but more likely in a developing economy without China's foreign currency reserves and ability to manage the economy via fiscal stimuli.
Supply-side reaction
The worsening outlook for oil demand and lower oil prices have prompted a supply-side reaction. US crude, still constrained by a lack of takeaway infrastructure, is bumping along in a low to mid-$50/b range for West Texas Intermediate.
The US oil rig count dropped to 764 August 9, the six consecutive weekly decline and is 105 rigs below its level for the same week last year. The US Energy Information Administration's latest Drilling Productivity Report estimates the net gains from the country's principal shale plays in August at 49,000 b/d, down from 83,000 b/d in June and 76,000 b/d in July.
Meanwhile, OPEC production in July dropped to a five-year low of 29.88 million b/d, according to secondary sources, led by a cut of 150,000 b/d by Saudi Arabia to 9.7 million b/d, 610,000 b/d less than it is formally allowed to produce under OPEC's current agreement.
Saudi Arabia's persistent over-compliance indicates its resolve to rebalance the market from the supply side. Reports have also surfaced that it has contacted other members of OPEC to discuss more stringent cuts, although this is likely to prove a hard sell.
Aramco IPO
Saudi Arabia is firming up its plans for an Initial Public Offering (IPO) of 5% of giant state oil enterprise Saudi Aramco. Following a successful bond offering in April, its first public statement of its annual net income and then its first ever earnings call August 12 to reveal its first-half 2019 results, the company is providing some of the financial transparency required for a stock market listing.
According to reports in the Wall Street Journal, the IPO could take place as early as next year. During the earnings call, Aramco executive Khalid al Dabbagh said the company was ready for an IPO when its shareholders (the Saudi government) agree that market conditions are optimal.
Although Riyadh could have abandoned the share sale – raising cash via debt as shown in April – the revived plans for an early IPO provide some clarity about its short-term intentions. A higher oil price means a higher valuation for the company and a more successful IPO, even if Riyadh's target value of $100 billion for 5% of the company looks optimistic.
In the run-up to the IPO, Saudi Arabia will almost certainly maintain its policy of aggressive over-compliance. Even better, but more difficult, would be to secure further cuts coordinated through OPEC and potentially with the entire group of OPEC+ producers.
Post-IPO strategy
The question then arises – what policy does Saudi Arabia adopt post-IPO?
With its share sale cash in the bank ready to fund Crown Prince Mohammed bin Salman's Vision 2030, Riyadh will have the opportunity for a new approach. It may not take that opportunity; continued oil market support in pursuit of a strong share price and sales of further tranches of the company as and when needed may prove the order of the day.
However, while an outside possibility, the conclusion of the IPO would offer a chance to move away from a position in which Saudi Arabia bears the lion's share of OPEC+'s production cuts, a policy which, when it proves successful in the short term, prompts an expansion in US shale production and other longer-cycle non-OPEC investment. Saudi Arabia not only suffers barrels left in the ground unsold, but a gradual erosion of market share.
Vision 2030 is itself a recognition that the oil world is changing – that its long-term future is no longer assured. There is no shortage of forecasters, including major oil companies, predicting a peak in oil demand sometime post-2030 as a result of increased energy efficiency in transport, the use of gas and electrification. In an ever-expanding oil market, leaving a scarce resource in the ground made sense, but doing so in a market which passes peak demand implies some of the resource will never be produced at all.
Hence the need for Vision 2030 to become a reality sooner rather than later. Saudi recognition of the economy's need for diversification is long-standing, but action has never before been so imperative. The IPO will provide the funds, but it also locks Riyadh into a particular policy path with costs. Better on two counts – finance and policy freedom – that, if the IPO is to happen, that it happens quickly. Riyadh can then reconsider the best long-term strategy for the monetization of its remaining oil reserves.
—— AUTO – GENERATED; Published (Halifax Canada Time AST) on: August 16, 2019 at 04:32PM