CORONAVIRUS: Uganda's Senior Epidemiologist Dies from Covid-19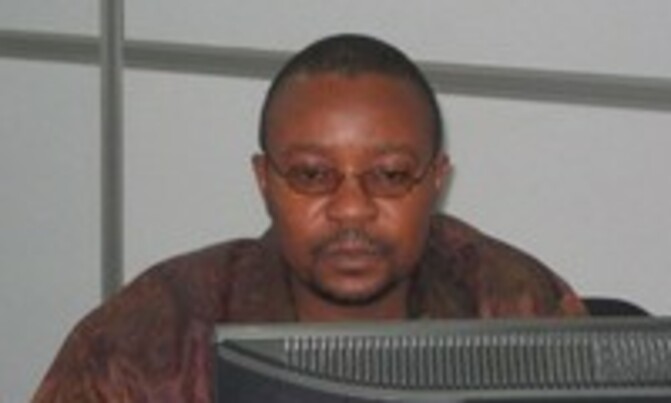 Senior Epidemiologist Dies – via uganda – Google News
Source: New Vision
The death of David Katuntu, a Ugandan senior epidemiologist at Entebbe Hospital, was linked to COVID-19.
Katuntu was admitted to the facility when he showed signs and symptoms of COVID-19. "He returned from upcountry with chest pain; went through (many) hospitals on Saturday and Sunday, all recommending that he goes to Entebbe because the signs were close to COVID-19.
On Monday night, the condition worsened. He died this (yesterday) morning at 11:00 am," one of Katuntu's associates said, adding that one of the deceased's relatives (name withheld) and a helper, had been quarantined in the hospital.
The Ministry of Health spokesperson, Emmanuel Ainebyoona, confirmed that Katuntu was suspected to have contracted COVID-19, but that he died a few hours after presenting with signs and symptoms. "The samples had already been drawn for testing.
We wait for the results, to ascertain whether the death was COVID-19-related. It is very unfortunate to lose him at such a critical time," Ainebyoona said. Epidemiologists like Katuntu are part of the multidisciplinary team for controlling disease outbreaks.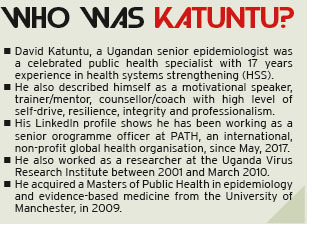 Dr Diana Atwine, the Ministry of Health Permanent Secretary, said epidemiologists study and analyse the distribution of patterns and determinants of health and disease conditions in defined populations. She, however, could not establish whether Katuntu was among the teams deployed to carry out surveillance in various districts.
Dr Charles Olaro, the director clinical services at the health ministry, said although there is scanty information on the deceased, it is alleged that he had gone to the hospital to take a test, upon feeling unwell.
Describing the incident as unfortunate, Olaro said Uganda has so far lost one health worker to COVID-19.
This was a 34-year-old woman, a Village Health Team (VHT) member in Namisindwa district, who died early July. The increasing number of frontline workers, especially medics, who are contracting COVID-19, threatens not only Uganda's but global response to the pandemic.
By August 11, more than 900 frontline healthcare workers had died of COVID-19 in the US alone. In Uganda, the first health worker to test positive for COVID-19 was in Lira in the last week of May. Then, health minister Dr Jane Ruth Aceng implored the health workers to follow the procedures laid down in the guidelines and to make preventive measures part of themselves.
By June 8, 22 medical workers had tested positive for COVID-19, but the number keeps increasing by the day. A total of 12 out of 81 Ugandans who tested positive on Friday last week alone were health workers, according to a report by Dr Henry Mwebesa, the Director-General of Health Services in the Ministry of Health.
They included four from Lira district, three from Kampala, and three from Moroto while Jinja and Tororo recorded one case each. By Tuesday (September 1, 20202) the cumulative confirmed COVID-19 cases of Ugandans was 3,037 after 65 more people tested positive on Monday
—— AUTO – GENERATED; Published (Halifax Canada Time AST) on: September 03, 2020 at 09:01PM