BUSINESS: General Electric continues match to the South
BLOOMBERG – General Electric Co. dropped again as investors spurned Chief Executive Officer John Flannery's latest charm offensive.
The CEO's letter to shareholders and a board overhaul failed to soothe concerns about looming liabilities on GE's balance sheet, which the company detailed in its annual report after markets closed Feb. 23.
In the latest hurdle, GE warned it risks new penalties as the U.S. Justice Department probes its defunct subprime-mortgage lender. GE is also under investigation by the Securities and Exchange Commission after announcing a $6.2 billion charge last month related to an old insurance business. Warren Buffett, who came to GE's rescue during the financial crisis a decade ago, said Monday he was "staggered" by the writedown.
READ MORE:
Consortium also includes Yaatra Ventures and Italy's Saipem Government to conclude framework agreement over next 2 months Uganda chose a group including General Electric Co. to build and operate a 60,000-barrel-a-day refinery that will process crude from fields being developed by Total SA and Tullow Oil Plc.
"The company continues to be dogged by legacy liabilities and missteps," Deane Dray, an analyst at RBC Capital Markets, said in a note to clients. In a follow-up analysis, he said "any potential positive reaction to these board appointments is being overshadowed by the negative updates" in the annual report.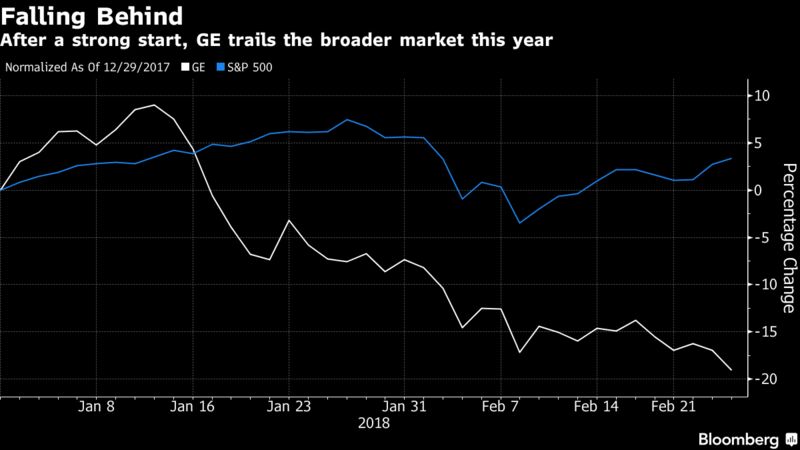 GE posted the largest decline in the Dow Jones Industrial Average on a day that the benchmark stock gauge rose. The shares fell 1.9 percent to $14.22 in New York after earlier hitting the lowest intraday price since July 2010. GE tumbled 17 percent this year through Feb. 23 after plummeting 45 percent last year, making it the biggest loser on the Dow in both cases.
While the annual report didn't have any bombshell disclosures, new details about cash-flow and earnings challenges stoked investor unease about the depth of GE's issues. Deutsche Bank AG analyst John Inch said in a note that "risks abound." Steve Tusa of JPMorgan Chase & Co. said that "every new page of the filings drives an incremental crack in a shell built around an increasingly challenged fundamental core."
GE also provided details about a previously disclosed plan to restate earnings for the past two years. The change is driven by a broader change in accounting rules and doesn't stem from GE's recent troubles.
CEO's Confidence
In his letter to shareholders, Flannery acknowledged a "very tough year" in 2017. But he insisted that GE is rethinking its structure, cutting costs and enhancing management accountability. It's also following through on a pledge to overhaul its board, with the nomination of an accounting expert and two former industrial CEOs.
"How the company is being portrayed in certain quarters is overwrought and, in most cases, does not reflect the reality of GE that our customers and employees are seeing around the world," Flannery said in the letter. "There are things we need to fix. But we can. We know how to. And we will."
The letter marks Flannery's latest attempt to change the narrative around GE, which is grappling with one of the deepest slumps in its 126-year history. The new CEO, who took over Jeffrey Immelt's longtime post last year, has acknowledged that internal mistakes have exacerbated the challenge of flagging demand for key products such as gas turbines and locomotives.
Still, Flannery said he has faith in GE's future, with areas such as software and 3-D printing offering hope. By narrowing the focus of GE's digital business and targeting existing customers, the company should be able to double sales of its Predix operating system to $1 billion in 2018, Flannery said.
Board Overhaul
In a separate statement, GE announced the nomination of former Danaher Corp. CEO Larry Culp and Thomas Horton, who served as CEO of American Airlines, to the board in advance of the annual shareholder meeting scheduled for April 25. Both are known for experience in dealmaking and operations.
Leslie Seidman, who was chairman of the Financial Accounting Standards Board, is also being put up for a board seat, GE said. That comes as GE faces an SEC investigation into its accounting for the insurance portfolio and service contracts in the industrial operations.
The company also announced the departure of eight current directors. Among those remaining are lead director Jack Brennan and Ed Garden, a representative of activist shareholder Trian Fund Management, who was appointed late last year. Brennan will help facilitate the transition and won't stand for re-election in 2019, GE said.
Narrower Focus
GE has said it plans to focus on energy, aviation and health care as it sheds divisions such as transportation and lighting.
That may not be the end of the portfolio changes. Flannery has said he's still evaluating the structure of the Boston-based conglomerate, and he'll consider all options, including possibly separating the business units into publicly traded companies. The CEO reiterated that sentiment in his letter, but shied away from calling it a breakup.
"We will take steps only when we see a clear path to better long-term outcomes for GE," Flannery said. "There will be a GE in the future, but it will look different from how it does today."
Buffett Interest
GE's stance has generated widespread interest, including from Buffett. In an interview with CNBC, the billionaire investor criticized GE's accounting missteps, which stemmed from a portfolio of long-term care policies issued decades ago. He also said he wouldn't rule out an acquisition of GE assets.
"If we liked the business and the price was right, we could write a check for cash and that would apply to GE," Buffett said. "We're always in the market for a big business that we can understand and that we like."