'Breathtaking arrogance': senators grill Facebook in combative hearing over Libra currency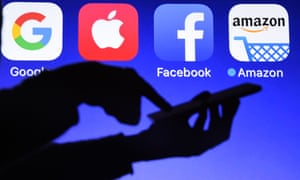 Google, Apple, Amazon and Facebook all face federal scrutiny. Photograph: Damien Meyer/AFP/Getty Images
By THE GUARDIAN
Facebook was greeted with hostility in the US Congress as the tech giant sought to defend its proposed digital currency to lawmakers on the Hill.
Members of the Senate's banking committee grilled the Facebook executive David Marcus on Tuesday on the company's privacy and security plans for Libra, a proposed digital currency that would allow Facebook's billions of users to make financial transactions across the globe.
Senator Sherrod Brown of Ohio said Facebook shows "breathtaking arrogance" to attempt to launch a digital financial service after the privacy scandals that have affected the company and its users in the past year.
"Facebook is dangerous," Brown said, likening the company to a toddler playing with matches. "It has burned the house down repeatedly and called every attempt a learning experience. Do you really think people should trust you with their bank accounts and their money?"
—— AUTO – GENERATED; Published (Halifax Canada Time AST) on: July 16, 2019 at 05:50PM