CANADA: Freezing rain storm blankets Ontario
More than 40,000 without power in Southern Ontario as freezing rain coats region
2nd wave of spring storm passing through, police urge residents to stay home and off roads
CBC News · More than 40,000 Hydro One customers were without power in southern Ontario on Sunday as parts of the province were hit by another round of freezing rain.

Environment Canada issued freezing rain warnings across southern Ontario and parts of southern Quebec early Sunday because of a spring storm that could make driving a lot more difficult for the rest of the weekend.
Environment Canada issued the rainfall warning for the city and surrounding area, saying freezing rain will turn into heavy rainfall likely Sunday evening. Rainfall amounts could be in the range of 20 to 25 millimetres.

The federal weather agency said an ice storm is "likely" on Sunday and outages are possible because trees and branches, laden with ice from the storm, could fall on power lines.
Ontario Provincial Police reported 150 crashes in the Greater Toronto Area and recommended drivers cancel non-essential travel on the roads.
"It's not worth it," Sgt. Kerry Schmidt, spokesperson for the OPP's Highway Safety Division, said. "The conditions are going to deteriorate throughout the day."
Stay home if you can
Ice appears to drip from some pine cones in Scarborough. Toronto is under rainfall and freezing rain warnings after the city endured a wintry mix of weather on Saturday that included snow and ice pellets. (Muriel Draaisma/CBC)
Toronto police are calling for cyclists and pedestrians to stay clear of the roads if possible, until the storm passes.
Const. Allyson Douglas-Cook, spokesperson for the Toronto Police Service, said vehicles have been spinning out, hitting other vehicles, crashing into poles and guard rails as drivers have lost control.
Officers were very busy on Saturday night after a string of collisions.
"Thankfully, this morning hasn't been as crazy per se as last night was. Last night, we had numerous collisions reported throughout the city," she said.
Cars drive along Toronto's Lakeshore Drive as visibility diminishes through falling hail, snow, and rain. (Cole Burston/Canadian Press)
"We're stressing the importance of not leaving home unless you absolutely have to and try to stay off the roadways."
Douglas-Cook urged drivers to slow down, allow extra time to reach destinations and ensure following distances are more than adequate.
City 'comfortable' with level of plowing
Barbara Gray, general manager of Toronto's transportation services division, says there are 80 salt trucks operating in the city. Thirty of those vehicles have plows, she added. During peak winter weeks, the city usually has access to some 200 salt trucks.
"We are comfortable with the level of equipment we have on the roads," Gray told reporters.
City turns to salt trucks instead of plows to prevent 'real flooding problem' after ice storm
Gray says plows are focusing on main roads, such as "high priority" arterial routes, ramps, hills and bridges, but some roads won't be plowed because they include catch basins.
If those basins become clogged with snow and ice, it could lead to increased flooding overnight and on Monday.
A snow plow clears a sidewalk in Kitchener, Ont., on Sunday. (Gary Graves/CBC)
Mayor John Tory sought to reassure Toronto residents that plowing that needs to be done is being completed in Toronto.
"A lot of people have raised questions about the plowing. The plowing has been done on the expressways in accordance with the city's standards regarding weather events," Tory said.
Tory noted that Toronto Hydro crews have had to deal with few outages in the city.
"This is going to pass. We're going to be into the rain by the end of today," Tory said.
James Kilgour, director of Toronto's office of emergency management, said he is not aware of any flooding in Toronto yet due to the storm.
Flights cancelled at Pearson
Toronto's Pearson International Airport is urging travellers to check their flight status before they leave home and to arrive early at the airport. About 260 departing flights and more than 300 arriving flights have been cancelled as of 8:30 a.m. Sunday.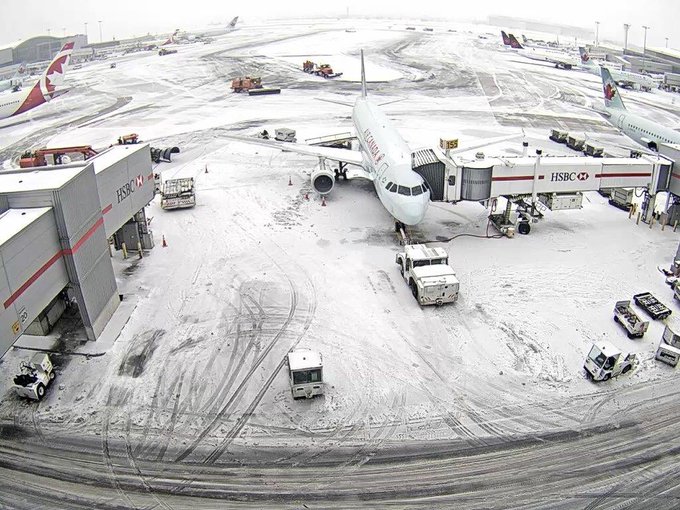 Toronto Pearson
✔@TorontoPearson
These are the conditions for staff working outside today. Icy conditions combined with the presence of multiple vehicles and large aircraft in motion mean that safety is always our top priority. Thank you to all our airport workers keeping passengers safe.
"Additional freezing rain is expected today, which is slowing down operations," Robin Smith, spokesperson for the Greater Toronto Airports Authority, told CBC Toronto Sunday.
"We're working closely with our airline partners to keep traffic moving and to make sure that workers outside are kept safe in these weather conditions. Our central de-icing facility is still fully staffed and there are additional staff in the terminals to help keep passengers informed throughout the day."
8 hours of freezing rain
Geoff Coulson, a weather preparedness meteorologist for Environment Canada based in Toronto, said the Greater Toronto Area is grappling a second wet and wintry day with possibly more than eight hours of freezing rain.
"Today looks like another very slippery day right across the GTA," Coulson said.
"We are looking at a similar situation to what we had yesterday. If people don't need to be on the roads today, the best bet would be to stay at home."
Ice pellets gather on a car hood. ( Kate Bueckert/CBC)
Untreated roads, combined with additional freezing rain on Sunday, means travelling could be dangerous, he said.
Amount of freezing rain 'very unusual'
Coulson described the spring storm as not typical for this time of year.
"This is very unusual. To get this much freezing rain, this late into the spring, is not something I can recall happening over the last number of decades here in the Greater Toronto Area."
Between 5 p.m. and 8 p.m., the freezing rain currently falling, along with ice pellets, is expected to turn into rain, he said.
Coulson estimates the freezing rain and ice pellets could produce an ice buildup of about 10 millimetres or more.
A King streetcar slides over slush in downtown Toronto on Sunday. (Amara McLaughlin/CBC)
"By mid-morning, we're likely to go over to a prolonged period of freezing rain that could last into the early evening hours. After that, temperatures are expected to creep above the freezing mark. So we'll see a transition from freezing rain into rain," he said.
"And that rain is expected to be heavy at times."
Flooding possible in some areas
Flooding in low-lying areas is possible on Sunday, Environment Canada said in its rainfall warning. It urged people to keep children and pets away from creeks and river banks.
According to the forecast, rain is expected to continue into Monday but it is likely to be lighter.
Sunday's high temperature is expected to be 2 C in the evening, with the low expected to be –3.
Coulson said the temperature is expected to rise to 2 C by early evening on Sunday. It is expected to be about 4 C by Monday morning, then reach a daytime high of 9 C.
"The rain should be stopping tomorrow as temperatures getting back to well above freezing."
Toronto is now under a rainfall warning and a freezing rain warning after the city endured a wintry mix on Saturday that included snow and ice pellets. (David Donnelly/CBC)
—— AUTO – GENERATED; Published (Halifax Canada Time AST) on: April 15, 2018 at 04:24PM