AFGHANISTAN suicide updates: Death toll now 48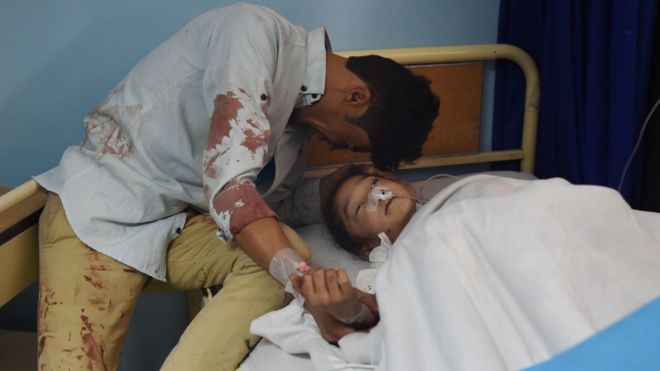 Image copyrightAFPImage captionEight-year-old Zahra is among those being treated in hospital
BBC – A suicide bomb attack at a voter registration centre in the Afghan capital Kabul has killed at least 48 people, officials say.
Nearly half the dead are said to be women and children were also killed when the blast hit the queue outside, with many other people injured.
The Islamic State group (IS) said it had carried out the attack.
Voter registration began this month for legislative elections which are due to take place in October.
IS's Amaq mouthpiece said a suicide bomber wearing an explosive belt had targeted the centre, which is in the Dashte Barchi area of western Kabul.
Who are the victims?
Eyewitness Bashir Ahmad said many of the victims were women with children who were there to get their identity cards and register for the elections.
According to Afghanistan's Pajhwok news agency, 21 women and five children died.
Images from the scene show blood-stained documents and photographs on the floor.
Abandoned shoes and broken glass litter the area and nearby vehicles are riddled with holes.
There have already been at least four attacks on such centres since voter registration got under way a week ago.
Sunday's attack was Kabul's deadliest since at least 100 people were killed in a district full of government buildings and embassies in January.
—— AUTO – GENERATED; Published (Halifax Canada Time AST) on: April 22, 2018 at 09:52AM